Joe Biden Confronts Vladimir Putin on Navalny Poisoning in First Call With Russian Leader
President Joe Biden spoke with Russian President Vladimir Putin on Tuesday, in their first conversation since the new commander in chief was sworn in this month.
During the call, Biden pressed his Moscow counterpart on the poisoning of Russian opposition leader Alexei Navalny, the SolarWinds hack that affected U.S. government networks and reports that Russia had placed bounties on U.S. troops in Afghanistan, among other key issues of concern. Biden also asserted that the U.S. and Russia should quickly come to an agreement to extend a major arms control treaty that is set to expire in February.
At a Tuesday briefing, White House press secretary Jen Psaki told reporters, "I will just convey to you that he called him—called President Putin this afternoon with the intention of discussing our willingness to extend [the] New START [nuclear treaty] for five years and also to reaffirm our strong support for Ukraine's sovereignty in the face of Russia's ongoing aggression and also to raise matters of concern."
Among those matters, Psaki cited the SolarWinds hack, the Russian bounties, interference in the 2020 election, Navalny's poisoning and Russian security forces' treatment of peaceful protesters.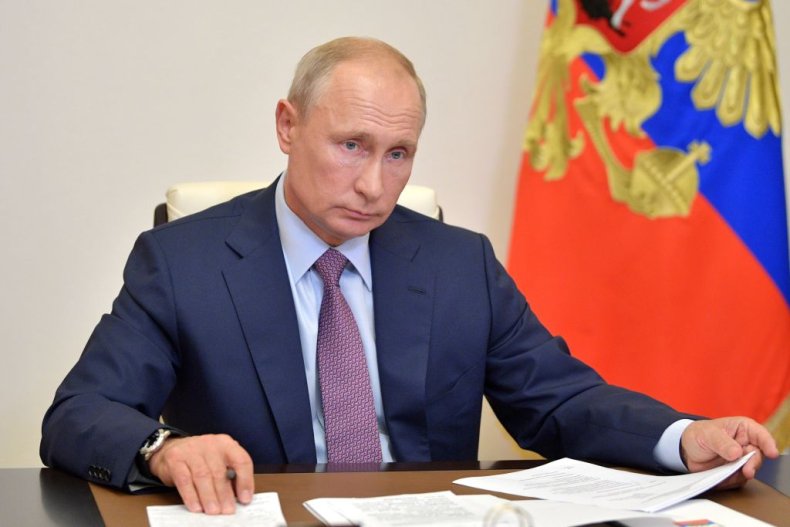 The White House emailed Newsweek a readout summarizing the call:
"President Joseph R. Biden, Jr. spoke today with President Vladimir Putin of Russia. They discussed both countries' willingness to extend New START for five years, agreeing to have their teams work urgently to complete the extension by February 5. They also agreed to explore strategic stability discussions on a range of arms control and emerging security issues. President Biden reaffirmed the United States' firm support for Ukraine's sovereignty. He also raised other matters of concern, including the SolarWinds hack, reports of Russia placing bounties on United States soldiers in Afghanistan, interference in the 2020 United States election, and the poisoning of Aleksey Navalny. President Biden made clear that the United States will act firmly in defense of its national interests in response to actions by Russia that harm us or our allies. The two presidents agreed to maintain transparent and consistent communication going forward."
Notably, Putin was one of the last world leaders to congratulate Biden on his victory in the November election. The Russian leader waited until after the Electoral College certified Biden's win on December 14, more than a month after most world leaders had conveyed their congratulations. Kremlin officials cited then-President Donald Trump's legal challenges and recounts, but the decision stood in stark contrast to 2016—when Putin was one of the first international leaders to congratulate Trump on his election win.
In previous statements, Biden has not minced words in his criticism of Putin and his government. After Navalny was poisoned in August, allegedly by Russian agents, Biden condemned the Russian leader and vowed to hold Moscow to account if he won the presidential election.
"Once again, the Kremlin has used a favorite weapon—an agent from the Novichok class of chemicals—in an effort to silence a political opponent. The mode of attack leaves no doubt as to where the responsibility lies—the Russian state," Biden said in an early-September statement.
"As president, I will do what Donald Trump refuses to do: work with our allies and partners to hold the Putin regime accountable for its crimes," he promised.
Navalny was transferred to Germany after his poisoning, where he recovered and blamed Putin directly. The opposition leader returned to Moscow last Monday but was immediately detained and jailed by local authorities. Massive protests have spread across the country, while Russian security forces have cracked down violently and arrested many demonstrators.
The SolarWinds software hack, which U.S. officials believe was carried out by Russia, affected computer networks at top federal government agencies as well as high-profile private American companies. Officials have said the attack appeared to be largely for espionage purposes. Biden suggested before taking office that his administration may respond with its own cyberattack or further sanctions against Russia.
While there are numerous tensions and concerns, the Biden administration and Putin's government appear to be in agreement about the importance of extending the New START treaty. Russian officials have repeatedly pointed to the importance of moving forward with the renewal in recent days, as have members of Biden's administration.
The story was updated at 2:35 p.m. with additional information.