'Rust' Cinematographer Halyna Hutchins' Parents 'Trapped' in Kyiv—Husband
Halyna Hutchins' husband has revealed that the late cinematographer's parents are "stuck" in Kyiv amid Russia's ongoing invasion of Ukraine.
Ukrainian-born Hutchins was fatally shot on the New Mexico set of the movie Rust on October 21, 2021, when a gun that star and producer Alex Baldwin was holding discharged. Writer-director Joel Souza was injured in the incident.
The late filmmaker's husband, Matt Hutchins, has now revealed that his late wife's parents, Olga and Anatoly Androsovych, remain in Kyiv, as a number of areas previously deemed to be safe have seen escalating attacks from Russian forces.
"Ukrainian refugees need humanitarian corridors. Halyna's family is trapped in Kyiv because of the danger of travel," U.S. citizen Matt Hutchins wrote on his locked Twitter account, per NPR.
According to the news outlet, Matt Hutchins said that his wife' parents have stayed in Kyiv "to prepare for the worst," sharing that his mother-in-law has continued in her role as a hospital nurse "because her country needs her, but also because they cannot leave safely."
"Halyna's sister, Svetlana, made it safely from Kyiv to Romania with her 3-year-old daughter and will continue onward to Western Europe," the widower tweeted. "Parents stayed in Kyiv to prepare for the worst. Mother, Olga, still working as nurse at the hospital where has worked for 30+ years."
Calling for more support for the increasing number of displaced Ukrainian refugees, as well as diplomatic intervention and military aid, Matt Hutchins stated: "Ukraine needs a no-fly zone.
"China needs to step up and do what NATO cannot. Chinese intervention to guarantee both sides will stay out of the sky and not use rocket bombardment of ground forces would boost China's global standing and save face for Vladimir Putin."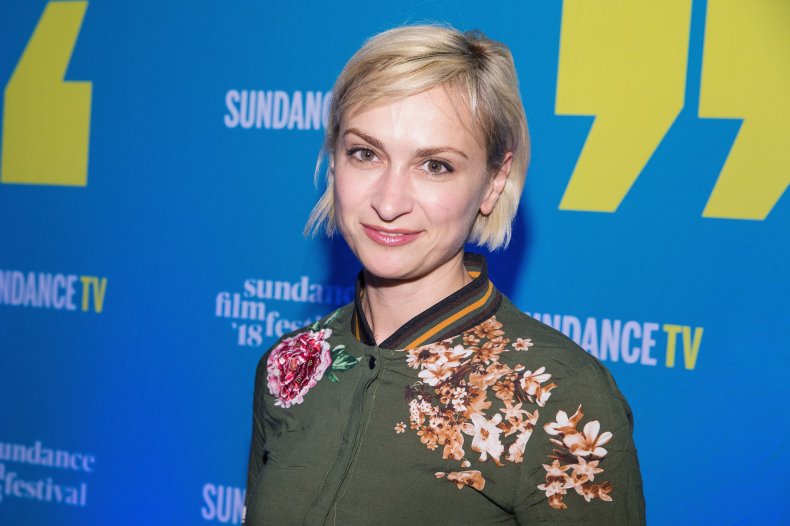 Praising those defending Ukraine from a full scale attack that was launched almost one month ago, Matt Hutchins tweeted. "Keep telling the truth about Putin's invasion and atrocities. Support refugees and the territorial defense with aid and any intervention possible to protect the Ukrainian citizens and their independence."
Matt Hutchins in February filed a wrongful death lawsuit against Baldwin and other Rust producers and crew members following his wife's fatal shooting.
In an interview with NBC's Today show, Matt Hutchins said that Baldwin's claim he "never pulled the trigger" on the gun from which the fatal bullet was fired was "absurd." In December 2021, Baldwin said in an interview with ABC's George Stephanopoulos that the revolver misfired without the trigger being pulled.
Matt Hutchins revealed that he was infuriated when he heard the claims made by Baldwin, who insisted that he was not responsible for the cinematographer's death.
"Watching him I just felt so angry," Matt Hutchins said. "I was just so angry to see him talk about her death so publicly in such a detailed way and then to not accept any responsibility after having just described killing her."
"The idea that the person holding the gun and causing it to discharge is not responsible is absurd to me," he said.
However, Santa Fe County District Attorney Mary Carmack-Altwies said in an interview with Vanity Fair in February that Baldwin's misfire claim could well be feasible.
"I didn't know too much about guns, certainly not about 1850s-era revolvers. So when I first heard that, I was like, 'Oh, that's crazy,'" Carmack-Altwies said. "One of the investigators in my office happens to have a very old type revolver, and so he brought it, at my request, so that we could look at it and see if that was at all possible."
"Then they visually showed me," she said. "You can pull the hammer back without actually pulling the trigger and without actually locking it. So you pull it back partway, it doesn't lock, and then if you let it go, the firing pin can hit the primer of the bullet."
Moments before the shooting, Baldwin was handed the gun by assistant director David Halls, who shouted "cold gun" to indicate that it did not contain live ammunition. Baldwin and Halls have said they were unaware of live ammunition in the gun.
No criminal charges have been brought in relation to the shooting incident, which is still under investigation.