Rusten Sheskey, Kenosha Officer Who Shot Jacob Blake, Won't Face Charges
Rusten Sheskey, the officer involved in the August shooting of Jacob Blake won't be charged for the shooting, Kenosha County District Attorney Michael Graveley announced on Tuesday.
Blake, a 29-year-old Black man was shot in the back seven times on August 23, when Sheskey responded to a call about a domestic incident. His three children were in the car at the time of the shooting and video footage of the altercation ignited tensions across the United States that were already heightened from the deaths of Breonna Taylor and George Floyd.
Sheskey was placed on administrative leave following the shooting. While he won't face charges in Kenosha, Graveley noted that Sheskey and the other officer involved could still face charges from the U.S. attorney's office and encouraged people to contact the office for information on the status of any investigation.
Graveley brought decades of experience in deciding whether to charge a case but in many ways, he said he felt "completely inadequate" for the moment. Those inadequacies were in his lack of experience having to contend with explicit or implicit bias based on his race and fearing for his safety from police officers, as well as, going to his job knowing he could face armed people who might try to end his life.
His "laser focus" in deciding whether to bring charges against Sheskey or the other officers was to consider what a jury trial would look like and if he could prove the case "beyond a reasonable doubt." The only factual circumstance Graveley foresaw being disputed was whether the office had the right to the privilege of self-defense, with the question at hand being, "Did Officer Sheskey reasonably believe shooting at Jacob Blake was necessary to prevent being stabbed by him or necessary to prevent someone else being in immediate danger of death or bodily harm?"
In considering that question, Graveley said he did not believe the state could disprove the right to self-defense, making him "ethically obligated" not to charge the case.
At the time of the shooting, Sheskey and other officers were responding to a call from a woman who said Blake, who was not supposed to be at her residence, would not leave. The police union said in a statement that Blake had a knife and officers used their taser before firing the shots. Brendan Matthews, the attorney representing Sheskey, told CNN his client decided to use deadly force because he was concerned Blake would flee the scene with a kidnapped child.
Matthews said Sheskey heard a woman say "he's got my kid. He's got my keys," and had he allowed something to happen to the child the questions would have been "why didn't you do something?"
"He didn't go to work wanting to shoot anybody. He went to work trying to help people. That's what he does every day," Matthews told CNN of his client. "He absolutely did not want this to happen."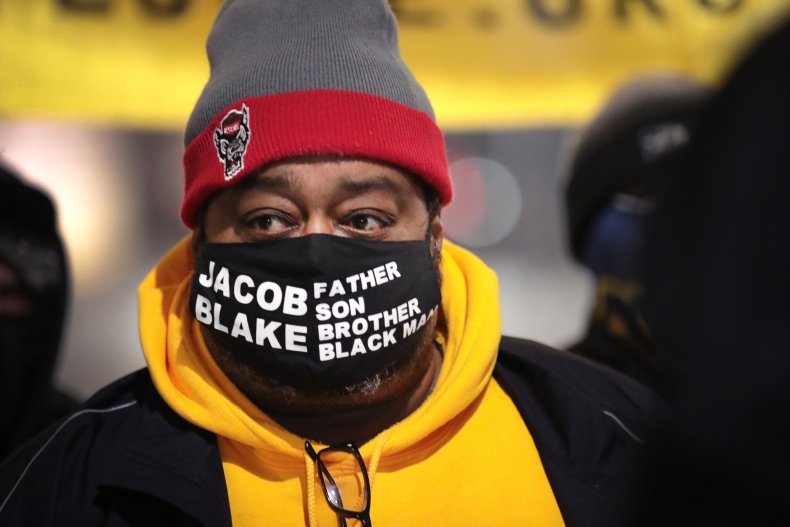 The 29-year-old survived the shooting but was paralyzed from the waist down and remained hospitalized until October, according to Patrick Salvi Jr., one of his attorneys. Footage of Blake's shooting sparked days of unrest in Kenosha and authorities made preparations for the possibility of more riots following Graveley's announcement.
The Kenosha City Council unanimously approved an emergency declaration that would go into effect after Graveley's decision and Wisconsin Governor Tony Evers activated the National Guard. About 500 troops were mobilized after local authorities requested additional assistance. Local businesses also prepared for potential unrest, boarding up windows and doors, but the Blake family urged people to keep things peaceful.
"People have the right to be upset," Justin Blake, Jacob's uncle said at a press conference on Monday. "We are just asking them to be upset and make a lot of noise with the Blake family today, without being destructive."
While they were hoping for Sheskey to be charged, the family was bracing for the possibility that the officer might not face any charges. Michael Bell, whose son was fatally shot by Kenosha police in 2004, suspected the DA would not charge Sheskey, as was the case with the officer who shot his son.
Massive public outcry for officers to be held accountable for several high-profile deaths in 2020 has been met with varying resolutions.
In June, Minnesota Attorney General Keith Ellison charged all four officers—Tou Thao, J. Alexander Kueng, Thomas Lane and Derek Chauvin—involved in Floyd's death. Thao, Kueng and Lane each face charges of aiding and abetting second-degree murder. Chauvin, who was filmed kneeling on Floyd's neck before he died, was charged with second- and third-degree murder, but in October, Hennepin County District Court Judge Peter Cahill dismissed the third-degree murder charge.
While their trial is expected to start in March, none of the officers involved in the shooting of Taylor were charged in relation to her death. One officer, Brett Hankison, who was fired from the Louisville Metro Police Department, was charged with three counts of wanton endangerment for firing his weapon into a neighboring apartment. The decision not to charge the officers with Taylor's death was met with public criticism and nationwide protests.
Attorney Benjamin Crump and co-counsels B'Ivory LaMarr and Salvi said in a joint statement they were "immensely disappointed" in the decision not to charge the officers involved in the shooting.
"This sends the wrong message to police officers throughout the country. It says it is OK for police to abuse their power and recklessly shoot their weapon, destroying the life of someone who was trying to protect his children," the attorneys said in a statement.
Graveley acknowledged that people wanted charges to "send a message," advance the causes of racial equity and help Blake and his family heal from the suffering they've endured. However, he said none of those three reasons are "ethically appropriate" or a basis to charge a criminal case in Wisconsin "if you do not believe you can defeat the privilege of self-defense beyond a reasonable doubt."
Graveley said spoke to Blake ahead of his announcement to inform him of his decision. In a September video recorded from his hospital bed, Blake said he's in pain 24 hours a day, but his family hasn't given up on him making a full recovery.
"Mentally he's on top of the world. He's our new hero," Justin said at the Monday briefing. "If anybody can walk again one day it will be my nephew."