Rusty Bowers Trashes Trump, Defends Jan. 6 Testimony
Rusty Bowers, the GOP Speaker of the Arizona House of Representatives, defended his testimony that he gave to the House select committee investigating last year's Capitol riot, and said that he'll "never vote" for former President Donald Trump again.
During an interview on ABC's This Week released on Sunday, Bowers spoke about the pressure he faced from Trump and his associates in an effort to overturn the 2020 presidential election results in Arizona where Biden won by almost 11,000 votes.
Bowers joined a list of Republicans who have broken with the former president, and testified against him before the Select House committee. In his testimony, Bowers said that Trump and his legal team discussed a plot with him that would allegedly appoint pro-Trump election officials who would falsely declare a victory for the former president in the state.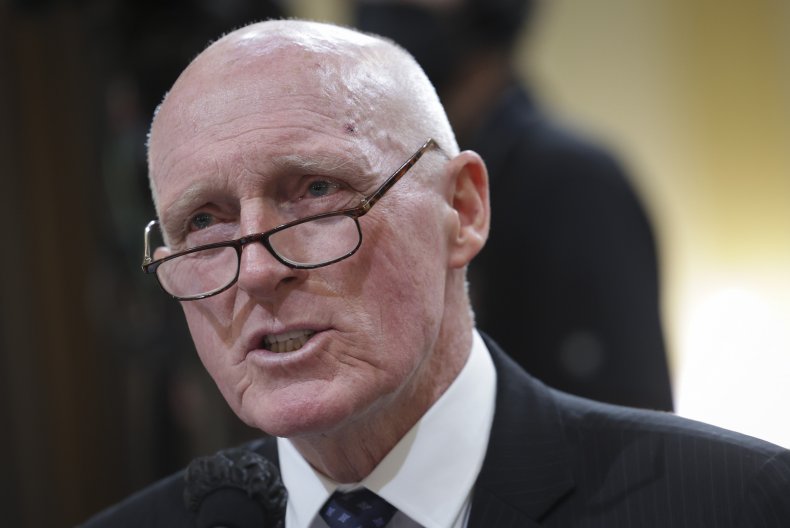 "Did you ever consider going along with it?" host Jonathan Karl asked Bowers during the interview that took place at his home in Mesa, Arizona.
"That's a new one to me. I have never heard of that one. The idea of throwing out the election of the president is like, ok, so what part of Jupiter do I get to land on and colonize?" Bowers said.
He also said that he repeatedly asked Trump's personal attorney, Rudy Giuliani, for evidence to back election fraud claims that said thousands of dead people voted in Arizona. However, Giuliani "never" provided name, data, or anything else that would prove the validity of those claims, according to Bowers.
"If we want to base a party and an authority and move people to solve problems, you can't base it on a lie. Ultimately, that falls apart," Bowers said, who is set to face Trump-endorsed candidate David Farnsworth in a primary for the Arizona Senate on Tuesday.
However, his fate in the upcoming election is uncertain after the Arizona GOP formally censured him for his January 6 testimony, which has also prompted him to face scrutiny and threats.
"I've had people walk up and say...'I'm ashamed of you,'" he said, adding that he has also been called a "traitor" and that the "price of treason is hanging."
Trump even criticized him during a rally in Prescott, Arizona, last week.
"Rusty Bowers, he's a RINO ['Republican in name only'] coward who participated against the Republican Party in the totally partisan unselect committee of political thugs and hacks the other day, and disgraced himself, and he disgraced the state of Arizona," Trump told the crowd, according to ABC News.
When asked about Trump's remarks about him, Bowers responded: "I have thought at times someone born how he was and raised how he was, he [Trump] has no idea what a hard life is, and what people have to go through in the real world. He has no idea what courage is."
In another instance, the ex-president threatened Bowers with an audio tape of a conversation between them that he implied could contradict his January 6 testimony.
Meanwhile, Bowers was asked about his thoughts on Trump's influence on GOP leaders in Arizona.
"Well, those leaders in Arizona are an interesting group in and of themselves. They rule by thuggery and intimidation," he said. "So, you know, they found a niche, they found a way and it's fear. And people can use fear, demagogues like to use fears as a weapon. And they weaponize everything. That's not leadership to me to use thuggery."
Additionally, on the possibility of voting for Trump again in case he decides to run in 2024, Bowers said: "My vote will never tarnish his name on a ballot."
"I'll never vote for him," Bowers added. "But I won't have to, because I think America's tired. And there's absolutely forceful, qualified, morally, defensible, and upright people. And that's what I want. That's what I want in my party. And that's what I want to see."
Newsweek reached out to Trump's media office for comment.