Rutgers Professor 'Resigns' From White Race After Harlem Run-In With 'Caucasian A**Holes'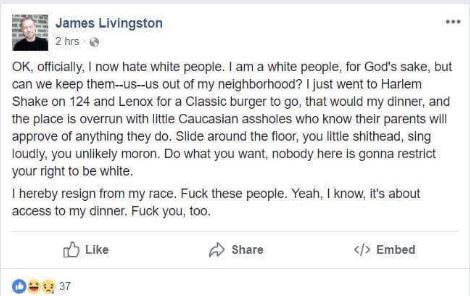 A Rutgers University history professor railed against "little Caucasians" and wrote that he is "resigning" from his race after he had trouble picking up a burger in Harlem last month.
James Livingston, who has been a professor at The State University of New Jersey at Rutgers-New Brunswick since 2003, wrote a Facebook post saying he now officially "hates white people" after he visited a hamburger restaurant last month on 124th Street off Lenox Avenue for dinner. Livingston, who lives in New York, claimed in a later Facebook post he was suspended from the social media website because his "rant v. white people makes me dangerous."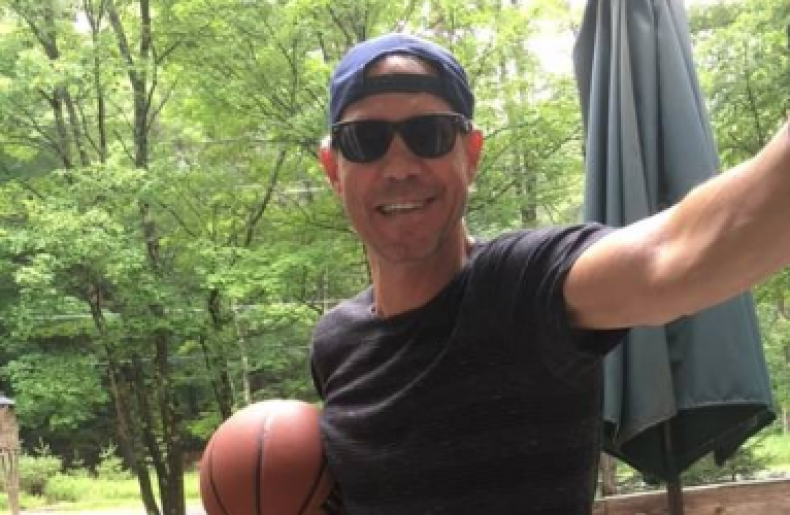 "OK, officially, I now hate white people," Livingston wrote on his Facebook page last month. "I am a white people [sic], for God's sake, but can we keep them — us — us out of my neighborhood? I just went to Harlem Shake on 124 and Lenox for a Classic burger to go, that would [be] my dinner, and the place is overrun with little Caucasian a**holes who know their parents will approve of anything they do. Slide around the floor, you little s**thead, sing loudly, you moron. Do what you want, nobody here is gonna restrict your right to be white."
"I hereby resign from my face. F*** these people. Yeah, I know, it's about access to my dinner. F*** you, too," he wrote in the now-deleted Facebook post.
On May 31, Livingston claimed Facebook sent him a "threat" for posting his "earnest, angry and ridiculous resignation from the white race. As if I could!" Livingston wrote that the company messaged flagged him for going "against our Community Standards on hate speech."
Livingston has written several books on economic history and consumer culture but has recently focused on the "intellectual revolution" in postwar university history departments, according to his Rutgers faculty page.
Livingston followed up his resignation from the white race by doubling down on his dislike for loud pale people. "I just don't want little Caucasians overrunning my life, as they did last night," Livingston wrote in a Friday Facebook post. "Please God, remand them to the suburbs, where they and their parents can colonize every restaurant, all the while pretending that the idiotic indulgence of their privilege signifies cosmopolitan — you know, as in sophisticated 'European' — commitments."
Writing in the quarterly journal Politics/Letters last week, Livingston published a response to the May 31 Facebook post titled "Confessions of a Race Traitor." Livingston said he's received "roughly 70 hate mails for what I said at [sic] Facebook about white people, who can't seem to take a joke or slip the yoke. Just between us, I am, in fact, a white man." Livingston detailed the messages and emails he's received threatening "bodily harm" and accusing him of being a racist for "leaving" the Caucasian race.
Livingston did not immediately respond to Newsweek's requests for comment and explained in the Politics/Letters post last week that news media requests are an obvious "trap" for someone in his position. He said Fox News hosts and others only seek to dramatiz[e] leftists as a deranged, self-hating, America-bashing bunch of over-sensitive "snowflakes." In a Facebook post Monday, Livingston reiterated how the "mainstream" media and members of the alt-right are both eager to go after provocative members of academia.
A Rutgers spokeswoman confirmed to Patch Thursday that the public university is investigating Livingston's social media statements. Spokeswoman Dory Devlin said the university is probing whether his comments violate school policies on discrimination and harassment.
This is far from the first social-media-related race controversy involving college professors. In April, Fresno State University English Professor Randa Jarrar went on leave after she posted several tweets labeling former first lady Barbara Bush an "amazing racist" on the day she died. And at Rutgers alone, microbiology professor Michael Chikindas lost his position last December as the director of the school's Center for Digestive Health after several anti-Semitic posts were found on his now-deleted Facebook page.
Facebook said it would not comment on specific disciplinary action involving its users and referred to their terms of service and community standards guidelines.