Ruth Bader Ginsburg Health Update: Supreme Court Justice to Miss Session for First Time Ever After Cancer Surgery
Justice Ruth Bader Ginsburg will not be present at the Supreme Court on Monday, marking the first time she will miss oral arguments after serving on the nation's highest court for more than 25 years, according to the Associated Press.
Monday's arguments are the first since Ginsburg had surgery to remove two cancerous growths from her left lung on December 21 in New York's Memorial Sloan Kettering Cancer Center. The Supreme Court said that doctors did not find any lingering evidence of the disease after the surgery and that Ginsburg did not have any treatment planned at this time. She was discharged from the hospital on Christmas Day.
Ginsburg, who has survived cancer twice before, broke her ribs during a fall in November.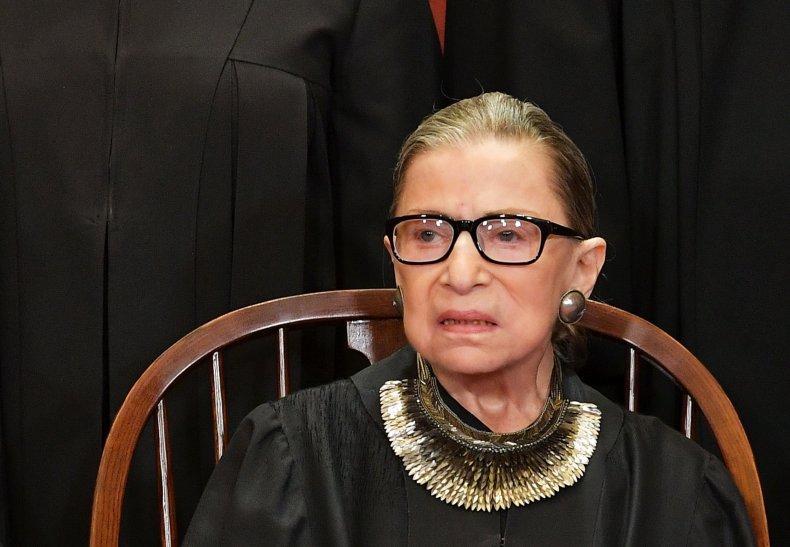 The court is scheduled to hear oral arguments in Merck Sharp & Dohme Corp. v. Albrecht and Obduskey v. McCarthy & Holthus LLP on Monday, according to SCOTUSblog. The former case focuses on the legal warnings on drug labels, while the latter considers "whether the Fair Debt Collection Practices Act applies to nonjudicial foreclosure proceedings," Oyez reported.
Ginsburg's absence on the bench is notable because of her past attendance record despite having grueling medical difficulties, CNBC reported. She did not miss an argument while undergoing radiation treatment and surgery for colorectal cancer, which was diagnosed in 1999. Similarly, she did not skip a day at the bench in 2009 while undergoing surgery for pancreatic cancer. She also had heart surgery in 2014.
Many social media users reacted dramatically when the Supreme Court announced Ginsburg's surgery last month.
"Literally whatever parts of my body RBG needs I will donate them. Let's also get her a robotic exoskeleton and a bulletproof Popemobile and a herculean amount of bubble wrap," author Chuck Wendig, just one of many to offer their body parts, wrote.
Prominent celebrities offered wishes for a fast recovery.
Ginsburg's health has at times proved a contentious topic among Democrats, with some arguing that the justice should have retired while President Barack Obama was in office.
Due to Ginsburg's recent medical difficulties, liberals have worried about her health. After last month's cancer surgery, some vocalized concerns that President Donald Trump might have the chance to appoint a third Supreme Court justice during his time in office.
Trump appointed Justice Neil Gorsuch in 2017 and Brett Kavanaugh in 2018.