Ruth Bader Ginsburg Says She's Not Going Anywhere for 'at Least Five Years'
Supreme Court Justice Ruth Bader Ginsburg confirmed she won't be following in the footsteps of retiring Justice Anthony Kennedy anytime soon, suggesting she would remain in her role for at least another five years.
Speaking in New York following a play about the late Justice Antonin Scalia, who died in February 2016, 85-year-old Ginsburg said she was not considering retirement and dismissed the idea of setting term limits for justices.
"I'm now 85. My senior colleague, Justice John Paul Stevens, he stepped down when he was 90, so think I have about at least five more years," CNN reported Ginsburg saying.
"You can't set term limits, because to do that you'd have to amend the Constitution," Ginsburg added. "Article 3 says... we hold our offices during good behavior. And most judges are very well behaved."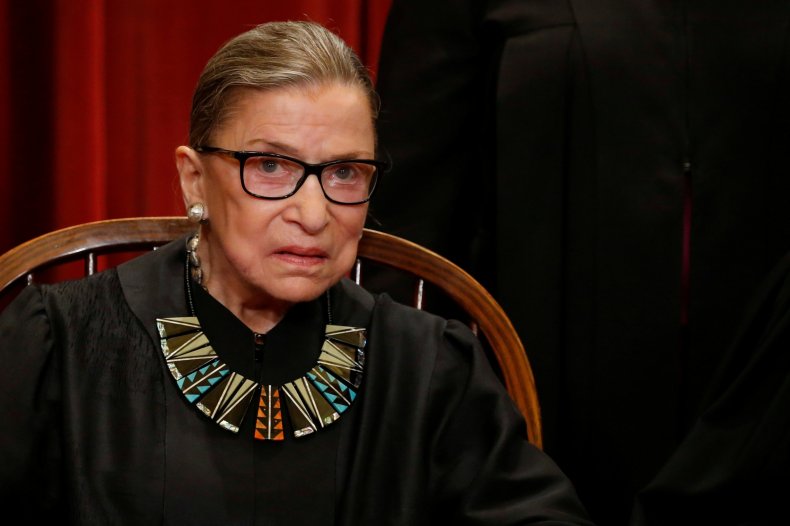 The Supreme Court has been under discussion since Justice Kennedy announced his plans to retire, with President Donald Trump's pick Brett Kavanaugh prompting questions about the future balance of the court.
President Trump previously appointed Justice Neil Gorsuch to the Supreme Court following the death of Justice Antonin Scalia in 2016, and his recent pick of Kavanaugh has led to concerns that landmark legislation Roe v. Wade could come under threat from more conservative judges.
Indeed, during his campaign in 2016 he commented that it would be possible to overturn the abortion ruling with the right judges.
"If we put another two or perhaps three justices on, that will happen. And that will happen automatically, in my opinion, because I am putting pro-life justices on the court," Trump said while on the campaign trail.
In the wake of Kavanaugh's nomination, support for Roe v. Wade has been strong, with a recent poll showing that the majority of Americans did not want to see the legislation overturned.
The Gallup poll released in June showed 64 percent of Americans wanted the legislation to stay in place, while just 28 percent wanted to see it overturned.
Commenting on future and past debates with other Supreme Court justices, Ginsburg said, "If I had my choice of dissenters when I was writing for the court, it would be Justice Scalia. Sometimes it was like a ping-pong game."