RVs Continue to Surge in Popularity Amidst Pandemic
For those who typically use summer as a time to travel, many are rethinking their plans due to the coronavirus pandemic and the risks that traveling presents. Though many travelers still feel uncomfortable with flying, one popular way to get around this summer is by RV.
RV rental platforms have continued to see huge increases in numbers since the pandemic broke out across North America as people search for alternative forms of travel this summer.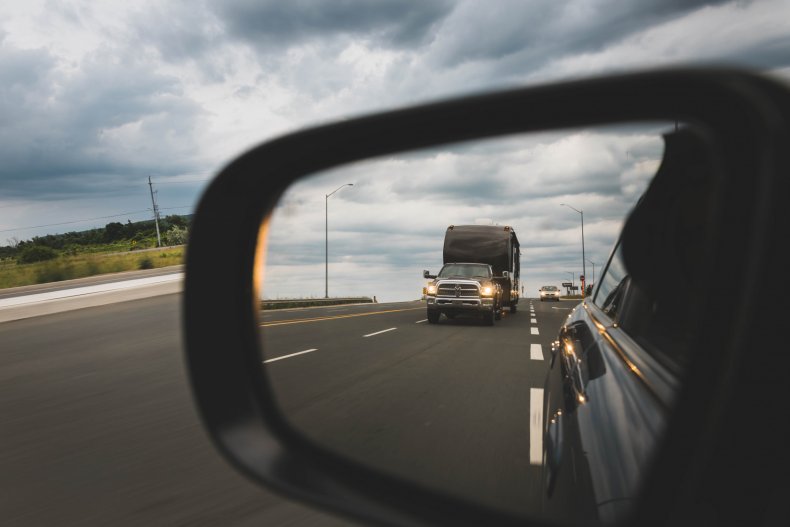 Getting Back Outdoors
Outdoorsy, an RV renting platform, conducted "The Road to Wellness" survey to get a sense of what American and Canadian travelers are looking for this summer when thinking about travel. After spending much of the last five months indoors, the survey found that 94 percent of respondents say that spending time outdoors improves their mental health. Seventy-one percent said they are looking for new ways to get away in light of the pandemic; the survey was taken by 1000 American travelers and 400 from Canada.
"Steve Jobs said it best when he said 'Once the consumer knows they can have more, they will never want less.' Now that people know about Outdoorsy and RV rentals as a vacation option and travel alternative, there is no going back," Outdoorsy's co-founder and CMO, Jen Young tells Newsweek. "Each of us connects personally to the idea of getting outside, escaping routine, and getting closer to the things that make us feel alive."
With Labor Day weekend approaching, which for many marks the unofficial end to summer, RVshare, a peer-to-peer RV rental service, says their bookings are up 50 percent and climbing. Now with many school districts around the country offering the option for students to learn remotely and parents to continue to work from home, more families might be exploring the option to hit the road into the Fall.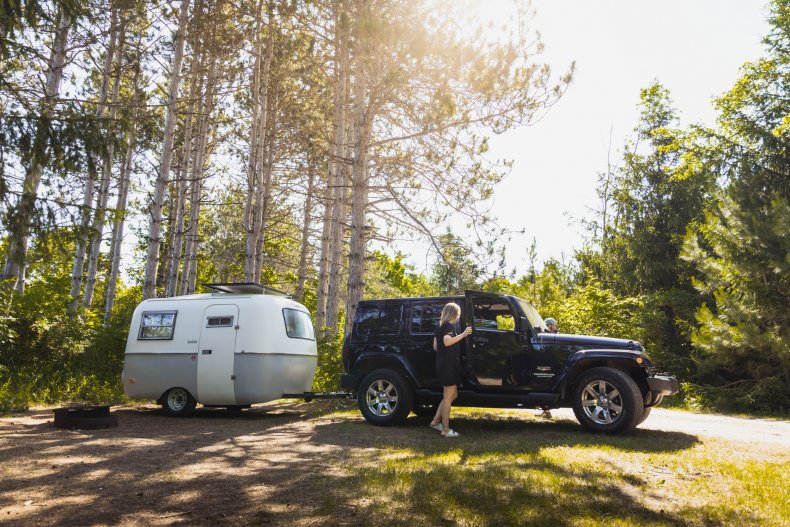 Members of the workforce who are now working from home are 2.5 times more likely to say they would take more road trips if they had access to an RV, Outdoorsy found, and 72 percent of respondents reported they are planning to take more road trips as a result of widespread work-from-home policies due to COVID-19.
Monika Geraci, senior manager of marketing strategy and operations for the RV Industry Association, tells Newsweek that some manufacturers are already starting to meet this unique time by reconfiguring floor plans to accommodate a workstation that can be stowed away at night.
A Continued Uptick in Popularity
Though like many industries, RV manufacturers took a hit when factories shuttered at the end of March and into April. Though, in June, overall shipments of RVs around the country increased 10 percent from the same time last year.
While the RVIA tracks the shipments of almost all RVs in the United States—from the manufacturer to dealerships—one model is seeing the most significant increase of shipments: van campers. Van camper shipments are up 90.2 percent from last June which might be in due part to the "van life" trend of those looking to hit the road on a more full-time basis. Outdoorsy's survey found that Millennials are 2.13 times more likely than any other generation to spend their COVID-related stimulus funds on a road trip this year.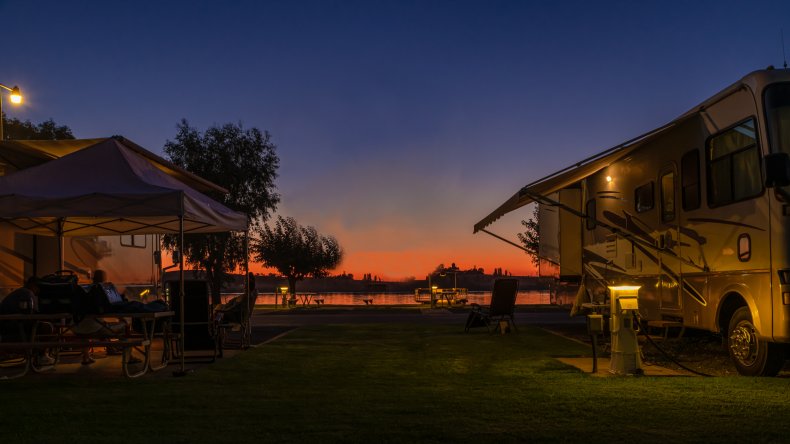 Year after year, though, the most popular model of an RV is the travel trailer, which hitches onto the back of another vehicle. Geraci explains that these are popular among first-time RV buyers and can range in cost from about $20,000-$35,000.
A Flexible Way to Travel
Despite what one might think, there is no additional driver's license needed to operate an RV—though for some, the idea of operating a vehicle that size might be cause for concern. Outdoorsy has accounted for that and says that 60 percent of Outdoorsy owners offer delivery for those who might want to camp (minus the tent) but don't want to drive an RV. The RVs will be delivered to the campsite prior to the renter's arrival to get everything set up—contact-free key exchange.
RVshare recently conducted a similar survey that found mirroring results. Their "Travel Sentiment Survey," surveyed 323 RVShare customers and also found that some travelers are opting to have their RVs delivered rather than trekking long distances driving an RV. Overall, though, RVshare found that more than half of respondents feel more comfortable traveling now than they did three months ago.
"We believe life's best memories are made outdoors, so why put any barriers between you and experiences that last a lifetime? We go where popcorn ceilings, mini-fridges, and marble lobbies can't take you," Young said. "We show you what can't be seen from 30,000 feet above."