'RWBY' Volume 7 Trailer and Footage Shown at NYCC 2019 Panel
The next season of Rooster Teeth's popular animated web series, RWBY is about to premiere and the company's annual New York Comic Con panel brought plenty of footage and information to whet fans' appetites.
Kerry Shawcross, Miles Luna, Lindsay Jones (voice of Ruby Rose), Arryn Zech (Blake Belladonna), Kara Eberle (Weiss Schnee) and Barbara Dunkelman (Yang Xiao Long) were all in attendance at the RWBY Volume 7 panel.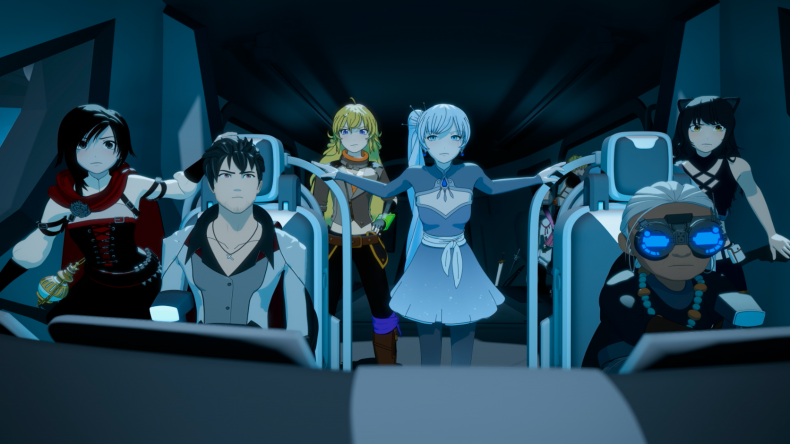 The RWBY crew presented a few announcements regarding the IP starting with Ruby, Weiss, Blake and Yang arriving in the popular MOBA Smite in November. A battle pass featuring RWBY will be available and there's even a "god" skin to unlock.
Next is a partnership with Fan Forget to allow for fanart of RWBY to be sold. More information on this will be coming in the future.
Then, the next novel in the RWBY series is coming in July 2020 called RWBY: Before the Dawn by E.C. Meyers. This book will be a sequel to After the Fall and will have Team SSSN involved.
A new World of RWBY book will coming from Viz Media with anthology books featuring Team JNPR coming soon. There's also the debut of the RWBY DC Comics books in October.
Neo will be added to BlazBlue Cross Tag Battle on November 21, and there will be new RWBY apparel added to the Rooster Teeth Store - including the Volume 6 soundtrack.
And then we get to some Volume 7 slides that feature Team JNPR in new outfits, which you can see below.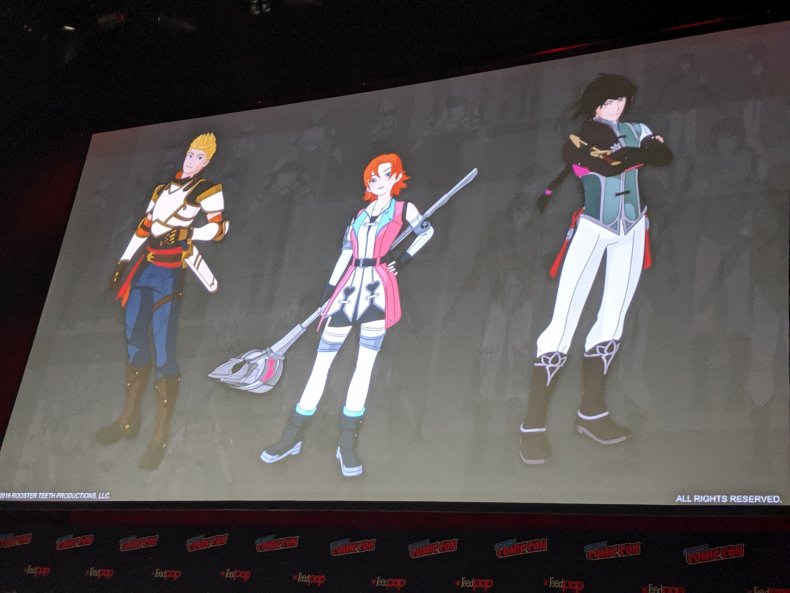 The panel teases that there are more outfit changes not shown so be on the lookout for them.
Shawcross revealed that they have never been further ahead on a volume before now, with everyone working normal hours.
It's also revealed that Volume 8 and 9 have already been greenlit and that Shawcross started writing next season this morning. Volume 9 will be a shorter season because Volume 8 is much longer. Volume 7 and 8 are very connected so the team wanted to give fans the heads up.
Attendees were then treated to the Volume 7 trailer, which you can watch below.
The first 12 minutes of the first episode was also shown. Here's a rough description of what we saw and noticed.
It begins with crew from the end of volume 6 getting closer to Atlus. They head to Mantle - the city under Atlus - and see the metropolis has become a totalitarian state with Ironwood showing up on monitors saying that he wants to keep Atlus safe. Weiss tries to reach her sister Winter but she doesn't pick up. The team sees Winter appear on the monitors as she has joined Ironwood's authority.
The team walk the streets as we see people hide from drones who survey the streets.
The team tries to make heads or tails of what happened to Atlus and Mantle when a drunk citizen hears them talking junk about the city. He slurs his way to berating Blake calling her names when Weiss hits him with one of her dust attacks.
Maria says she knows someone as she takes them to an older man's shop. He is the one who made her the mechanical eyes. He does not have use of his legs and is transported around on a mechanical walking chair-like machine. He recognizes Yang's mechanical arm - hinting that he's the one that made it - and says he knows Team RWBY because his daughter used to talk about them all the time.
The next scene is of the Grimm attacking in the streets with everyone in the crew getting their shots in. Blake destroys a Grimm that tries to hit Yang, but another Grimm appears behind Belladonna as she turns around when the clip is cut.
RWBY Volume 7 is set to premiere November 2.
What do you think of the trailer and the footage description? Let us know your thoughts in the comments section.