Ryan Seacrest, Ali Wentworth Have NSFW Chat on 'Live': 'Let's Go to Break'
Ryan Seacrest blushed with embarrassment when Live with Kelly and Ryan guest host Ali Wentworth revealed he was her "hall pass."
Wentworth, 57, was filling in for host Kelly Ripa when she made the NSFW joke causing the audience to gasp in shock.
But those gasps turned to swoons causing Seacrest, 47, to stop what he was saying and roll his eyes.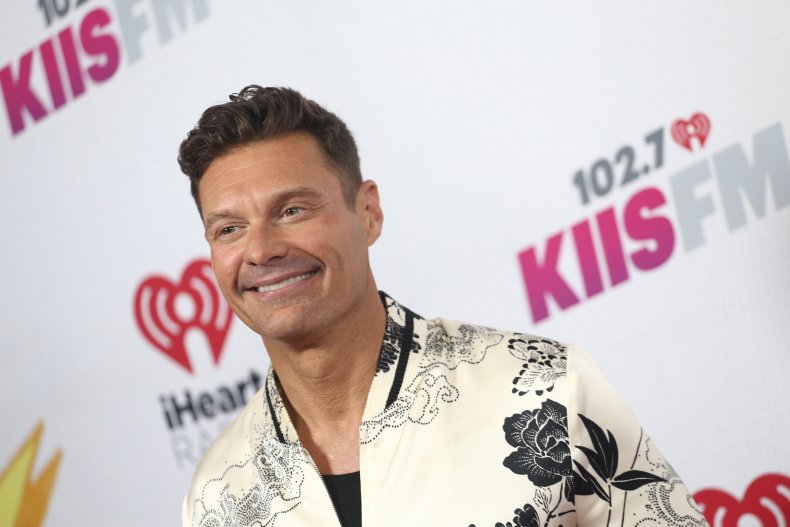 The pair opened Wednesday's show with the usual banter before the conversation turned to Wentworth's recent fishing trip.
Seacrest revealed he did not know much about sea life, when he admitted he thought he'd spotted a sting ray in New York Bay.
"I was marine life shamed here because I thought I saw a sting ray in the bay, but turns out it was a big crab," Seacrest said.
An incredulous Wentworth asked: "What would a sting ray be doing in the bay?"
Displaying a lack of knowledge, Seacrest explained "because the ocean and the bay are connected by water, there's no barrier you know."
Wentworth, who is married to Good Morning America anchor George Stephanopoulos couldn't believe what she was hearing.
"Wow. I guess there's no IQ test to be host of morning television," she joked, as Seacrest elicited cries of sympathy from the audience.
They discussed the issue further as Wentworth tried to explain why sting rays were unlikely to be found in the bay — they prefer tropical and temperate waters — but Seacrest could not understand.
"But the sharks are migrating up here too. Read the news, Ali," Seacrest said.
The actress reacted in shock but joked "that was because of my IQ comment, right?"
She continued, "Listen, no, but I love you; you're my hall pass."
The audience went wild at the comment and Seacrest blushed.
"Let's go to break now," he joked.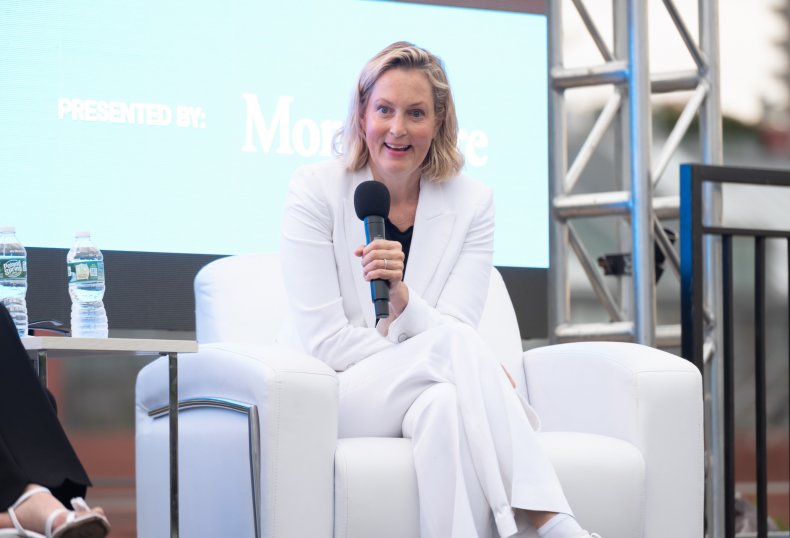 A hall pass refers to the concept of your spouse or partner giving you the green light to have sex with a celebrity and is usually agreed on between the couple during the relationship.
Wentworth has stepped in to cover for Ripa, who is on vacation and fans watching have loved her interactions with Seacrest.
"Not trying to diss any other guests. But literally, Ali Wentworth is the only guest host I want to see if Ryan or Kelly is on vacation. Ali is amazing," wrote one fan on Twitter.
Another added: "Love it when Ali Wentworth co-hosts Live with Kelly and Ryan!!"
Wentworth is a comedic actress who got her big break on the sketch show In Living Color in the 1990s.
She also played Jerry Seinfeld's girlfriend, Sheila aka Schmoopie, on the infamous Soup Nazi episode.
This year she released a book about the COVID-19 pandemic called, Ali's Well That Ends Well.