Who Was Ryan White? Teen Who Contracted AIDS via Blood Transfusion
Twitter users have highlighted the case of Ryan White in a heated counterargument to recent controversial comments made by Dennis Prager about the AIDS crisis and unvaccinated Americans in an interview with Newsmax on Monday.
The remarks by the conservative commentator essentially asked what if gay men were treated like "pariahs" during the AIDS crisis in the way that non-vaccinated people are allegedly treated today.
White was a teenager who died in 1990 after being diagnosed with AIDS (acquired immunodeficiency syndrome) following a tainted blood transfusion. He faced AIDS-related discrimination in his community in Indiana when he tried to return to school following his diagnosis.
In the interview with Newsmax, Prager alleged that President Joe Biden's vaccination mandates were making unvaccinated Americans "the pariahs of America as I have not seen in my lifetime..."
He said: "During the AIDS crisis, can you imagine if gay men and intravenous drug users, who were the vast majority of the people with AIDS, had they been pariahs the way the non-vaccinated are? But it would have been inconceivable. And it should have been inconceivable."
On June 5, 1981, the U.S. Centers for Disease Control and Prevention (CDC) published its first report of five previously healthy gay men in Los Angeles who were diagnosed with what would later become known as AIDS.
By the end of that year, a total of 337 cases of individuals with severe immune deficiency were reported in the country, many of whom were gay men.
As early as July that year, The New York Times published an article titled "Rare Cancer Seen in 41 Homosexuals," and at this point, the term "gay cancer" entered the public lexicon, according to the CDC.
By the following year in May 1982, The Times published the first mention of the term "GRID" (Gay-Related Immune Deficiency), which some researchers at the time used to describe the new epidemic. The term later deepened "the public perception that AIDS affects only gay men," the CDC said.
Who Was Ryan White?
White was a 13-year-old living in Kokomo, Indiana when he was diagnosed with AIDS on December 17, 1984 following a tainted blood transfusion, according to the website of the Health Resources & Services Administration (HRSA) of the Department of Health and Human Services.
He was among the first children with hemophilia, an inherited bleeding disorder (White was a hemophiliac since birth), to be diagnosed with AIDS, the life-threatening condition caused by HIV (human immunodeficiency virus).
In 1985, White was banned from returning to Western Middle School following his AIDS diagnosis. According to an August 1985 report by the Kokomo Tribune, the school's superintendent James O. Smith said White would not be allowed in school because he had AIDS.
According to United Press International, Smith said at the time: "There are a lot of unknowns and uncertainties, and then you have the fear that would generate among classmates."
The public nurse for the Howards County Board of Health did not confirm nor deny a reported claim by Smith that his decision on the ban was backed by the health department, the Kokomo Tribune reported at the time.
White's mother Jeanne White Ginder said: "It was definitely a time where there was no education and there was hardly any information on AIDS at the time.
"It was really bad. People were really cruel, people said that he [White] had to be gay, that he had to have done something bad or wrong, or he wouldn't have had it. It was God's punishment, we heard the God's punishment a lot. That somehow, some way he had done something he shouldn't have done or he wouldn't have gotten AIDS," the mother recalled.
After several court hearings, White was eventually allowed to return to school in February 1986, after not being able to attend classes for about a year and a half.
White's case garnered national attention and he later became the face of public education about AIDS.
When White was diagnosed with AIDS, he was given six months to live but he lived five years longer than expected. He passed away in April 1990, a month before his high school graduation and just months before Congress passed the Ryan White Comprehensive AIDS Resources Emergency (CARE) Act in August 1990.
The Ryan White CARE Act led to the Ryan White HIV/AIDS Program, which is the largest federal program devoted to providing HIV care and treatment services to those on low income living with HIV who are uninsured or underserved.
Over the past nearly 40 years, 75 million people have been infected with HIV and 32 million have died from AIDS-related illness, according to the U.S. President's Emergency Plan for AIDS Relief.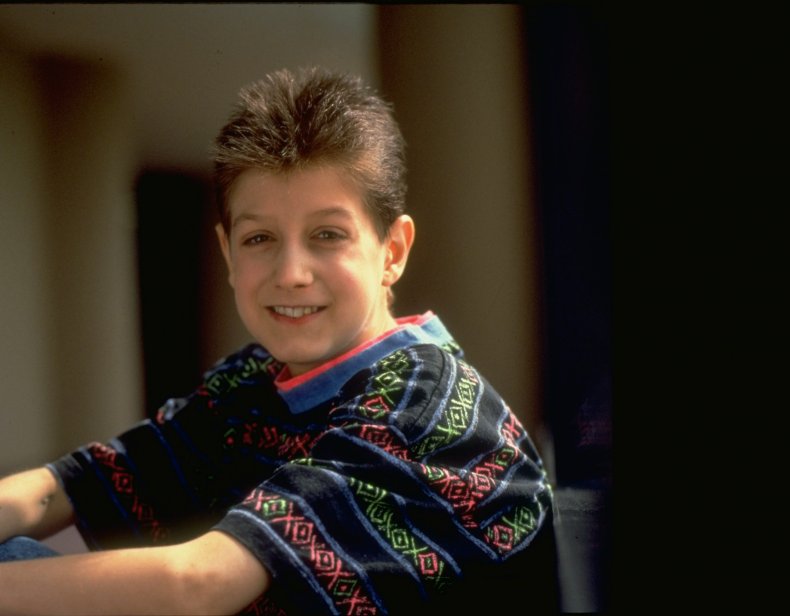 Twitter Users Respond to Prager's Comments
Prager's latest comments faced backlash among several users on Twitter, including public figures, in several threads replying to a tweet by Jason Campbell, a senior researcher at Media Matters for America, who shared a clip of Prager's remarks during his interview with Newsmax. The video had at least 1.8 million views at the time of reporting.
Many users highlighted the story of White and the discrimination he faced to contradict Prager's argument.
Josh Marshall, an American journalist and founder of the Talking Points Memo website, tweeted: "This is a remarkable statement especially since Prager lived through this history. First of all gay men were treated as utter pariahs. but unlike antivaxxers they were pleading for medical care not avoiding it."
In another tweet, Marshall wrote that White "served as a symbol for the tragedy of aids while being 'blameless' because gay men were a) pariahs and b) were seen by many as having brought the disease on themselves. I know I shouldn't be shocked but good lord this is quite a take from Prager."
Author and writer/editor Maria M. Cornelius tweeted: "Craven, mendacious distortion of what actually happened in 1980s. Pariah too nice of word for what really happened to gay men, intravenous drug users—even children who acquired it through blood transfusions. Google Ryan White. They were expendable, just like 754K souls today."
Laura Seay, a political scientist at Colby College in Maine, wrote: "This is such nonsense. Even sheltered kids like me knew about Ryan White, because everyone saw The Ryan White Story, a made-for-tv movie about the stigmatization & cruelty he faced. And White was seen as an 'innocent' victim, having contracted HIV through a blood transfusion."
Kevin M. Kruse, an author and professor of history at Princeton University, tweeted: "I missed that Dennis Prager's idiotic claim that AIDS victims were never treated like 'pariahs' came in a conversation about Ryan White.
"That word appears in literally the first sentence of this 1989 piece about his life story in The Washington Post," Kruse wrote in the post.
User @jennifer_nuchia wrote: "They literally refused to let Ryan White attend school. The general public wouldn't go near anyone who had or was perceived to have HIV/AIDS. Princess Diana made GLOBAL headlines when she interacted with AIDS patients. These people are evil liars." The post has had over 4,800 likes since it was first shared.
Newsweek has contacted Prager for comment.