If you're a golf fan, you couldn't script a better week.
First, Tiger Woods wins the Tour Championship over the weekend and completes perhaps the greatest comeback in golf history—maybe even sports history—then the Ryder Cup tees off on Friday, just days later.
There's nothing in golf quite like the Ryder Cup, an international team competition where things are, let's say, more unbuttoned. Fans are raucous, the players are more animated, the stakes—U.S vs. Europe, teams instead of solo—are unlike the normal pressures fans get on a typical PGA Tour weekend.
The Americans trounced Europe in the last go-round at the 2016 Ryder Cup in Minnesota, the final day little more than a victory lap. The triumph ended a losing streak for the U.S.—they'd lost three straight Ryder Cups—and marked just the second American victory since the turn of the century.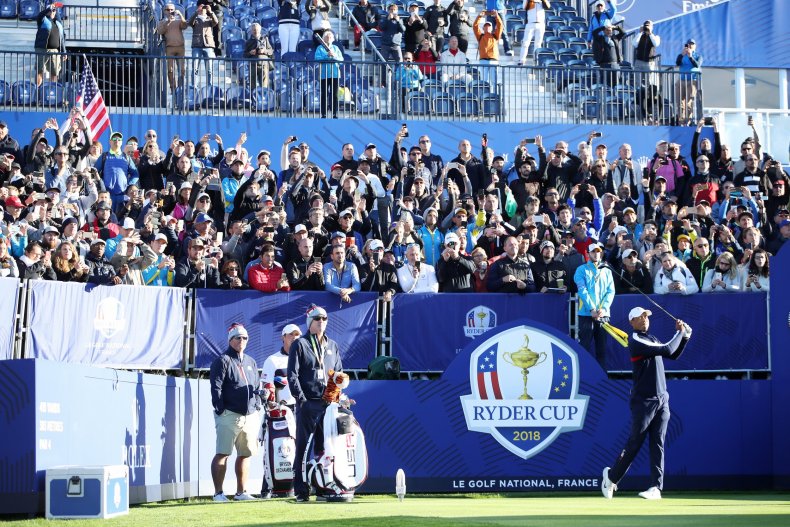 Team USA, captained by Jim Furyk, is considered the favorite to win in 2018, likely because of top-level talent including the likes of Dustin Johnson, Jordan Spieth, Justin Thomas, Brooks Koepka and, of course, a resurgent Woods. They're the -135 favorites while Europe is a +145 underdog, via Odds Shark.
But Europe, captained by Thomas Bjørn, isn't exactly lacking for talent. They have World No. 1 Justin Rose as well as Rory McIlroy, Jon Rahm and Francesco Molinari, to name a few. (Check out the full rosters on the Ryder Cup website.) And some of the Americans aren't exactly playing well. Spieth didn't qualify for the Tour Championship won by Woods while team members Koepka, Bubba Watson, Phil Mickelson and Patrick Reed were the bottom four finishers.
In other words, it's looking like it might be close.
The 2018 Ryder Cup is scheduled to get underway on Friday, this time the Europeans playing host after a particularly rowdy home crowd in the U.S. in 2016. The 2018 tournament will take place at Le Golf National in Paris. Friday and Saturday will feature four-ball and foursomes matches while Sunday will have 12 singles matches. Essentially, four-ball means two players from each team play together against the other team (each player playing their own ball) and pick the lowest score each hole. Lowest score wins the hole. Foursome matches effectively mean duos play together, alternating each shot. Singles are head-to-head matches that look a lot like typical golf.
If you're in the States you might need be awake at odd hours to watch. Friday and Saturday matches begin at around 2 a.m. ET while things tee off at a more reasonable 6 a.m. on Sunday. (Full schedule at the Ryder Cup site here.)
Woods served as a vice-captain in 2016—he was injured and closer to retiring, it seemed, than truly competing. Now, the legend is back on the course as a player. But he's still considered a source of wisdom for younger players.
"He's not just another guy. I mean, he's Tiger Woods," teammate Bryson DeChambeau said, according to Golf Week. "It's always fun to learn a little bit from him and maybe throw some ideas at him that he's like, whoa, that's a little different. So it's fun to kind of go back and forth. He's been fantastic to me, and I can't thank him enough for being as nice as he has."
Now, it's just time to see if Woods can keep his winning streak going.
Here are the schedule details again, in case you missed it:
Dates: Friday, September 28 through Sunday, September 30.
Format: Four-ball, foursome matches on Friday and Saturday. Singles matches on Sunday.
About the writer
Reporter, covering a bit of everything.