Tiger Woods's Comeback: The Most Important Moment From Golfer's Historic Win
Let's get the facts out of the way.
Tiger Woods won the Tour Championship on Sunday. It has been five years since he last won—1,876 days, to be exact. He did it. To put a finer point on the thing—he did it in the final tournament of the season against the best players in the world, all of whom were in good form.
OK. Now let's zoom out.
Before getting a back fusion operation in April 2017—his fourth back surgery, overall—Woods wasn't injured. He was broken.
"For the better part of four to six months, I had to be helped out of bed every day," he told ESPN in an interview earlier this year. "And there were some days where you'd help me and I couldn't stand up. I'd have to either just fall to the floor or just stay in bed."
Just living, for Woods, was pain. You'd be forgiven for thinking it was over. Woods agreed.
Fellow golf legend Nick Faldo relayed a story that, during the height of his back pain, Woods reportedly whispered to a fellow champion during the Masters Tournament dinner, "I'm done. I won't play golf again."
Hell, a year ago, headlines happily blared that Woods had been medically cleared to twist his back a half-rotation and chip golf balls. He could move again. That was the good news.
And now, a win. OK, let's zoom back in. Let's get to the moment promised in the headline.
The 15th hole at Atlanta's East Lake Golf Club. Woods is up—things seem in control—but then the wheels start shaking. The green at the par-3 15th is surrounded by water. Woods flights an iron and—gulp—the shot looks short. But, no, the ball narrowly misses tumbling into the drink. Inches from disaster. A breeze away from failure.
And damn if it doesn't look like the glory days. If not for the iPhones, it could be 2000. Stoic and steely eyed, Woods walks toward the green. A killer, even on the doorstep of a win nobody—not even Woods himself—could imagine just last year. Fans are mobbing for an angle, for a glimpse. Chants of: TIGER, TIGER, TIGER. Everyone's pulling for him. Everyone's reaching out to touch him. Maybe to feel the moment. Maybe to lend him strength.
The Golf Channel's Tiger Tracker, a person who anonymously follows and posts about Woods's every shot, tweets: "Remember when he was high-fiving fans and having fun or whatever? Yeah forget that. THE MEAN MUG IS BACK BAYBAY."
But then, a funny thing. It's suddenly not 2000. It's 2018 and he's relented a little, smiling just a touch. His ball is safely out of the water, he's nearing a victory, and he's—by God—he's having fun out there.
Tiger Tracker quickly follows up: "Ahahaha nevermind. He broke character. Good for you, T. Enjoy the walk."
Tiger Woods, in the heat of it...happy?
Becoming the most dominant golfer ever is an exercise in suffering. Sure, it can, at times, be fun. Winning is nice. But from birth, Woods had a club in his hands. It was a tool. And he hammered away at it—becoming a master craftsman—pinging golf balls into the night sky, long after everyone had gone home. Most anybody can be OK at golf. It's muscle memory and practice and training your body to perfectly repeat a motion. And, yes, talent and athletic ability matter when you hit the PGA Tour, but there remains a certain truth about the nature of golf. If you're willing to suffer—if you can sacrifice—it'll reward you.
Woods was rewarded hand over fist. He would smile with trophies and scream in joy, but it was, in some ways, joyless—it was a great man fulfilling the destiny allotted to him. Everyone else was there to lose and, alas, rejoice that they lost.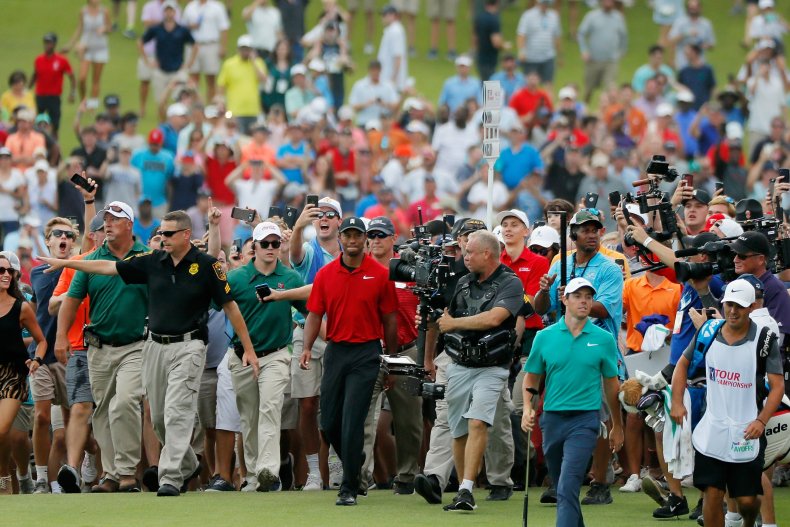 Before Sunday, Woods had won 79 times on the PGA Tour. There were great wins. Dominant wins. Shocking wins. But there will never be another win like the 80th. It's singular. Because a different Tiger Woods won it.
This was a man whose life—by faults only his own—had disintegrated in the most public fashion possible. A broken man. A man who—in pain, and on a cocktail of prescription drugs—was found zonked out behind the wheel of a car last year. A man without a swing and sans the unshakeable swagger that led him to 79 wins.
The old Tiger Woods was a myth. It was a grimaced concoction and scary as hell on the golf course—but when that myth fell out of the sky, it nearly shattered the man behind it. Then he got hurt, and all was lost. It took a coming down, a back fusion and a bucketful of acceptance to rebuild.
But now the new Tiger Woods has won. But perhaps more important, he can pick up his kids. He can play a quick nine holes for the hell of it.
"I'm able to play golf again out here with my buddies," he told ESPN in that interview. "I missed that so much."
The past 79 wins felt owed to Woods, never in doubt. The 80th felt miraculous.
Another moment, really quick. The 18th hole on Sunday. Tiger's up two strokes. He piped his drive down the fairway, which essentially wins it. Catastrophe was now out of play, and catastrophe—lingering, a bleary apparition in the corner of our eyes, slightly out of focus—was all that could rob Woods of the moment that had escaped him for half a decade.
He walks down the fairway, and the crowd files in behind him. Like a pied piper. Thousands and thousands of people rushing in, to see it finally happen.
"This is something," Woods was seen telling his playing partner, Rory McIlroy.
And it was. It always was. But it felt as if, perhaps for the time, Tiger could really see it.