Tiger Woods Comeback Is Remarkable and Headlines Just a Year Ago Prove It
Tiger Woods didn't win the rain-soaked, delayed BMW Championship that concluded on Monday. He finished tied for sixth.
And that was, in some ways, disappointing, since Woods began the Philly-area tournament by setting the world on fire with an opening-round 62.
But consider that disappointment. That disappointment is unbelievable.
It's tough to put Woods's comeback into context—at his best, Tiger always seemed inevitable but the return from his severe back and neck injuries at times seemed impossible—but the news just a year ago do a decent enough job.
On the last day of August in 2017—just about a year ago, exactly—it was considered major, positive news that Woods had been cleared to chip golf balls. Basically, it was a celebration that he could rotate his body a tiny amount because in May of last year he said, "I can't twist for another two-and-a-half to three months."
When Woods got the all-clear to chip, he had played so little and so poorly that headlines blared that his world ranking had fallen out of the top 1,000. On Monday, Woods was ranked No. 21. He climbed 1,109 spots in exactly a calendar year—the graph looks like the EKG of a dead man revived.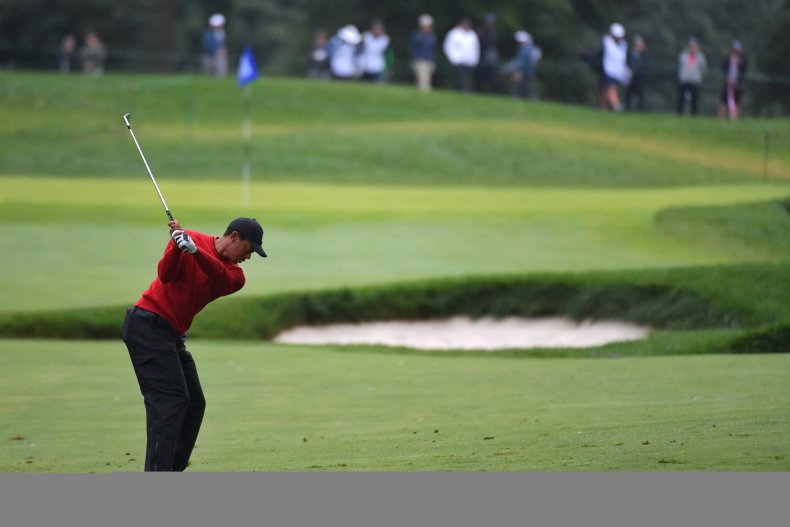 It's funny how time works. How in the muck of day-to-day living we lose perspective. How last month we—this writer included—somehow lamented a second-place finish at a major from Woods. How we wondered why he couldn't eke out a PGA Championship win over Brooks Koepka, a biceped golf machine.
Yet less than a year ago, in late September 2017, Woods admitted he might never tee it up again.
"Could you see a scenario where you could not come back to competitive golf?" a writer asked at a press conference.
"Yeah, definitely," Woods answered. "I don't know what my future holds for me."
Think about how bad it had to have been for perhaps the best golfer ever—a man who was as reliable as death and taxes—to admit he might be outmatched. Woods was a man burdened with chronic pain, a half-broken swing and the weight of a litany of personal failings.
Now, cautiously, those things feel kind of…distant.
No matter what, the comeback—that's already done. It's already enough.
We might never get another major win from Woods. We might never get another win, period, from Woods.
And if that happens, we'll likely feel a little disappointed. But Woods giving us that disappointment—it's a hell of an achievement.