Sacha Baron Cohen Pokes Fun at Rudy Giuliani Following Attorney's Press Conference with Convicted Sex Offender
Actor Sacha Baron Cohen appeared to tease Rudy Giuliani on Twitter after news broke that one of the poll watchers Giuliani invited to a news conference last weekend is a convicted sex offender.
The news came just weeks after the former New York City mayor and current personal lawyer to President Donald Trump was accused of putting his hand down his pants during a cameo in Baron Cohen's latest movie, an action Giuliani has denied.
"In all fairness to Rudy, maybe he was just tucking in his shirt," Baron Cohen wrote on Twitter. His post was accompanied by a Politico article that reported Daryl Brooks, one of the speakers at Giuliani's Saturday news conference in Philadelphia, is a convicted sex offender.
Giuliani held the news conference shortly after several networks called the presidential race for Democratic presidential nominee Joe Biden on November 7. Giuliani told reporters that Trump did not intend to concede the election and questioned the legitimacy of hundreds of thousands of ballots.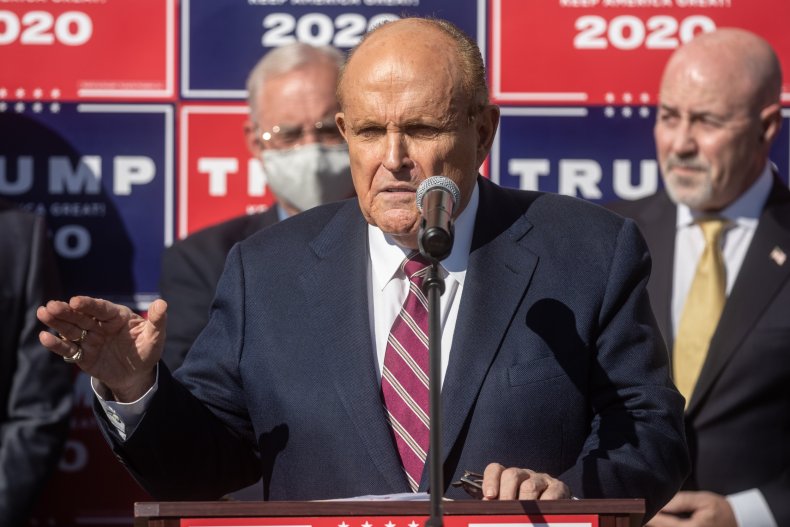 Brooks was the first to speak after Giuliani at the news conference. Giuliani introduced him as one of "50 or 60 poll watchers who will all testify that they were uniformly deprived of their right to inspect any single part of the mail-in ballots." Giuliani said that Trump's campaign would proceed with its legal challenges regarding allegedly illegitimately-cast ballots on Monday.
While Trump appeared to be in the lead during the evening on Election Day, the following days showed Biden surpassing his vote counts in several battleground states, a progression that ultimately enabled him to achieve the 270 electoral votes needed to win the presidency. Trump's campaign filed multiple lawsuits last week alleging poll watchers were blocked from overseeing the ballot-counting process, though election officials in charge of vote counts in each state have denied that was the case.
Giuliani's appearance in Borat Subsequent Moviefilm, a sequel to the 2006 smash Borat, was brief but controversial due to the way he appeared to put his hand down his pants during what Giulani said he believed was a legitimate interview. Giuliani has denied that he did so and said he was actually tucking in his pants after removing microphone equipment.
Giuliani told listeners during his daily show on WABC-AM last month that he was fully clothed for the duration of the alleged interview. "I had my jacket on—I was fully clothed at all times—and I had to take off the electronic equipment," Giuliani said. "When the electronic equipment came off, some of it was in the back and my shirt got a little out, came a little out, although my clothes were entirely on. And I leaned back and I tucked my shirt in."
Giuliani reiterated that he was tucking in his shirt: "I assure you that's all I was doing," he said.
Since word of that scene leaked prior to the movie's release on October 23, Giuliani has called Baron Cohen a "liar" and referred to the film's depiction of him as a "complete fabrication." Giuliani also suggested that the attention paid to his scene was an effort to distract from Biden's alleged "criminality."
"The Borat video is a complete fabrication," Giuliani tweeted on October 21. "I was tucking in my shirt after taking off the recording equipment. At no time before, during, or after the interview was I ever inappropriate. If Sacha Baron Cohen implies otherwise he is a stone-cold liar."
"This is an effort to blunt my relentless exposure of the criminality and depravity of Joe Biden and his entire family," Giuliani said.
Newsweek reached out to Giuliani for comment but did not receive a response in time for publication.