Sacramento Mass Shooting Conducted by At Least 5 Shooters, Police Say
Investigators believe at least five shooters were involved in the mass shooting on Sunday morning in downtown Sacramento, California, that killed six people and injured a dozen more, according to police.
Sacramento police said in a statement on Wednesday that at least five shooters were responsible for firing guns during the incident, but the number could be higher. Authorities believe the gunfire was between two groups of men and was related to gang violence. No one has been directly charged with the homicides yet.
"While we cannot at this time elaborate on the precise gang affiliation of individuals involved, gangs and gang violence are inseparable from the events that drove these shootings," the police statement read.
The FBI said there are some 33,000 violent gangs currently active in the United States. In 2019, gang activity increased by more than 25 percent, and over half of major U.S. cities' police agencies have said criminal gangs and organizations were one of their top five major issues, according to a report from the Department of Justice.
Sunday's shooting began around 2 a.m. near 10th and K streets as the area started to fill with people leaving nearby bars and restaurants. Videos posted on social media showed a fight breaking out in the street while others were trying to break it up. Shortly afterward, several shots were fired and people started to flee the area.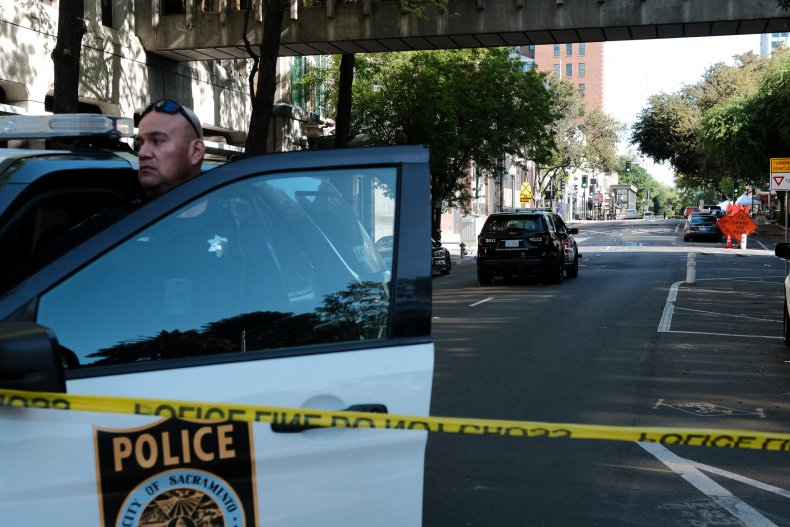 Police arrested two brothers earlier this week who are believed to be involved in the shooting. Dandrae Martin, 26, was arrested and charged on Monday for assault with a firearm and for being a prohibited person in possession of a firearm. Smiley Martin, 27, was charged with possession of a firearm by a prohibited person and possession of a machine gun, according to police.
A third man, 31-year-old Daviyonne Dawson, was arrested late Monday and charged with being a prohibited person in possession of a firearm. Police recovered a handgun from Dawson but have said they don't believe it was used during the shooting. He has not been charged with crimes directly related to the shooting and was released on a $500,000 bail.
Police said the investigation is still ongoing. They've received nearly 200 videos, photographs and other pieces of evidence that are being studied. Investigators found hundreds of pieces of evidence at the scene, including over 100 shell casings and a modified stolen handgun.
Sunday's shooting was one of 122 mass shooting incidents in the U.S. so far this year and the fifth mass killing, meaning at least four people were killed, according to the Gun Violence Archive. The Sacramento area saw another mass killing in February when a father killed his three children, a chaperone and himself during a supervised custody visit at a church.
Update 04/06/22, 5:31 p.m. ET: This article was updated with additional information.