Authorities arrested a second suspect Tuesday in connection with Sunday's mass shooting in the downtown area of Sacramento, California, that left six people dead and 12 injured.
Smiley Martin, 27, was arrested and charged with possession of a firearm by a prohibited person and possession of a machine gun. Martin suffered serious injuries in the shooting and is being treated in a hospital. Once he is released, he will be booked at the Sacramento County Main Jail, the Sacramento Police Department (SPD) said in a statement.
Sunday's shooting was the fifth mass killing and the 122 mass shooting incident this year, according to the Gun Violence Archive. In February, the Sacramento area had another mass shooting, in which a father killed his three children, a chaperone and himself during a supervised custody visit at a church.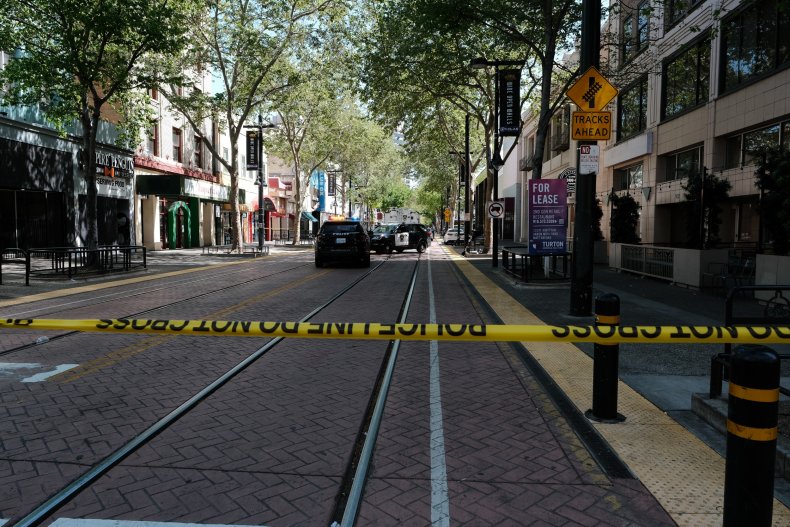 Sunday's shooting began around 2 a.m. near 10th and K streets as people from nearby restaurants and bars filled the streets. Upon arrival, officers found a large group and multiple gunshot victims. Six died at the scene, and the 12 others suffered various injuries.
Martin was transported to a nearby hospital, where police quickly identified him as a person of interest. Police say he is the brother of Dandrae Martin, 26, who was arrested Monday in connection with the shooting. He was charged with assault with a firearm and for being a prohibited person in possession of a firearm.
During the investigation, the SWAT team and the SPD used search warrants at three residences and recovered a handgun. Investigators also found hundreds of pieces of evidence at the scene, including over 100 shell casings and a stolen handgun that was converted into an automatic firearm. At least three buildings and three vehicles were damaged by the gunfire, according to police.
Videos posted on social media showed people getting into a physical altercation in the street, while several others were yelling and trying to break it up. A few seconds into the video, several shots were fired and people started fleeing.
"We are aware of a social media video that appears to show an altercation that preceded the shooting," the SPD said in a news release. "We are currently working to determine what, if any, relation these events have to the shooting."
The community submitted to police over 170 video and photo files relating to the shooting. The investigation is ongoing, and the Sacramento County District Attorney's Office will be reviewing the evidence to determine if additional charges will be filed, according to police.
Update 04/05/22, 11:25 a.m. ET: This story was updated with additional information.