Sad Elephant Has Been Isolated in 'Bleak Enclosure' for 15 Years After Best Friend's Death
An African elephant at a zoo in India has been isolated in a bleak enclosure for 15 years following the death of his only companion.
Now, a petition has been launched to remove the elephant from the zoo and rehabilitate him with other African elephants.
The petition was filed by 16-year-old Nikita Dhawan, who is founder of the non-profit organization Youth For Animals. It says that Shankar is chained for 17 hours a day and does not have adequate space to move around when he is let out.
Shankar has lived at the National Zoological Park in New Delhi for 24 years.
Dhawan told Newsweek that in the later half of 2021, she and others from Youth For Animals made several visits to the zoo to check on his condition. A video taken by Dhawan shows Shankar swaying and bobbing his head, which is a stereotypical behavior displayed by elephants when they are in distress.
He first came to India in 1998 with a companion called Bombai, who died in 2005. Since then, Shankar has been alone.
Dhawan told the BBC that Shankar is kept in a "black enclosure with steel posts and metal fences."
According to the petition, Shankar can be aggressive due to his solitude, meaning that the viewing pathway at the zoo has had to close.
The petition had nearly 100,000 signatures at time of writing.
Youth for Animals previously sent letters to the zoo and Indian Prime Minister Narendra Modi regarding the elephant, but received no response.
The group then filed a Public Interest Litigation in the Delhi High Court, which was heard on January 3. The case was admitted, with the next hearing scheduled for March 8.
"Even though the Indian government banned the exhibition of elephants in 2009, no one has successfully challenged Indian zoos which still hold elephants captive," Dhawan told Newsweek. "While our petition is for Shankar's release, I expect the final high court judgement to set landmark precedence, paving the way for the freedom of hundreds of captive elephants."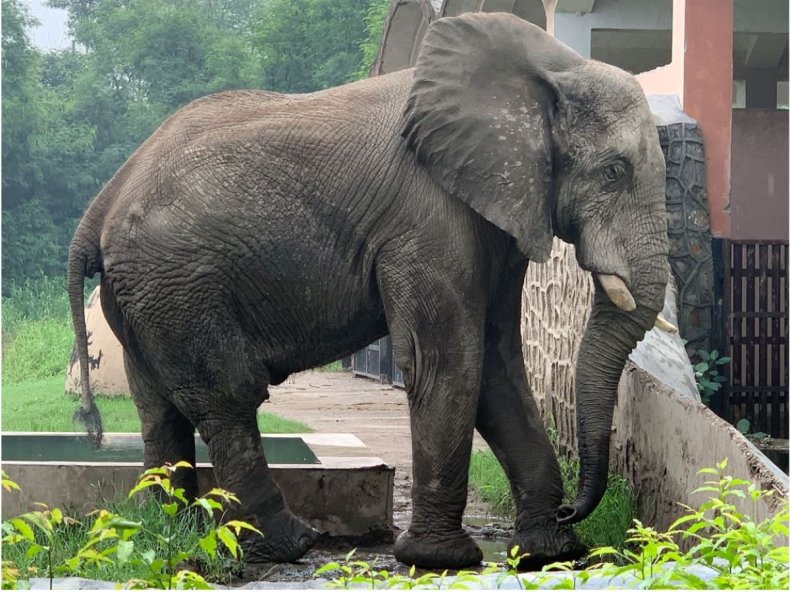 Shankar is one of only two African elephants currently held in Indian zoos. The other is kept at the Mysuru Zoo in Karnataka.
There are two other Asian elephants at the Delhi zoo called Laxmi and Hira, however they are kept apart from Shankar.
The director of the zoo, Sonali Ghosh, told the Indian Express in November 2921 that she had reached out to parks in Africa to ask if they could find a mate for the animal.
Ghosh also said that they have had veterinarians look over the animal and that they found "no issue in terms of stress."
According to Ghosh, Shankar is a solitary animal, and therefore it is not possible to put him with Asian elephants.
Elephants are highly social animals, and can suffer mentally when they are isolated from others.
Male African elephants tend to have a more solitary existence than females, but there is growing evidence that they also live rich social lives.
This has been difficult to research, as males roam large distances and are more difficult to track.
This article has been updated to include quotes from Nikita Dhawan.