Salad Recall July 2020: Fresh Express Bagged Grocery Salads Recall Expands After More Sickened
A bagged salad mix has now been linked to the illness of nearly 650 people in 11 states after its manufacturer expanded the contaminated product's recall.
Fresh Express, a salad subsidiary of Chiquita Brands International, produced the contaminated salad mix, according to the Food and Drug Administration.
Fresh Express first announced its recall on June 27 of all branded and private label salad products made at its Streamwood, Illinois, facility and containing iceberg lettuce, red cabbage or carrots. Recalled products display the code Z178 or a lower number and a "best by" date of July 14 or earlier.
"FDA has discussed these concerns with Fresh Express and the firm has agreed to recall the products of concern," according to the FDA website. The administration added that it had also initiated a traceback investigation to determine the ingredient suppliers, so that it could find the cause and source of the outbreak.
The FDA had first announced its investigation June 19 into a bagged salad mix sold at three major grocery store chains, stating the mix was potentially linked to a multistate outbreak of cyclospora illnesses.
By June 24, the mix had infected more than 100 people in seven states with lab-confirmed cyclospora, causing 19 hospitalizations.
Grocery store chains Hy-Vee, ALDI and Jewel-Osco issued their own recalls of the product by June 22. Walmart was added to the list on June 25, recalling its Walmart Marketside Classic Iceberg Salad. Giant Eagle and ShopRite Wholesome Pantry were also discovered to be selling the contaminated mix, according to the U.S. Centers for Disease Control and Prevention.
In an email statement to Newsweek June 24, Fresh Express President John Olivo wrote that food safety is the company's "number one priority."
"Our first concern, of course, is for the health and wellbeing of those who have become ill and to ensure all appropriate measures are in place to protect public health," Olivo said.
In an email statement to Newsweek July 29, a spokeswoman for Fresh Express said the FDA's inspection of the company's Streamwood facility has been completed. Fresh Express's food safety team is continuing to work with the FDA to identify a definitive source of the outbreak, she said.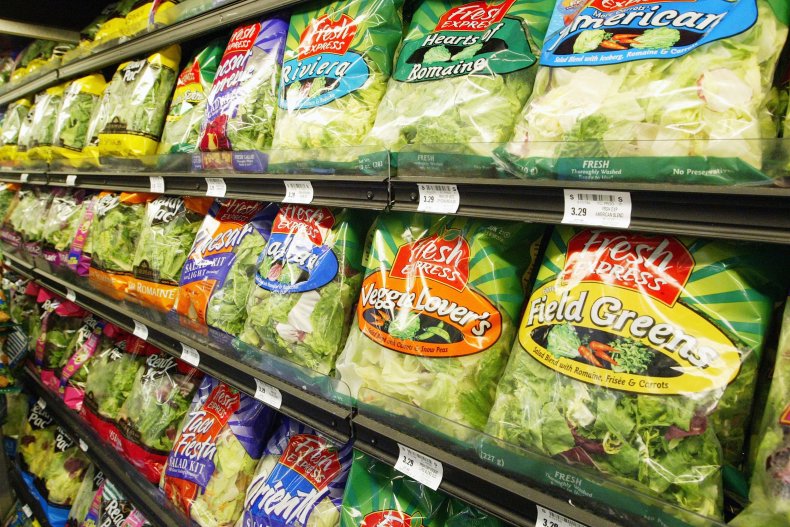 As of July 8, the FDA's investigation into the outbreak was still ongoing, with the CDC reporting a total of 509 cases of lab-confirmed cyclospora across eight states.
That same day, the Public Health Agency of Canada announced 37 confirmed cases of cyclospora across three provinces from the same Fresh Express salad mix.
By July 22, the CDC reported a total of 641 cases of cyclospora across 11 states, resulting in at least 37 hospitalizations.
Cyclospora is a microscopic parasite that can affect the intestinal tract and cause diarrhea in those infected. It is spread by ingesting food that has been contaminated with feces, according to the CDC. The parasite can occur in people of all ages and U.S outbreaks have been linked to various types of imported fresh produce.
Symptoms appear around one week after consuming the contaminated food and can last anywhere from a few days to a month or more if left untreated. It can be treated with the use of an antibiotic.
The affected states include: North Dakota; South Dakota; Nebraska; Kansas; Minnesota; Iowa; Missouri; Wisconsin; Illinois; Pennsylvania and Georgia. Illinois is has the most cyclospora infections with 198 reported cases.
The products recalled by Fresh Express containing the contaminated ingredients, however, were distributed to at least 20 other states and Washington, D.C., according to an FDA press release. The CDC and FDA are continuing its investigation into the outbreak.
Residents of states where the salad mix has been recalled should throw away any bagged garden salad blend they have in their home, even if they are unsure if it is one of the recalled products, the CDC advised.
Update (07/29/20, 3:18 p.m.): This article has been updated to include a statement from Fresh Express.