A woman went viral after taking to the street and asking strangers to disclose their jobs and salaries, leading many users to realize they are being underpaid.
The video, posted by Hannah Williams who runs @salarytransparentstreet, received more than 2.5 million views and nearly 3,000 comments since Saturday evening.
Salary transparency is a strategy in which individuals openly share their job and salary and benefits to provide other individuals with similar jobs to be aware of how much they could or should be making.
In a Global Survey conducted by GlassDoor, 72 percent of employees surveyed around the world believe wage transparency is good for business and 70 percent believe it can increase employee satisfaction.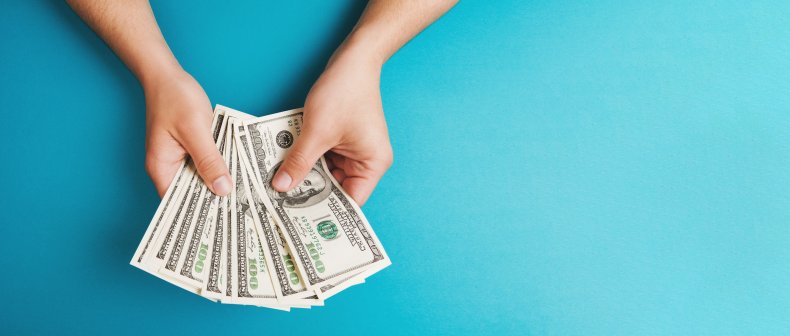 Many also believe discussing salaries openly is a critical step in ensuring people have a baseline knowledge of what others in the field are making in order to negotiate with an employer.
"This is salary transparentstreet. We're in Georgetown, Washington D.C. and today we're going to ask people what they do and how much they make," the woman in the TikTok said as she walked down the street.
The first individual she interviewed said he worked in IT, information technology, and that he makes about $70,000 a year.
The second interviewee on the street said she was a lifeguard and that she makes $15 an hour. Another woman said she "worked for the government" and made $76,000.
Next was a contractor making $96,000 and a research scientist at the Smithsonian Environmental Research Center making about $52,000.
"What matters more: passion or money?" the interviewer asked the research scientist.
"I think passion matters more but money is also very important and people need to be able to make a living wage no matter what they do," the woman replied.
Williams told Newsweek she started posting about her career journey on her personal account and explained how she went from a $40,000 starting salary to more than $115,000 in just over two years.
"I realized times are changing especially with the great resignation and I feel like young millennials and Gen-Z are just so open to things like this," Williams said.
Williams said that many comments on her personal account were from users asking if it was illegal to openly discuss her salary.
"I started doing research on the benefits of transparency and I realized that's a myth," Williams said. "You're totally able to talk about your salary and if a company tells you you can't that's actually illegal."
By not openly discussing wages, Williams said employees are hurting themselves.
"I just realized that the fact that we don't talk about salary is actually a bad thing for all of us and a good thing for corporations," Williams said. "There's a reason that they don't want us to talk about it because we're gonna realize that we're being underpaid and taken advantage of."
More than 2,500 users commented on the TikTok, many commenting on their jobs and salaries and others saying they felt that many of the interviewees were underpaid.
"27, Michigan, Teacher + Coach + summer school coordinator, BS + MS, $46k," one user wrote.
"24, Operations Manager, $80k, BA in History, BA in International Studies," another comment read.
"Y'all notice how the trade made the most money yet we discourage it to kids," one comment read.
"Research Scientist nailed it: 'people need to earn a living wage, no matter what they do,'" another user wrote.
In January, a new law passed in New York City making it mandatory for companies to post salary ranges on job postings.
The law, which will be enforced starting on May 15, will prohibit companies from posting job openings without listing the minimum and maximum salary.
Last week, Newsweek reported on a group of employees at a Planet Fitness in Kentucky who called out their manager for allegedly posting a flier stating they could not openly discuss their wages.
"Effective immediately, conversing about wages (both on duty and off duty) is strictly forbidden," the note, which was posted to Reddit's r/antiwork, read.
But Planet Fitness denied the allegations, telling Newsweek: "We have spoken to the franchise owner of the Planet Fitness location in Frankfort, KY, and after looking into this situation further, they have confirmed that this did not take place at their location."
Update 04/19/2022, 12:25 p.m. ET: This story has been updated with a statement from Planet Fitness