Salman Rushdie Attacked Onstage After Having Bounty in Place for Years
Author Salman Rushdie was attacked onstage before he was about to give a lecture in Chautauqua, New York. Police said Friday morning that Rushdie suffered an "apparent stab wound to the neck" and is being treated at a hospital, where his condition is unknown.
According to the Associated Press, a reporter saw a man rush to the stage at the Chautauqua Institution and attack Rushdie. The man was reportedly restrained at the scene.
The suspect was identified by police as Hadi Matar, 24, of Fairview, New Jersey, on Friday afternoon, Reuters reported. Matar had reportedly purchased a pass to attend the lecture.
"Salmon Rushdie stabbed at Chautauqua. He's on the stage being treated. Before his scheduled speech," Twitter user Mary Newsom said in a post on Friday morning, sharing a photo of the stage at the Chautauqua Institution with law enforcement officials onstage and a man on the ground.
Iran's Ayatollah Khomeini issued a fatwa, or edict, against Rushdie calling for his death after the publication of his novel The Satanic Verses in 1988. The novel caused protests across much of the Muslim world. Rushdie went into hiding and was given round-the-clock protection by the British government from 1989 to 2002.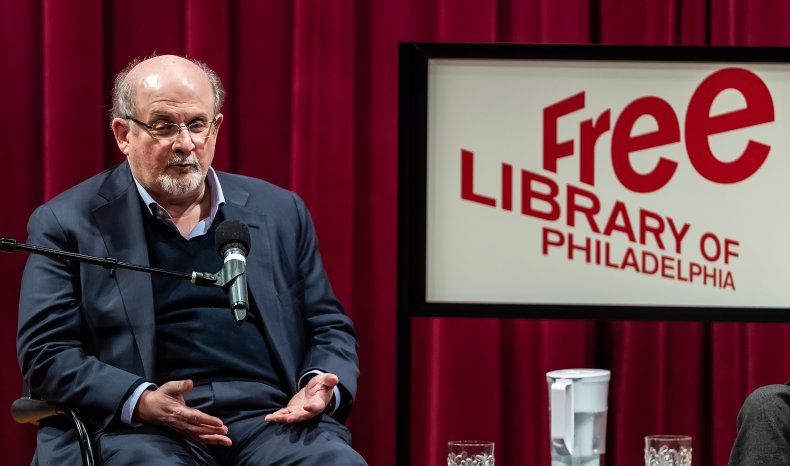 He moved to the U.S. in 2000, two years after Iran declared that it would no longer support his killing. However, according to the AP, a bounty offered to anyone who kills the author still totals over $3 million.
New York State Police are investigating the attack. A police spokesperson directed Newsweek to a news release about the incident that was posted online on Friday morning.
Police said that at around 11 a.m. local time "a male suspect ran up onto the stage and attacked Rushdie and an interviewer."
"Rushdie suffered an apparent stab wound to the neck, and was transported by helicopter to an area hospital. His condition is not yet known. The interviewer suffered a minor head injury," police said.
The suspect has been taken into custody, police added, though he has yet to be identified. Newsweek has also reached out to representatives for Rushdie, 75, for comment.
Ward Pautler, who witnessed the Friday morning attack, told The Daily Beast that the suspect was "heavy set and wearing a black headpiece." While at first he thought the attacker was punching the author, he later realized that Rushdie was being stabbed.
"It didn't take long for me to realize that he wasn't punching Rushdie because you don't punch with the side of your hand," Pautler told the news outlet, noting that several people rushed to take down the attacker onstage.
Another witness of the incident, Rabbi Charles Savenor, told the AP that the attack went on for about 20 seconds.
"This guy ran on to [the] platform and started pounding on Mr. Rushdie. At first you're like, 'What's going on?' And then it became abundantly clear in a few seconds that he was being beaten," Savenor said.
In another recent high-profile onstage attack, comedian Dave Chappelle was tackled to the ground while performing standup at the Hollywood Bowl in Los Angeles in May.
Update 8/12/22, 12:55 p.m. ET: This article was updated with additional information.
Update 8/12/22, 1:45 p.m. ET: This article was updated with additional background information.
Update 8/12/22, 5:30 p.m. ET: This article was updated with information about the suspect in the attack.