Salmonella Outbreak With 'Unknown Food Source' Has Spread to 36 States
A U.S. salmonella outbreak that began in recent months has now expanded to 36 states and infected nearly 600 people, according to the Centers for Disease Control and Prevention (CDC).
At this point, the agency says the cause of the outbreak is an "unknown food source," and said no food items have been recalled in connection with it.
As of Thursday, the CDC said 592 people had fallen ill, and 116 people have been hospitalized with a salmonella infection.
The agency noted that the actual number of sick people in an outbreak "is likely much higher than the number reported, and the outbreak may not be limited to the states with known illnesses."
"This is because many people recover without medical care and are not tested for Salmonella. In addition, recent illnesses may not yet be reported as it usually takes 3 to 4 weeks to determine if a sick person is part of an outbreak," the CDC stated.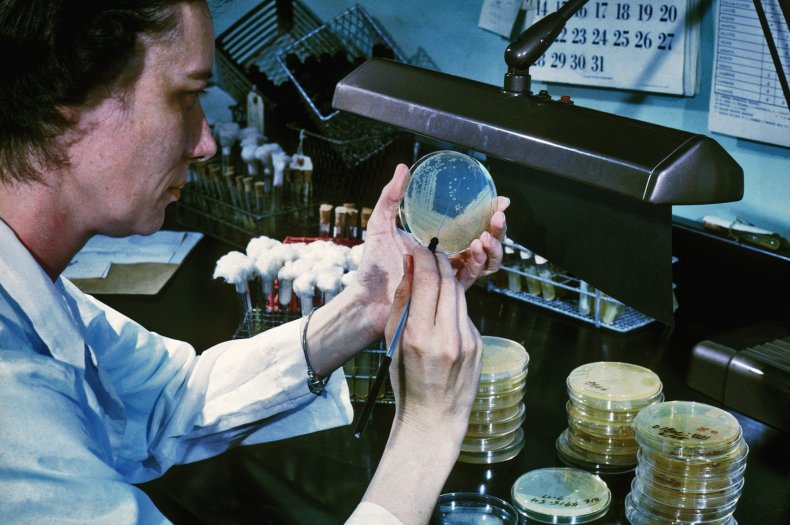 State and local public health officials are interviewing people about the foods they ate before they got sick. The agency is analyzing the data but "has not identified a specific food item as a potential source of this outbreak."
In late September, the CDC said that the mystery salmonella outbreak had spread to 29 states and infected 279 people. Texas and Oklahoma were the states most impacted by the outbreak at the time.
Those two states still lead in infections: the total in Texas has increased to 149 and in Oklahoma, it has risen to 92. Other states with the highest infection counts include Virginia with 54, Maryland with 45 and Illinois with 34.
The agency says that most people with salmonella typically experience diarrhea, fever and stomach cramps.
"Symptoms usually begin six hours to six days after infection and last four to seven days. However, some people do not develop symptoms for several weeks after infection and others experience symptoms for several weeks," the CDC said.
"Salmonella strains sometimes cause infection in urine, blood, bones, joints, or the nervous system (spinal fluid and brain), and can cause severe disease."
Salmonella leads to 1.35 million U.S. infections each year, including 26,500 hospitalizations and 420 deaths, according to the CDC.
In August, the CDC documented salmonella outbreaks linked to Italian-style meats. The agency said that people in two outbreaks became sick after eating meats found in antipasto or charcuterie assortments, including salami and prosciutto.
Earlier this month, the CDC also found another salmonella outbreak linked to seafood. A Colorado-based company recalled its seafood products following the outbreak.