Samantha Markle Says Meghan Failed To Credit Dad for Schooling: 'Who Paid?'
Samantha Markle has accused her sister Meghan of failing to credit their father's role in her upbringing—adding: "We're not raised in a vacuum."
The Duchess of Sussex described how "our society tries to box women in" during the debut episode of new Spotify podcast Archetypes.
She also discusses her career at fee-paying Los Angeles private school Immaculate Heart, saying its feminist ideology trickled down "into every aspect of my life."
Half-sister Markle used an appearance on GB News to say Meghan should have credited their father with paying for that education.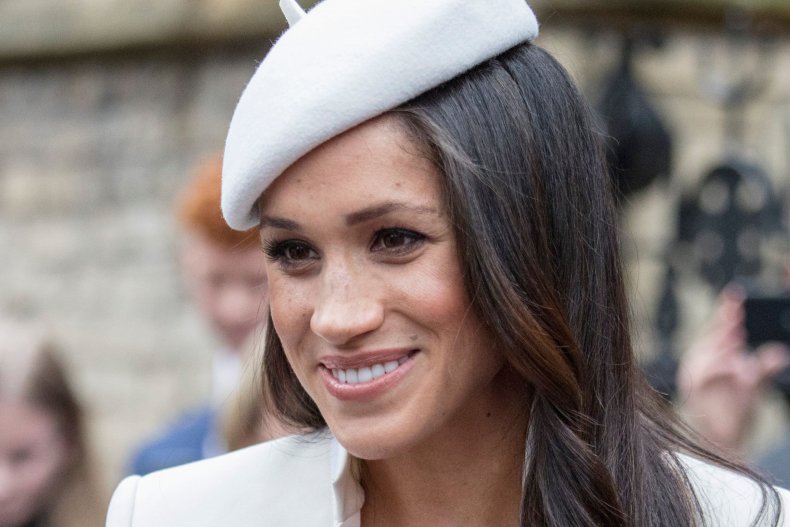 She told host Dan Wootton: "This is my humble opinion. It's rather lofty to suggest the ability to align with issues of womanhood and suffering on those grounds.
"She did bring up the fact that she went to Immaculate Heart [school] and that they were empowered by the nuns.
"But wait a minute, who paid? That was all my dad. So let's face it, we're not raised in a vacuum. We have to include the men when we're self-glorifying."
Meghan started her podcast with an often told story about a childhood letter-writing campaign to change the wording on a sexist advert for dish soap.
She then recounted how the nuns who set up her high school had rebelled against "the conservative cardinal of the archdiocese," renouncing their vows so they could live as they chose.
The duchess said: "They molded their school—Immaculate Heart—in their new image: theologically driven. But feminist.
"Now, look, I'm not Catholic. I wasn't raised Catholic. But about one year after my letter-writing campaign, I started middle school at Immaculate Heart. I stayed there through high school.
"I was there for six years. And this feminist ideology trickled down into nearly every aspect of my education. It's probably safe to say into every aspect of my life.
"This message to me and my classmates was clear: our futures as young women were limitless. Ambition? That was the whole point."
Samantha—who is separately suing Meghan for libel—added: "She did bring up a good point though. She was talking about the archetypes—the boxes—that we put ourselves in.
"Wait a minute. We've got to go back to when she mentioned this in [her now defunct lifestyle blog] The Tig and a lot of her PR.
"Who told her about drawing your own box? That was dad. Dad told her all about that and helped her to define herself and be stronger in that."
Meghan famously described how prior to becoming a royal how she had not known what box to tick for ethnicity while at school because there was no "mixed race" option.
In an article for Elle magazine in 2015, Meghan wrote: "There I was (my curly hair, my freckled face, my pale skin, my mixed race) looking down at these boxes, not wanting to mess up, but not knowing what to do.
"You could only choose one, but that would be to choose one parent over the other—and one half of myself over the other. My teacher told me to check the box for Caucasian. 'Because that's how you look, Meghan,' she said."
She said she did not tick a box due to her confusion and later asked father Thomas Markle what she should have done.
Meghan wrote: "He said the words that have always stayed with me: 'If that happens again, you draw your own box.'
"I never saw my father angry, but in that moment I could see the blotchiness of his skin crawling from pink to red."
Meghan has been estranged from her father since before her May 2018 wedding to Prince Harry when he was caught staging paparazzi pictures for money.
She has always downplayed her connection to Samantha, her older, half-sister and told Oprah Winfrey they had little relationship with each other, living together only up until the duchess was two.
Samantha, by contrast, says she walked Meghan to school and helped her with homework.
For more royal news and commentary check out Newsweek's The Royal Report podcast: