San Diego Man Charged With Racial Attack on 3 Women in Hijabs, Yells 'Go Back To Your Country'
A San Diego man has been arrested in connection with racial attacks on three women wearing hijabs and allegedly yelling at them to "go back to your country," local police have confirmed.
Kyle Allen, 50, reportedly started berating the women at about 12:55 p.m. on Columbia Street in the city's Little Italy district on Sunday, taunting them with a variety of racial slurs.
He is also accused of slapping the women and removing one of their hijabs—the headdress worn by some Muslim women as a symbol of their faith.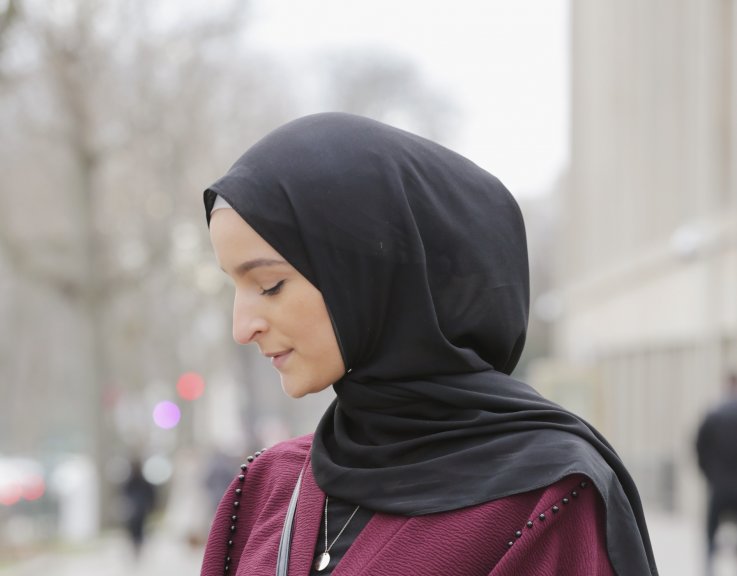 A file photo of a woman in a hijab. A San Diego man was arrested in connection with a racial attack on three women wearing the Muslim headdress.
Getty
The incident is said to have occurred when Allen and the three women crossed paths on the street, with the women making way for Allen to pass. Allen is then said to have lunged his shoulder into one of the women, a witness—who gave her name only as Amy—told ABC 10 News.
"Fists started flying, and it was his fists," she said. "He started swinging at the women, trying to hit the woman that he almost knocked down, but he ended up hitting one of the other women."
Amy said she was one of several people to call 911 and report the ongoing attack to police.
"As I got closer, I heard him calling her names and telling them to go back to where they came from," she added.
Allen ultimately left the scene and made way for his apartment. However several witnesses trailed him and alerted police as to where he lived.
Officers arrived at the man's apartment a short time later and when they knocked on his door, he greeted police bearing a gun in his hand.
Eli Morales, who also witnessed the incident, told Fox5 News that police tried to talk down Morales for several hours, before successfully getting him to turn himself in.
"All these detectives came and were staying guarded at the door the whole night," he said.
San Diego Police Sergeant Matthew Botkin confirmed that three women walking toward West Beech Street were shoved and slapped by a man walking in the opposite direction, reported the San Diego Union-Tribune. The newspaper also reported it had seen video footage of the attack captured on cellphone.
Botkin added that after Allen was apprehended, officers discovered a further gun fitted with a silencer inside his home.
Allen was booked into jail on charges of battery, violating civil rights with force or threats and possessing a firearm silencer. He was later released and is expected to appear in court on October 21.
The incident comes after President Donald Trump also told four Democratic congresswomen—Ilhan Omar of Minnesota, Rashida Tlaib of Michigan, Ayanna Pressley of Massachusetts and Alexandria Ocasio-Cortez of New York—to "go back" where they originally came from in July.