Woman Sets Up GoFundMe to Sue for Half of Starbucks Barista's $100k Tip
The woman who refused to wear a mask at Starbucks in San Diego has set up a GoFundMe to sue the barista for half of his $100,000 in tips. Amber Lynn Gilles set up the fundraising page to pay for lawyers to sue Lenin Guiterrez, who refused her service for not wearing a mask.
Gilles posted a photo of Gutierrez to Facebook and said he refused to serve her and was discriminatory, and that next time she would bring a medical exemption and wait for the police. The post went viral, but not in Gilles' favor.
A GoFundMe page was set up for Gutierrez by Matt Cowan, who said: "Raising money for Lenin for his honorable effort standing his ground when faced with a Karen in the wild."
"Karen" is a derogatory name used to describe women who do not follow the rules, are rude to service staff, and typically ask for the manager. Recently, it has also become synonymous with racist white women wrongly calling the police on Black people.
The GoFundMe page for Lenin raised $105,000 before donations were disabled and Gutierrez spoke to Will Collette about what he will spend the money on in a YouTube video.
Gutierrez revealed that he is passionate about dance and wants to use the money to study kinesiology—the study of body movement—to one day help dancers who have been injured get back on their feet.
But Gilles is hoping to sue Gutierrez for half of the donations he has received. Gilles told KGTV that she has spoken to a few lawyers, but as they are expensive, she has set up a GoFundMe.
According to a GoFundMe page that appears to have been set up by Gilles, titled "Redress Defamation of Character," she wants to raise $5,000. In the GoFundMe, Gilles says: "I have been attacked by liberals, the organizations who form many Facebook hate groups, I am silenced on media platforms and censored.
"I have been slandered and defamed on a GoFundMe raiser, he used my photo and personal information [without] my permission."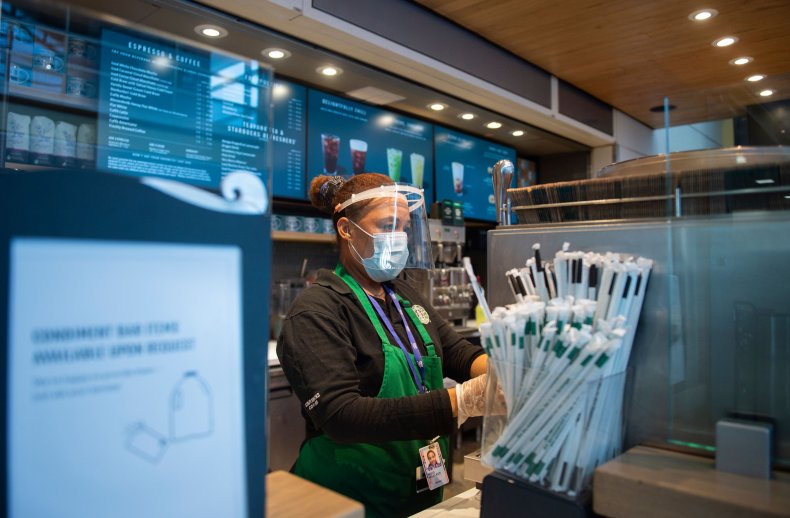 She claims that Gutierrez consented to have his picture taken and that it is her First Amendment right to describe her experience in a review, but that she did not give anyone permission to use her photo, call her a Karen, or to profit off her post.
So far, the GoFundMe has raised $430 of its $5,000 target, but the recent donations are from people donating $5 each to be able to comment on the fundraiser and insult Gilles. For example, one anonymous donor said: "Take your $5 Amber, bullying someone for doing the right thing, that's disgusting. You're a miserable piece of s***, get a life."
Gilles says that she was discriminated against on medical grounds and provided ABC 10News with two documents to supposedly prove her medical exemption.
One is a handwritten note from a San Diego chiropractor who Gilles did not want to be named that said: "Amber has underlying breath conditions that prevent her from wearing a mask or any type of facial covering whatsoever. Please contact me if have any questions."
However, Jeffrey A. Linder MD MPH of Northwestern Hospital told Newsweek yesterday that more than 99 percent of people do not have an excuse not to wear a mask. Linder told Newsweek: "Even patients with chronic lung disease like asthma or emphysema have no problems tolerating masks.
"If you have lung disease, you are at higher risk for complications of COVID and should especially wear a mask if you cannot properly physically distance."
Gilles has also spoken about the other medical conditions that prevent her from wearing a mask, and also claimed that masks do not work: "One of [the conditions is] I get shortness of breath, dizziness and it messes with the heartbeat. And I do have asthma as well, and I do get mask-acne. So there's several things going on and not only that but it doesn't even work."
Gilles posted the review to Facebook on June 22, and while Starbucks has only required its customers to wear face masks since July 15, San Diego has required its residents to wear face masks in public settings since May 1. Additionally, Starbucks locations may have implemented their own face mask policies before the chain issued a nationwide requirement.
On Tuesday, July 14, the Centers for Disease Control and Prevention (CDC) published a report calling for Americans to wear face coverings to slow the spread of the coronavirus. CDC Director Dr. Robert R. Redfield said: "We are not defenseless against COVID-19.
"Cloth face coverings are one of the most powerful weapons we have to slow and stop the spread of the virus—particularly when used universally within a community setting. All Americans have a responsibility to protect themselves, their families, and their communities."