California School Board Members Caught on Tape Mocking Parents Upset About School Closures
Members of an elementary school board in California's San Francisco Bay area were caught on tape mocking parents over school closures during a public meeting that they mistakenly thought was private.
During a Wednesday meeting with the Oakley Union Elementary School District Board of Trustees, which is located in Contra Costa County, California, multiple board members were heard making disparaging and offensive comments.
In one part of the recorded video, board member Kim Beede asked the other members if they were alone, before using expletives to describe what she would do to a critic who complained about reopening schools.
"B***h, if you are going to call me out, I am going to F**k you up! Sorry! That's just me," she said, while other members were heard laughing.
Another member, Richie Masadas, implied during the meeting that parents just want their children back in school so they can smoke marijuana.
"My brother had a delivery service for medical marijuana, and he delivered to parents while their kids were at school," Masadas said, while insinuating that parents can no longer do that while their kids are at home.
Board President Lisa Brizendine added into the conversation that parents just want schools to reopen so they can have "their babysitters back."
"People forget there's people behind those letters people are writing. They want to pick on us. They want their babysitters back," she said.
Superintendent Greg Hetrick could also be heard on the call proposing an initiative that would limit public meeting comments to three-minute recorded audio clips, in order to cut off parents mid-sentence.
Once the board members realized their statements were actually being recorded during a public meeting, they quickly cut the line. The recorded conversation has since spawned backlash among angry parents who started a petition to have board members resign.
"They see us writing letters monthly, weekly, to the board members, detailing our stresses and grief about distance learning. For them to say we are doing nothing and sitting home and smoking pot is far from the truth," Ashley Stalf, school district parent told ABC 7 News.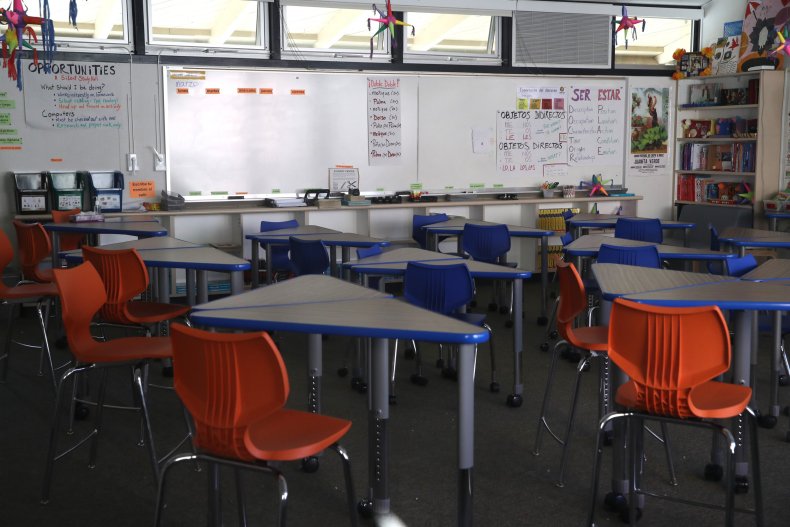 On Thursday, Brizendine resigned from her position as board president, NBC News reported. By Friday morning, the petition to have others removed garnered nearly 5,000 signatures.
Hetrick has since released an apology in which he called the comments "unfortunate and truly inappropriate."
"The comments made were not in alignment with our Vision and are definitely not what any of us stand for as leaders," he said in a statement on Thursday. "I know that we lost trust with the community. I will not make excuses for what happened or why it happened. I am the superintendent. I am responsible and accountable and I am truly sorry for what took place."
Oakley Union Elementary School District enrolls about 5,000 students, but has not reopened for in-person instruction despite a push from California Governor Gavin Newsom and the Biden administration to reopen schools.
"Parents were tuned in to learn if we will be sending our kids back to school soon and if not, why. There has been a lack of communication from the board and this was the first communication we heard," the petition, circulated by Oakley resident Rebecca Mackowiak states.
"A recall would cost the district money that should be going to the kids," the petition adds. "I am asking that the board members to resign immediately due to their egregious behavior. They should no longer represent the parents, teachers and children in this school district."
By Friday, it was unclear whether any additional board members would resign from their positions.
Newsweek reached out to the school board superintendent for additional comment, but did not hear back in time for publication.
Correction, 02/23/21 (12:04 p.m.): The headline for this story is updated to reflect that the school district is not located in San Francisco but in nearby Contra Costa County.