San Francisco School Board Recall Is a Wake Up Call for Progressives Across U.S.
San Francisco residents ousted three members of the city's school board on Tuesday in a move that could be viewed as a wake up call to progressives across the country.
The San Francisco Unified School District board has seven members, all of them Democrats, but only three were eligible to be recalled: school board President Gabriela López, Vice President Faauuga Moliga and Commissioner Alison Collins.
Voters overwhelmingly supported the recall of all three progressive members, according to tallies by the San Francisco Department of Elections.
The recall was backed by Mayor London Breed, one of the nation's most progressive mayors leading a politically liberal city, suggesting the social justice policies promoted by the board have lost their appeal with voters.
In a statement, Breed said that voters have "delivered a clear message that the school board must focus on the essentials of delivering a well-run school system above all else."
Parents incensed over the school board's priorities during the COVID-19 pandemic launched the recall effort last year.
They criticized the board's plans to rename 44 of the district's schools instead of focusing on reopening them. Asian American voters were also galvanized by an attempt to end selective admissions at an elite school where Asian students are the majority and by the surfacing of old tweets shared by Collins, who is Black, that were condemned as racist and anti-Asian.
"The board talked about social justice and equity non-stop but didn't do anything to help the disadvantaged kids who fell the furthest behind thanks to the extended school closure. Which is why the voters of San Francisco supported this recall in huge numbers," Siva Raj, a father who helped launch the recall effort, told Newsweek.
The board drew criticism in 2021 for its efforts to rename 44 public schools they said were honoring figures linked to racism and oppression, including ones named after Abraham Lincoln, George Washington and Sen. Dianne Feinstein. Some of the cases cited by the board were historically inaccurate and the plan was scrapped after an uproar.
Then, as a signature effort for a recall was already underway, Collins—who is Black—came under fire for old tweets that were decried as racist and anti-Asian. In them, she said Asian Americans used "white supremacist" thinking to get ahead and were racist toward Black students.
Collins then filed a lawsuit against the district and her colleagues for $87 million after the board voted to strip her vice presidency. The suit was later dismissed.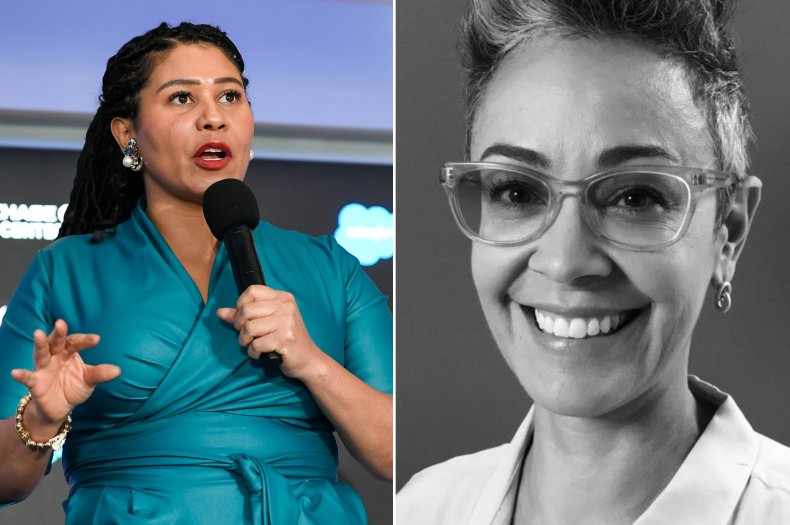 Asian American voters were also galvanized by the board's efforts to end merit-based admissions at Lowell High School. "It's been an opportunity for the Chinese community to flex its muscles," David Lee, a political science lecturer at San Francisco State University, told The New York Times. "The community is reasserting itself."
The reaction suggests that progressive policies, at least when it comes to schools, may be losing their appeal even in one of the nation's most progressive voter bases.
Tim Miller, of conservative site The Bulwark, tweeted: "It is a bloodbath in the San Francisco school board recall. The school shut downs and absurd effort to rename Abraham Lincoln High were about as popular as sepsis in the bluest city in America. If this isn't a wake up call to the activists pushing this stuff idk what would be."
"Parents in San Francisco have voted to recall three radical left-wing members of the city school board by a wide margin," said a tweet posted by The American Principles Project, a conservative think tank. "The lesson is clear: Don't piss off parents."
Lee Fang, a journalist with news website The Intercept, noted: "No one watches Fox News here. There's no real right wing influence. The leaders of the recall are nonwhite immigrants."
Fang added that "the fact an overwhelming majority of Democrats recalled San Francisco's ultra woke school board speaks volumes."
Although school board races have become a new front for polarizing issues including COVID-19 restrictions and lessons about racism in U.S. history, journalist Jeremy Owens argued the recall in San Francisco is "very much about THAT board being bad at its ENTIRE job."
Update 2/17/22, 6:15 a.m. ET: This article has been updated to add comments from Siva Raj.