'The Sandman's' Boyd Holbrook Explains Why He Never Took His Sunglasses Off
Boyd Holbrook enjoyed not removing his sunglasses and being an "enigma" on the set of The Sandman, the actor told Newsweek.
The Narcos star portrays villain The Corinthian, a nightmare personified who escapes into the waking world and wreaks havoc when his creator Dream (Tom Sturridge) is captured by a human and imprisoned for over a century.
What makes The Corinthian so terrifying is the fact that he has teeth for eyes, which is the reason why the character never removes his sunglasses unless he is feeding on a victim—and Holbrook found it was useful to "set the tone" by choosing not to take them off even in between takes.
Boyd Holbrook Explains Why He Never Took His Sunglasses Off on Set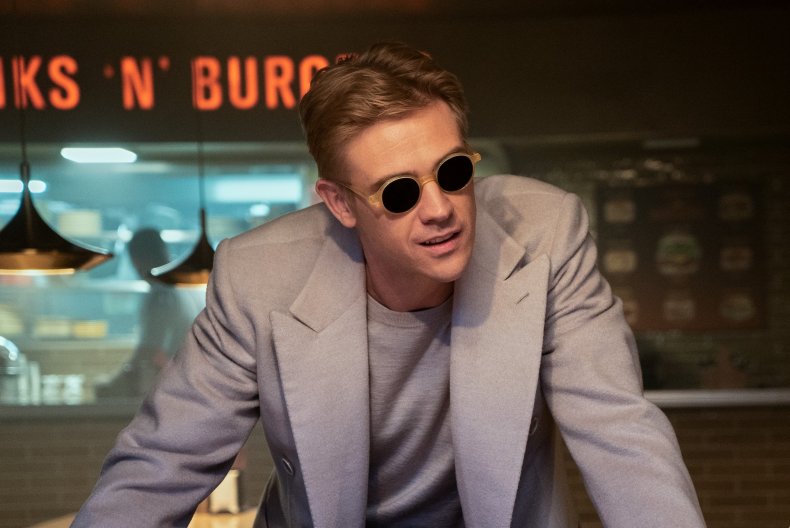 Reflecting on what it was like on set, Holbrook said: "I probably seemed like maybe a bit of an enigma on set.
"I liked to keep my glasses on, you can't really get a read from from that so I selfishly didn't mind that and I think it may have added a bit of, you know, touch-and-go on set with maybe interacting with The Corinthian, just to try to set the tone and to keep the tone throughout the day.
"I really enjoy what I do, it may not seem like that but I'm quite serious sometimes at work, hopefully, to the benefit of the project."
Vanesu Samunyai, who was sat with Holbrook in the interview and portrays Rose Walker, said of working alongside the actor: "Well I think both he and Tom were very, I feel, focused when we were on set.
"But I was really excited, I was excited for us to do our scenes together because I was like 'yes!', I really just liked the fact that our characters had that interaction and that part of the story and what was happening. So I was just really excited for us to finally be able to do it."
On Playing The Corinthian
The Corinthian is an iconic villain in The Sandman even if he doesn't appear in a significant amount of the story, and his first appearance in the comics is in the second volume, "The Doll's House."
His story is significantly expanded upon in the Netflix adaptation of Neil Gaiman's comics, with Holbrook sharing his joy at the villain having such a major role from beginning to end.
"I found out that they were going to take The Corinthian, they're actually going to take a small character from the comics, he was only really in one comic, and only a couple pages in that comic," Holbrook told Newsweek.
"So, I thought that was really cool that there was this ability to take that character, expand upon that, and have just more to do. Yeah, I was really, really grateful to be a part [of] more of a bigger cast."
He added that it "was a trip" to see how he looked with teeth for eyes in the final edit, saying: "Those are my own teeth, so I had three sets of teeth."
Going on to reflect on the character's arc in the second half of the season, which saw him attend a convention for serial killers who were all devoted followers of The Corinthian, he went on: "Yeah, he becomes the patron saint of serial killers out in the Waking World, and it's almost like he is a guru or a cult leader that has his divine devotees, so it was a really interesting character to play, and to have that admiration while you know causing havoc."
Vanesu Samunyai on Playing Rose Walker
Samunyai's Rose Walker encounters The Corinthian during the second half of the season while searching for her brother Jed, and she comes fact-to-face with the villain at the aforementioned convention.
The Corinthian targets Rose because she is a Dream Vortex, meaning she is able to travel through dreams and shape the Dreamrealm in the same way that Morpheus can, and will even start taking his power from him.
Samunyai was ecstatic with portraying Rose, saying of her arc: "I liked having the powers. I like being the Vortex, I liked having that destruction, I felt very special.
"But that was my favorite part, I think it's nice to have, you know, to be able to play a character who was very active in her own life, and she was active when things were happening to her.
"I think it was nice, you know, that she was active and that she was strong, and that she had her resolve, and I really just loved being a destructive force who was, you know, she was the one that everyone wanted. I mean, they didn't want her for her personality, but it was still nice."
Rose's ability to enter people's dreams does mean the character experiences some rather dark visions, including one nightmare in which friend Hal (John Cameron Mitchell) rips his own face off.
Of filming these sequences, the actor said: "It was just a bunch of fun. I had a lot of fun playing her and I loved the fact that I did get to walk through people's dreams, and yeah there are definitely loads disturbing things that she saw at times.
"For me, shooting it was just really fun. It was a really fun sequence walking in, I can't remember the exact scene because we shot them out of order and I haven't watched it yet, but I think it was Hal's Dream first. And it was just really fun, I had loads of fun doing it."
The Sandman is out on Netflix now.
Update 08/08/22 10:24 a.m. ET: This article was updated to include a video clip from Newsweek's interview with Boyd Holbrook.