'The Sandman' Explained: Who is Nada and Why Does She Call Dream Kai'ckul?
The Sandman follows Dream of the Endless on his journey to rebuild his realm after being imprisoned for over a century, and this expedition also sees him face some of the ghosts from his past.
One such person is Nada (Deborah Oyelade), a woman who appears briefly in the show's fourth episode titled "A Hope in Hell" which is also the chapter in which the character makes her first appearance in Neil Gaiman's original comics.
Here is everything you need to know about the character, why she calls Dream Kai'ckul, and why she sees him in a different way to how he appears to others.
'The Sandman' Explained: Who is Nada and Why Does She Call Dream Kai'ckul?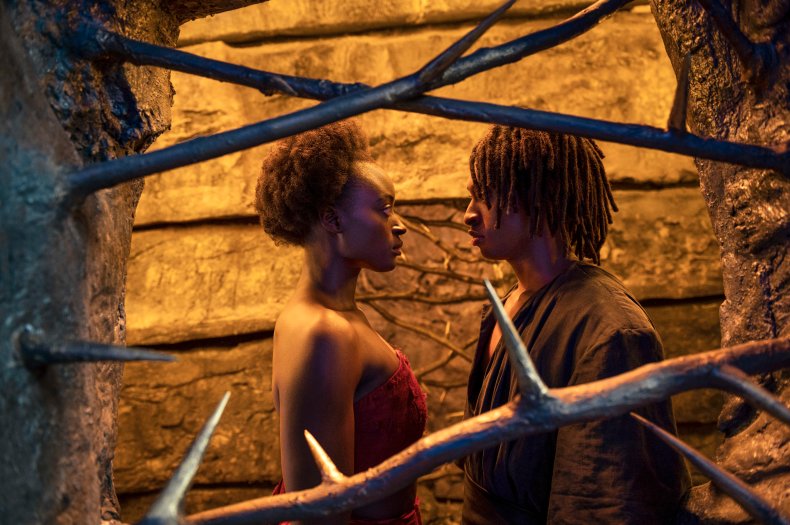 Nada was one of Dream's true loves, she was a queen of a tribe who called themselves the First People and she met Dream 10,000 years prior to the events of the episode she first appears in.
She fell in love with Dream after seeing him from the window of her tower while she was ruling over her people, and he too fell in love with her.
Nada refers to Dream as Kai'ckul, one of the many names Dream takes on like Morpheus, and the first part of her and Dream's love story is told in the prologue to The Sandman's second volume, "The Doll's House," which the second half of the Netflix show is based on.
This prologue, titled "Tales in the Sand", sees an elder of the First People tribe tell a young man the story of Nada and how she searched for Kai'ckul, the lord of Dream, after they first saw each other and eventually met him in the Dreamrealm.
There Nada confesses her love to Dream, but when she realized that he was a member of The Endless, a group of immortal beings who cannot die, she returned to the mortal realm out of fear because she knew they could not be together.
Dream, however, meets her on Earth and offers to make her the queen of the Dreamrealm. He convinces her to stay with him but their love leads to the destruction of her tribe by a meteor and Nada sees that they cannot be together.
Nada refuses his offer to be his queen by taking her own life, but Dream follows her into the realm of Death to ask her to rule the Dreamrealm with him once again. When Nada refuses him a third time Dream chooses to punish her, and he condemns her to hell where she has remained ever since.
Rather than adapt this prologue, the Netflix show only recreated the moment in "A Hope in Hell" where Dream sees Nada again after centuries apart and she asks him if he could free her.
In this scene Tom Sturridge is replaced by Ernest Kingsley Junior, and this is because Dream is able to change aspects depending on who is looking at him, and he does not always appear in the form he's most often shown in both the comics and the series. In fact, in one chapter of the comic, Dream even appears as a cat to another feline.
Later in the episode, Sturridge's Dream explains to Matthew the Raven (Patton Oswalt) who Nada is and that they were in love, and when Matthew asks him why she is in hell Dream simply tells him "she defied me."
Dream and Nada's story continues in the comics' fourth book "The Season of Mists," and showrunner Allan Heinberg told Newsweek that their tale is so important to this later arc he felt the prologue to "The Doll's House" would better serve a second season of The Sandman.
Heinberg told Newsweek: "Well, for me, that is such a huge part of the next arc, which is 'Season of Mists,' it made more sense economically to use 'Tales in the Sand' as part of Morpheus' 'Season of Mists' journey.
"So our hope is that if we get to season two we'll be able to tell their love story in full as part of the 'Season of Mists.'"
The Sandman is out on Netflix in full now.