The White House on Friday announced 17 recipients of the Presidential Medal of Freedom. Along with the easily recognizable names like John McCain and Denzel Washington was Sandra Lindsay, a New York City nurse who was the first person in the United States to receive a COVID-19 vaccine dose outside of clinical trials.
President Joe Biden will present the nation's highest civilian honor during a July 7 ceremony at the White House, according to a statement from his administration. The announcement noted that Lindsay is a critical care nurse in New York City "who served on the front lines of the COVID-19 pandemic response" and is a "prominent advocate for vaccines and mental health for health care workers."
Sports stars Simone Biles and Megan Rapinoe will also receive the medal, as will Apple co-founder Steve Jobs, who joins McCain as a posthumous awardee. A recipient of a Purple Heart with one gold star for his service in the U.S. Navy in Vietnam, McCain spent more than five years as a prisoner of war before embarking on a successful career in politics that included being the Republican nominee for president in 2008. McCain, who served two decades in the U.S. Senate with Biden, passed away from brain cancer in 2018.
Lindsay, the director of patient care services in critical care at Northwell Health's Long Island Jewish Medical Center in Queens,received the first dose of the BioNTech/Pfizer mRNA COVID-19 vaccine on live television on December 14, 2020. Recounting the moment on its website, Northwell Health said that when the hospital asked for volunteers to receive the vaccine, Lindsay "was the first to raise her hand."
"I am beyond humbled and honored to be receiving the Presidential Medal of Freedom. Never in my wildest dreams did I think I would be getting such a high award from the President of the United States," Lindsay said in a statement emailed to Newsweek. "I'm proud of my fellow Northwell Heath colleagues, nurses and healthcare workers around the globe who stepped up and cared for those in need."
She added, "It is extremely important that we continue to focus on mental health for healthcare workers, women's rights and health equity for everyone."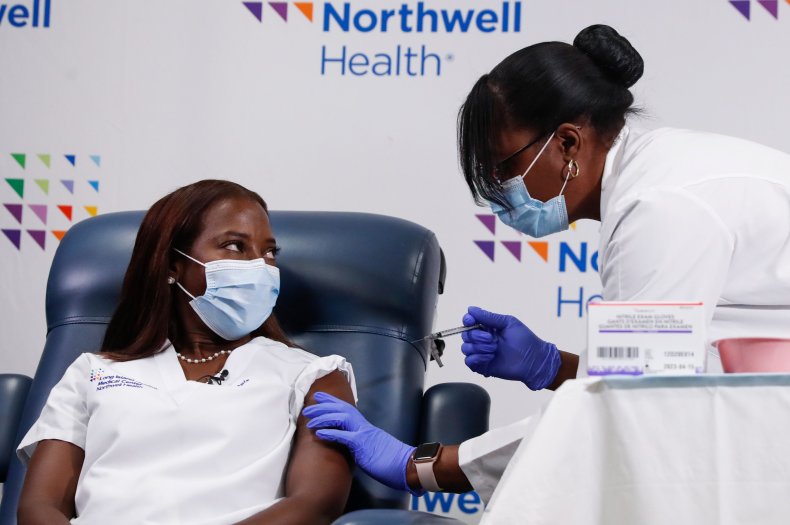 Lindsay, a Black woman, told The New York Times after receiving her first dose that she hoped her actions would dispel some of the skepticism about vaccines that has been associated with people of color.
"That was the goal today," she told the newspaper in December 2020. "Not to be the first one to take the vaccine, but to inspire people who look like me, who are skeptical in general about taking vaccines."
July 7 won't be the first time the nurse will receive an honor from Biden. In July of 2021, Biden presented Lindsay, an immigrant from Jamaica, with the U.S. Citizenship and Immigration Services' Outstanding Citizen by Choice award during a naturalization ceremony at the White House.
Another Presidential Medal of Freedom recipient this year with New York ties is Denzel Washington. The celebrated actor, director and producer has won two Academy Awards and a Tony Award during his long career. The White House statement noted that Washington "has also served as National Spokesman for the Boys & Girls Clubs of America for over 25 years."
Updated 7/1/22 at 2:55 p.m. ET: This story has been updated to include comments from Sandra Lindsay.