NRA CEO Spent $70k on Trip to Bahamas in Aftermath of Sandy Hook Shootings to Do Outreach to Donors, Supporters
Straight after divisive public appearances following the worst school shooting in U.S. history, the head of the National Rifle Association (NRA) spent tens of thousands of dollars on private jets to travel to the Caribbean to drum up support for the gun lobby, it has been reported.
The Washington Post reported how many within the NRA and in political circles were uneasy at the response by Wayne LaPierre to the Sandy Hook Massacre in Newtown, Connecticut in December 2012, in which 20 children were gunned down by Adam Lanza, who turned the gun on himself.
In the aftermath of the tragedy and with the help of advertising firm Ackerman McQueen, LaPierre announced in a series of combative public performances that the NRA would spearhead a program to train armed security guards to protect schools from shooters.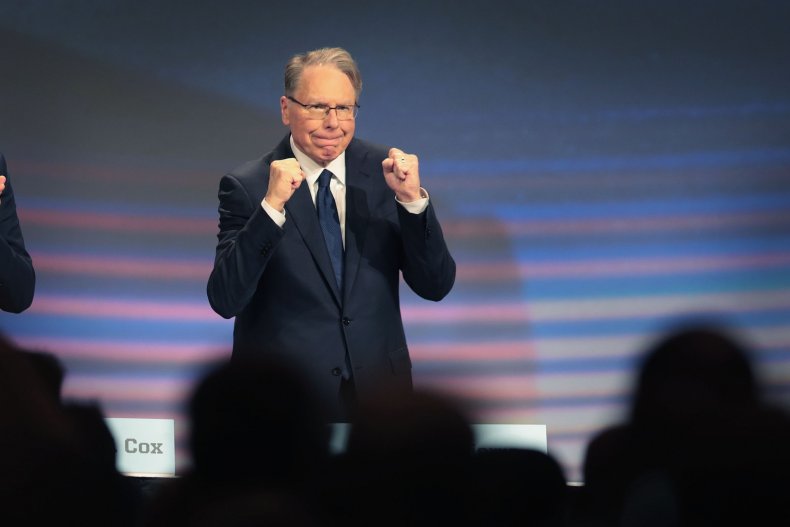 One ad decried then president, Barack Obama as an "elitist hypocrite" for being skeptical about his plan while at the same time having Secret Service protection for his daughters.
However The Post reported that even those within the NRA were uncomfortable with focusing on Obama's daughters. Po Murray, chairwoman of the Newtown Action Alliance, said the campaign was "completely insensitive and so out of touch," while NRA lobbyist Christopher Cox wanted a more low-key approach.
Meanwhile, internal travel records from Ackerman McQueen's chief financial officer, first reported by the Wall Street Journal, showed that three days after the mass shooting, LaPierre, who travels by private plane for security reasons, charged $39,947 for a private jet to Eleuthera in the Bahamas.
NRA spokesman Andrew Arulanandam, the NRA spokesman, told the Post: "There was a business trip after Christmas 2012 involving donor outreach and the recruitment of influential NRA supporters and members."
"Wayne is responsible for a campaign to raise almost $400 million annually, so he travels extensively on behalf of the Association — even over the holidays."
LaPierre then charged another private air charter on his Ackerman McQueen credit card: $29,100 on January 3 to fly from Nassau, Bahamas, to Dallas, which NRA officials said was part of a trip to donor and member events.
William A. Brewer III, a lawyer for the NRA, said most of LaPierre's travel involved "donor outreach, fundraising and stakeholder engagement" and that some travel expenses went through Ackerman McQueen for "confidentiality and security purposes," but that this method of billing has since been modified.
The finances have come to light due to a bitter legal dispute between Ackerman and the NRA which have parted company.
Ackerman said in a statement that it footed the initial bill for LaPierre's travel at the NRA's instructions but "did not have any knowledge of the plans or details of the expenditures in question."
The severance of ties with their advertising partner of the past 30 years is the latest blow to the NRA, who have suffered financial difficulties in recent times and have relied on at least $206 million worth of cash infusions and other transactions in order to steady its finances since 2010, according to the New York Times.
On June 26, LaPierre announced that live programming at NRATV, the television channel created in 2016 as a means of promoting their views of protecting the Second Amendment, was to stop.
Despite a public outcry and a bipartisan effort on gun control, legislation to expand background checks for gun buyers, a ban on assault weapons and a ban on high-capacity gun magazines was defeated in the Senate in April 2013.
John Feinblatt, president of Everytown for Gun Safety, said that Sandy Hook was a turning point for the NRA and that "its leaders chose the course of extremism and refused to even consider common-sense laws supported by most Americans."
Separately, the father of a victim of the Sandy Hook massacre won a defamation lawsuit against the authors of a book Nobody Died at Sandy Hook that claimed the shooting never happened.
Dave Gahary, from the book's publisher Moon Rock Books, apologized to Lenny Pozner, whose six-year-old son Noah was killed in the mass shooting, in a victory against conspiracy theorists who claim that the shootings were a hoax, The Guardian reported.