Sarah Huckabee Sanders Could Have a Spending Problem
Arkansas Governor Sarah Huckabee Sanders began her administration with splashy promises.
Increased salary minimums for teachers, and one of the nation's most ambitious school choice initiatives as part of a larger cultural backlash against public schools. Public safety reforms, and an expansion of the state's prison system to make up for its lack of bed space. And, as she promised on the campaign trail, the eventual phaseout of the state income tax.
"Had enough of the Democrats' big government spending sprees and inflation that have given you nothing but a pay cut?" the former White House press secretary tweeted last June. "When I'm governor, I'll begin phasing out the state income tax to give you a pay raise."
Barely two months into her administration, however, Huckabee Sanders—a front-line soldier in Republicans' culture war and a rising star in the party—still has not announced how she plans to pay for it.
According to estimates, Huckabee Sanders' myriad education reforms are expected to cost some $300 million in funding. The expansion of the prison system will cost some $150 million to build, not including additional annual operating expenses once completed.
And that's assuming the programs stay on budget: From its alternative option to expanding Medicaid in the mid-2010s to infrastructure projects in downtown Little Rock, the Natural State has an established history of cost overruns that have presented policymakers with headaches throughout its history.
All as Huckabee Sanders' income tax cut is anticipated to cost the state some several billion dollars a year once fully implemented.
"This budget is going to grow massively," Jim Hendren—the former Republican president of the Arkansas Senate and founder of advocacy group Common Ground Arkansas—told Newsweek. "Just looking at the numbers that were already in the media, I think they're way underestimating what it's going to actually cost in the long term."
"I just don't see this equation as balanced," added Hendren, who left the Republican Party in 2021.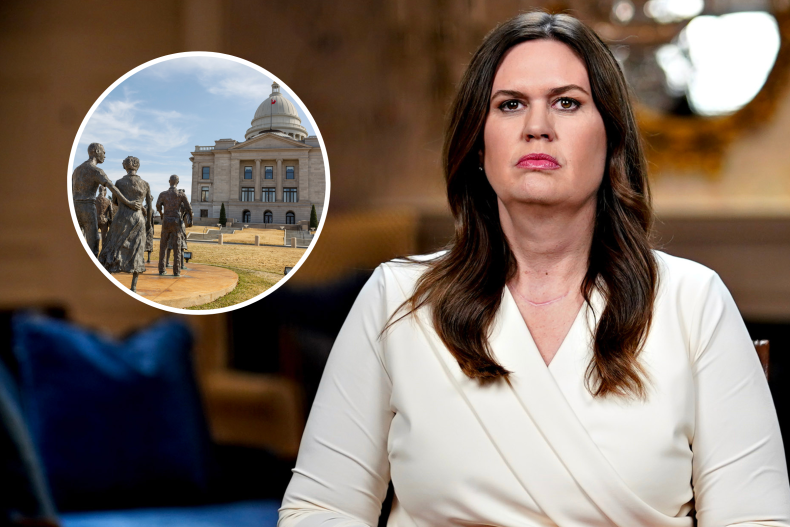 Newsweek has reached out to Huckabee Sanders' office for comment. But if she hopes to accomplish everything she has indicated, Hendren said, the money is going to have to come from somewhere.
The governor's predecessor, Asa Hutchinson (who is also Hendren's uncle), notably left the incoming administration with nearly a billion-dollar surplus he and the Republican Legislature used to justify a significant income tax cut in the current budget that has already cost the state hundreds of millions of dollars in revenue, according to the nonpartisan Tax Foundation's projections last year.
And that was just an early estimate. According to November projections by the Arkansas Department of Finance and Administration, 2023 revenue projections are anticipated to be down 11 percent from where they were the previous year, even as corporate and sales tax revenues are up.
That's not as alarming as it seems, Jeremy Horpedahl, associate professor of economics and director of the Arkansas Center for Research in Economics at the University of Central Arkansas, told Newsweek on Tuesday.
While proposals for new spending and tax cuts paired with declining state tax revenue over the last year make Arkansas' fiscal situation seem precarious, projections still show the expectation of a $600 million surplus in the state this year, more than enough for her proposals.
Still, there is ample uncertainty about the future that could make the mathematics around Huckabee Sanders' proposals tricky, and in need of sideboards to ensure the state is able to pay its bills.
"Given all the uncertainty about these numbers, and the still real possibility of a recession this year, it would be prudent for policymakers to make any large tax cuts in the near future dependent on meeting tax revenue targets," Horpedahl said. "Arkansas has used 'tax triggers' before, as have many other states in recent years, which are a sound way of ensuring that the state budget isn't disrupted by unexpected economic declines."
If all goes to plan, that leaves Huckabee Sanders with room to cut anywhere between $200 million to $300 million in taxes to keep the budget intact. But if she does get the extent of what she wants, the governor will still need to find a way to pay for it, Hendren said.
While Huckabee Sanders pledged to make significant but "responsible" cuts to the state budget to make up for her plan on the campaign trail last year, it is still unclear what she plans to cut, while she has shown a public distaste for federal funding that could help offset fiscal stress in other parts of the budget.
Last month, Huckabee Sanders issued an executive order for state agencies to withdraw more than a dozen requests for federal pandemic relief funds that had been pending on a legislative panel's agenda for months, causing what Little Rock public radio described at the time as "confusion" among members of the Joint Budget Committee about what action, if any, could be taken on items in its agenda related to the American Rescue Plan Act.
There are other areas where Huckabee Sanders could look to make up for those lost revenues.
On paper, Arkansas, according to figures by the Institute on Taxation and Economic Policy, ranks 20th among all states with "regressive" tax structures—a term to describe tax codes where lower-income earners pay a higher percentage of their income in taxes than wealthier people.
Its corporate tax rate is also quite average compared to the rest of the country, ranked at 27th in the country according to the Tax Foundation, so there is also room to raise corporate taxes, while its property tax rate is the 49th lowest in the country.
However, cuts at the state level have already had significant implications at the local level.
With slashed budgets, many communities and school districts have had to raise taxes at the local level, Hedner said, resulting in some of the highest sales tax rates in the nation and exacerbated inequities between wealthier school districts in cities like Bentonville and places like his, in the western part of the state, that could be further exacerbated by the sweeping education reform bill introduced by lawmakers Monday morning.
Meanwhile, economists in the state have predicted a mild recession coming in 2023 which the Hutchinson surplus is expected to help the state weather in the coming months.
"[The Legislature] should be thankful they have that long-term reserve fund in place," Horpedahl told the Arkansas Advocate earlier this year.
Hendren—who served on a two-year committee evaluating the state's tax structure while in office—noted the Huckabee Sanders administration would need to take the unpopular position of raising taxes in other areas to make up for the loss of income taxes in the budget. Otherwise, the surpluses Arkansas recently enjoyed will likely disappear.
"I have great respect for the Senate and the House," he said. "They've traditionally been pretty hawkish and conservative on the budget. I'm hoping that they're looking at those things on down the road, because the surplus is one-time money. That's not going to pay the bills two, three or four years down the road."
"They're getting ready to add a lot of ongoing expenses and grow government even more with these large income tax cuts. I see some real math problems," he added.
Update 2/21/2023, 4:30 p.m. ET: This article has been updated with comment from Jeremy Horpedahl.