Sarah Huckabee Sanders Says Elizabeth Warren Will Be Democratic Nominee, and She Thinks It's 'a Great Thing'
Sarah Huckabee Sanders, President Donald Trump's former press secretary, predicted on Sunday morning that Senator Elizabeth Warren would secure the Democratic party's nomination to challenge Trump in 2020, hailing the progressive from Massachusetts' candidacy as "a great thing."
"The only person who is been on a steady incline and continuing to gain momentum and gain support seems to be Elizabeth Warren," Sanders said during an interview with conservative radio talk show host and billionaire John Catsimatidis on AM 970's The Answer. "There couldn't be better news for President Trump."
"The far-left radical ideas that she's bringing to the table are just not going to sell in most of America. And I think that is a great thing ... for the country — because it helps make sure that we get four more years under this president," Sanders said.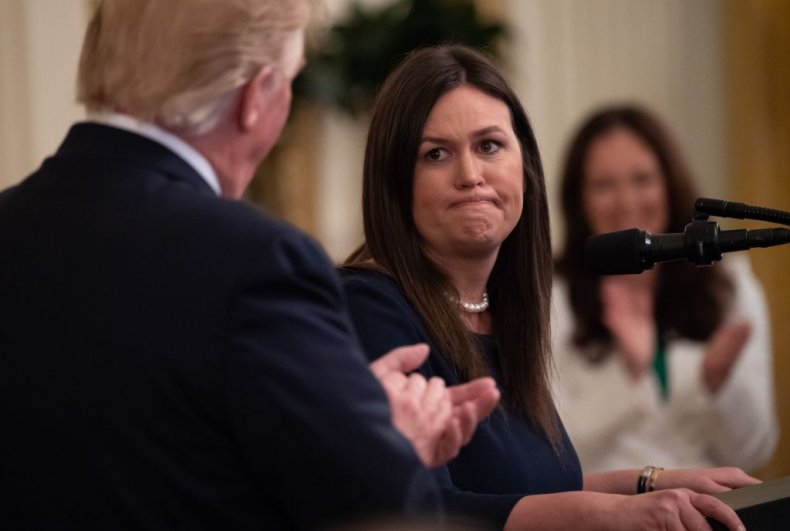 Warren has overtaken fellow Democratic contender and former Vice President Joe Biden in several recent national polls. An Economist/YouGov poll has Warren at 27 percent, compared to Biden's 26 percent. In a Quinnipiac poll, Warren also came in at 27 percent, while Biden got just 25 percent. However, an average of national polls by Real Clear Politics still shows Biden with a strong lead overall, with 27.8 percent compared to Warren's 21.3 percent.
Meanwhile, independent Senator Bernie Sanders has thus far failed to gain momentum, according to most national polls, coming in at third overall with just 17.5 percent. Democratic candidates Mayor Pete Buttigieg of South Bend, Indiana and Senator Kamala Harris of California trail further behind, with 5.3 percent and 4.7 percent respectively.
Although some analysts have suggested that Warren could fully overtake Biden and become the party's nominee, the former press secretary's assertion that the senator would be an easy competitor for Trump is unfounded, based on recent polls. Most recent national polls show Warren and Biden beating Trump in a general election matchup by narrow or significant margins.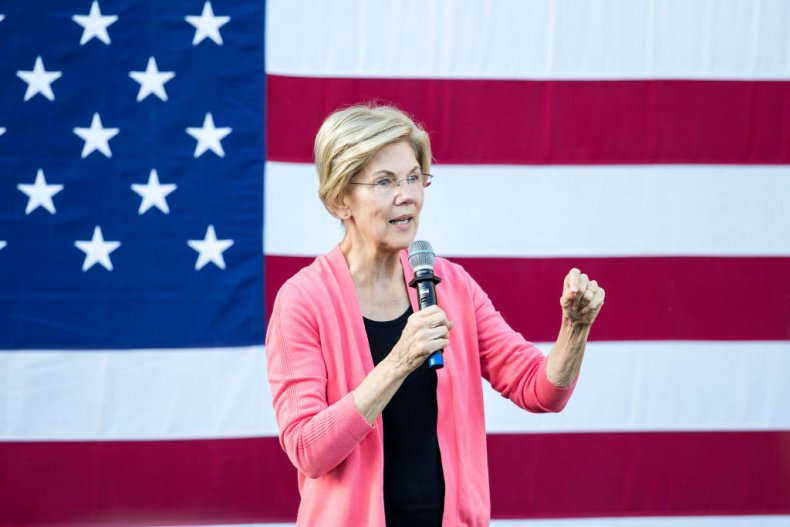 A Fox News poll released on September 19 showed Warren beating Trump by 6 percentage points, 46 percent to 40 percent. However, Biden and Sanders performed better, with the former vice president beating Trump 52 percent to 38 percent, and the senator from Vermont beating the president 48 percent to 40 percent.
A SurveyUSA poll, released on September 18, also showed Sanders, Warren and Biden beating Trump, albeit by narrower – but still significant – margins. The most recent Emerson matchup poll showed Warren and Biden narrowly ahead of Trump as well, although that survey predicted Trump would beat Sanders.
Sarah Sanders departed from the Trump administration in July, after serving in the role as press secretary for two years. Her tenure was marked by combative interactions with journalists and the cancellation of the daily White House press briefing. After foregoing the regular briefings with reporters, Sanders regularly appeared on Fox News to slam the president's critics and promote his agenda. Shortly after leaving her White House role, she joined Fox News as a regular contributor.