Trump's Former Press Secretary Sarah Sanders Tells Fox She Wants 'Opinion Out of the News'
Sarah Huckabee Sanders lamented during a Wednesday interview on Fox Business that there is too much opinion in the news.
"I think all of media needs to take a good hard look at how they put the news out. It's gotten so much where there's no process, there's no accountability, no check and balance," Sanders, who served as President Donald Trump's press secretary for two years until July, complained during an interview on Varney & Co. The former Trump official, who is now a Fox News contributor, specifically mentioned The New York Times, CNN and Politico as having problems.
"I think that we have to start taking so much of the opinion out of the news," Sanders said later in the segment. "It's a good news story if you can read it and you have no idea which side the journalist is on, and it's very hard to find that. There's a big difference between commentators and news, and we have blended those so that there is no difference anymore."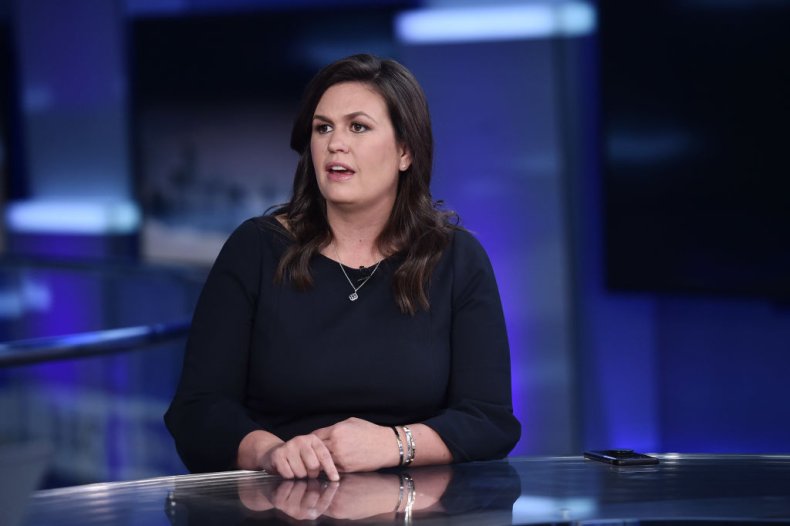 While many may agree with Sanders' point, that news should be as objective and non-partisan as possible, her current employer Fox News is well-known for its right-wing slant. The hosts of the Fox News morning show Fox & Friends regularly defend Trump and Republicans, while criticizing Democrats and their supporters.
In the evenings and weekends, the network's opinion hosts are nearly all openly supportive of the president and the GOP. Hosts such as Laura Ingraham, Sean Hannity, Jeanine Pirro and Tucker Carlson have all been praised by the president for their commentary on him and his administration.
During her tenure as press secretary, Sanders was often combative against journalists, shutting them down and criticizing their coverage of the administration. When she was interviewed as part of former special counsel Robert Mueller's investigation into Russian interference in the 2016 presidential election, Sanders admitted that she had lied to the media.
"Sanders told this Office that her reference to hearing from 'countless members of the FBI' was a 'slip of the tongue,'" investigators wrote in their final report.
"She also recalled that her statement in a separate press interview that rank-and-file FBI agents had lost confidence in Comey was a comment she made 'in the heat of the moment' that was not founded on anything," they added.
Trump regularly attacks the media, including Fox News, when journalists report stories that present him and his administration in a negative manner. The president has made it clear in many interviews and through tweets that he believes media coverage about him should be positive, otherwise, he considers it to be "fake news."