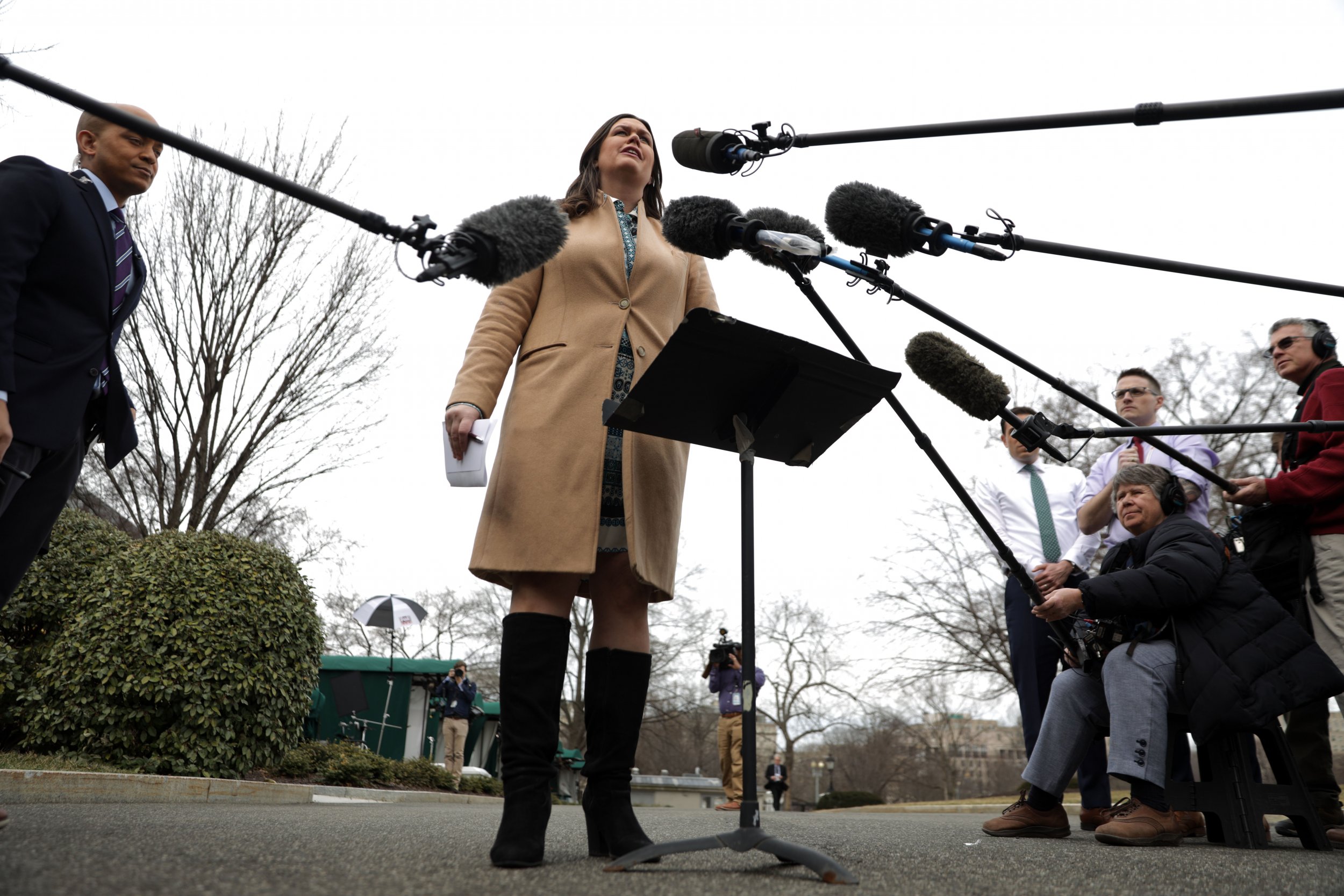 Amid the revelation that a white nationalist member of the Coast Guard was accused of planning to kill prominent Democrats and members of the media, White House press secretary Sarah Sanders falsely claimed on Friday that President Donald Trump has done nothing but condemn violence.
Sanders was asked on Friday if the president perhaps would consider toning down his rhetoric and repeated claims that the media are the "enemy of the people" amid the man's alleged plans to murder journalists.
"I certainly don't think that the president, at any point, has done anything but condemn violence against journalists or anyone else," Sanders said to members of the media. "In fact, every single time something like this happens, the president is typically one of the first people to condemn the violence, and the media is the first people to blame the president.
"We should all join together and start condemning the violence, whether it's against members of the media, whether it's against Democrats, Republicans, any person in this country. That is unacceptable, and that's why every time it comes up we have been consistent and repeatedly said that we condemn violence in all forms."
However, Trump has repeatedly promoted violence at rallies, for instance saying that perhaps people should be "roughed up." He praised Republican Representative Greg Gianforte for body-slamming a reporter.
"Never wrestle him, you understand that?" Trump said at a rally. "Any guy who can do a body slam is my kind of guy."
Federal prosecutors alleged that Christopher P. Hasson, 49, had a hit list of individuals to target, as well as a drafted message about planning a biological attack to kill as many people as possible. On the hit list were New York Democratic Representative Alexandria Ocasio-Cortez, CNN hosts Chris Cuomo and Van Jones, MSNBC hosts Chris Hayes and Joe Scarborough and John Podesta, and the former campaign chair of 2016 Democratic presidential nominee Hillary Clinton, among others.
"The defendant is a domestic terrorist bent on committing acts dangerous to human life that are intended to affect governmental conduct," prosecutors stated in court documents.