Sarah Huckabee Sanders Lies and Should Be Shunned After White House Job, Conservative Columnist Says
A conservative Washington Post columnist blasted Sarah Huckabee Sanders on Sunday, saying the White House press secretary should be shunned from future jobs because she lies.
Speaking to MSNBC's Joy Reid on AM Joy, American journalist Jennifer Rubin called out Sanders for consistently issuing false and misleading statements.
"Sarah Huckabee Sanders is so concerned that people aren't nice to her," Rubin said. "And people like me think that—not that she should be harassed—but that she should be shunned. The reason is that she lies.
"She attacks our free press and no respectable employer should hire her after this term," Rubin continued. "Also, no university and no news outlet. She has lied, and she has endangered the lives of reporters, and that's why she should be shunned. Not harassed—shunned.
"We don't have to put it [the press briefing] on television, we don't have to put it on television live," Rubin added. "If by some chance she utters some morsel of accurate information, it could be fact-checked and related to the audience. The same thing with the rallies—no reason to put them on live television."
Last Thursday, Sanders refused to say that the media was not an "enemy of the people" at a controversial White House press briefing.
During the heated exchange with CNN's Jim Acosta, Sanders said President Donald Trump's attack on the media was "completely understandable."
"I think the president has made his position known," Sanders said. "It's ironic, Jim, that not only you and the media attack the president for his rhetoric when they frequently lower the level of conversation in this country."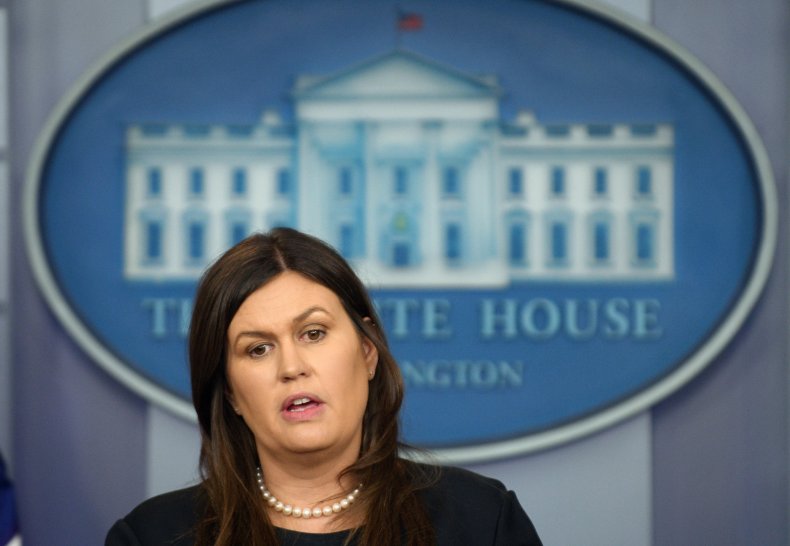 Sanders went on to condemn the media for inviting comedian Michelle Wolf as the entertainer for the White House Correspondents' Dinner earlier this year. "You brought a comedian up to attack my appearance and called me a traitor to my own gender," Sanders said.
Acosta then pointed out that Sanders had still not acknowledged that the "press is not the enemy of the people" and called for her to say it "right now and right here."
After Sanders refused to do so, Acosta tweeted that he walked out of the briefing early because of her remarks.
Rubin writes from a conservative perspective in a column called "Right Turn" for The Washington Post and has repeatedly criticized Trump and the GOP.
The White House did not immediately respond to Newsweek's request for comment.