Sarah Huckabee Sanders Wants to Be Remembered as 'Transparent and Honest'—Twitter Has Other Ideas
White House press secretary Sarah Huckabee Sanders said she hoped her legacy would be that people viewed her as "transparent and honest."
As she spoke at Politico's Women Rule summit, she defended President Donald Trump after she was asked whether he was harsher with female reporters than male reporters.
Read more: Sarah Huckabee Sanders scolds CNN president Jeff Zucker
"The president's had an equal number of contentious conversations with your male colleagues," Sanders told Politico's Eliana Johnson on Tuesday. "Women wanted to be treated equally, and we have a president that certainly does that," she said.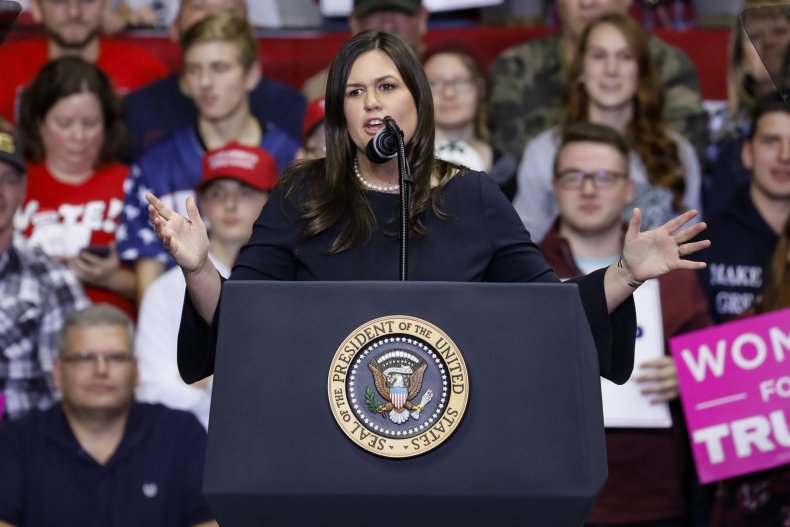 Trump has mocked reporters such as ABC's Cecilia Vega, to whom he said: "I know you're not thinking. You never do." He also insulted American Urban Radio Networks journalist Rachel Ryan, and once said to Abby Phillip of CNN: "What a stupid question."
But Sanders insisted that Trump was equally tough on men, saying: "The president is not singling out women… Women wanted to be treated equally and we have a president that does that. The people of this country elected him because he is a fighter."
When asked if Trump behaved appropriately toward the press in general, Sanders said: "I don't always find the behavior of the press to be appropriate, either. I think that the president is somebody who's a fighter. When he gets hit, he always hits back."
Sanders was also asked how she hoped to be remembered, to which she replied: "I hope that it will be that I showed up every day and I did the very best job that I could to put forward the president's message. To be transparent and honest throughout that process and do everything I could to make America a little better that day than it was the day before."
PolitiFact, however, cited five times the White House press secretary gave false information, including the false claim that diversity visa immigrants were not vetted. Sanders also repeated the canard that Chicago had the toughest gun laws in the country.
In the same Q&A, Sanders also pointed out that her kids "are very unimpressed by most of what I do," which was a sentiment that was shared by some on social media.
Rebecca Caplice tweeted: "I didn't know that #SarahHuckabeeSanders had started to do stand up."
Comedian Deven Green, tweeting under her nom de plume Betty Bowers, said: "That's like me hoping my legacy will be having been Holy Roman Empress Maria Theresa of Austria."
One person wrote on Facebook: "I thought I was reading The Onion. I don't think Sarah will ever get that wish fulfilled." Another commented: "Forget alternate facts, she's living in an alternate reality if she really believes she's been honest."
And the Democratic Coalition tweeted: " Your LOL of the day, folks. @SarahHuckabee, we can't stop laughing."