Sarah Huckabee Sanders Scolds CNN President Jeff Zucker: 'You Chose to Attack and Divide'
White House press secretary Sarah Huckabee Sanders rejected CNN's criticism over how President Donald Trump handled the media.
Many said that Trump's continual criticism of journalists and news outlets has created a climate that led to a suspicious package being sent to CNN's New York headquarters. Packages were also sent to key Democrat figures, targeting some of Trump's harshest critics.
Trump has called the press the "enemy of the people" and crowds at his rallies have chanted "CNN sucks." Last week Trump praised a Republican congressman who had assaulted a reporter from The Guardian.
Jeff Zucker, the president of CNN, accused the White House of a "total and complete lack of understanding" about the effect of its attacks on the media, saying that the White House should "understand their words matter. Thus far, they have shown no comprehension of that."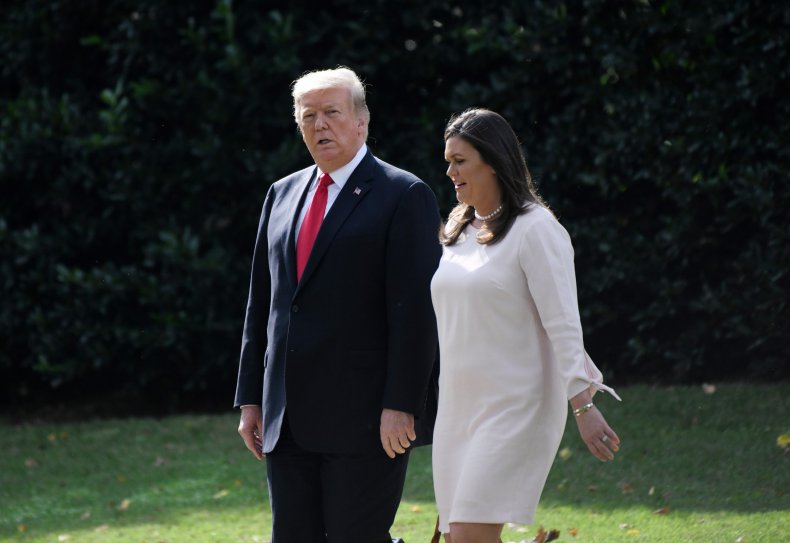 Sanders hit back at the network, saying that Trump had adequately condemned the threats of violence. She said that Trump had urged people "to come together and send one very clear, strong, unmistakable message that acts or threats of political violence of any kind had no place in the U.S.
"You chose to attack and divide. America should unite against all political violence," Sanders said.
CNN's headquarters was evacuated after a suspicious package was intercepted containing an explosive device similar to one addressed to former president Barack Obama, Bill and Hillary Clinton, and billionaire philanthopist George Soros. None detonated, and the FBI is investigating. The graphic below from Statista illustrates where suspicious packages were found.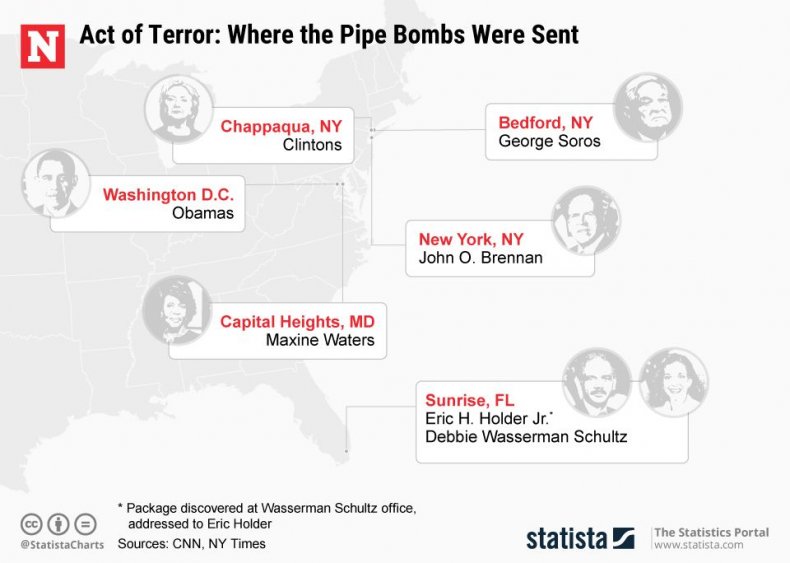 In the wake of the attempted pipe bomb attacks, Trump appeared to take a more conciliatory tone at a rally on Wednesday in Wisconsin, where he said they were an "attack on our democracy itself."
"Such conduct must be fiercely opposed and prosecuted. There is one way to settle our disagreements, it's called peacefully, at the ballot box," Trump said.
During his speech to lend support to Republican candidates in the upcoming midterm elections, Trump told the crowd he was "trying to be nice" and said that it was up to the media to "do more to set a civil tone."
Some pro-Trump conservative commentators claimed that the packages were part of a Democratic plot to win votes in the upcoming midterm elections, although there is no evidence for that claim, and no information about the suspects.
CNN reported that the FBI said other packages may have been mailed to other locations. One law enforcement official told the network that at least one package contained projectiles, including shards of glass, and it could have been set off just by handling.