Sarah Huckabee Sanders Says Biden 'Undercut Public Confidence' in Vaccine by Criticizing Trump Rollout
Sarah Huckabee Sanders, who served as White House press secretary to former President Donald Trump, said Sunday that President Joe Biden hurt public confidence in COVID-19 vaccinations by criticizing the Trump administration's rollout of the shots.
In a Sunday Arkansas Democrat Gazette op-ed, Huckabee Sanders, who is now campaigning to be governor of Arkansas, noted that when the Trump administration announced in May 2020 that vaccines would be available in December—at the latest— "the 'expert' class tried to undermine those statements with baseless fear-mongering."
But she argued that "no one did more to undercut public confidence in the vaccine than Joe Biden and Kamala Harris."
"Biden doubted that the vaccine would be 'real,' while Harris said in a nationally-televised debate that she would not take any vaccine the Trump administration had a hand in creating," Huckabee Sanders wrote in the piece, entitled "The reasoning behind getting vaccinated."
"We all know what happened after the first vaccines were announced on Nov. 9, right after the presidential election. Scientists quickly began to praise the results of Operation Warp Speed, but by then the damage was already done. Because of what they heard from politicians and TV 'experts,' many Americans were scared the vaccines were not safe," she added.
The White House did not immediately respond to a request for comment from Newsweek for this story.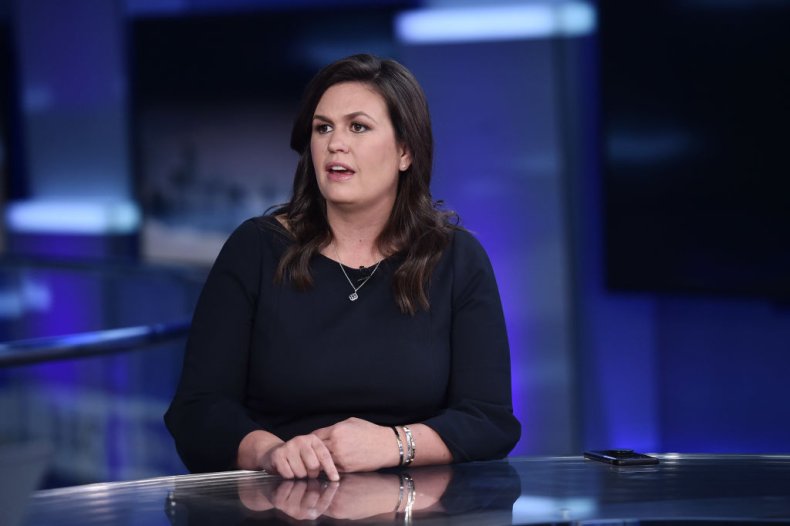 Arkansas is one of many U.S. states where COVID-19 cases are surging, in large part due to the highly transmissible Delta variant and low vaccination rates.
Only 36 percent of Arkansas residents are fully vaccinated. In an interview on Sunday the state's Republican governor, Asa Hutchinson, said the state's conservative leanings account for why fewer people there are getting the vaccine.
"Sometimes conservatives are hesitant about the government, and we've just got to counteract that by getting better information to them, building confidence," Hutchinson said on the show Full Court Press With Greta Van Susteren.
"I've learned that it's not what the government tells you, it's what your trusted advisor, your medical doctor, or somebody that you trust tells you. And that's the best persuasive technique we can use to change those attitudes," he added.
In her op-ed, Huckabee Sanders said those with concerns about the vaccine "are simply trying to make responsible decisions for themselves, their families, and their communities."
She urged those still considering whether to get the shots to "pray about it, discuss it with your family and your doctor."
"Filter out the noise and fear-mongering and condescension, and make the best, most informed decision you can that helps your family, community, and our great state be its very best," she said.