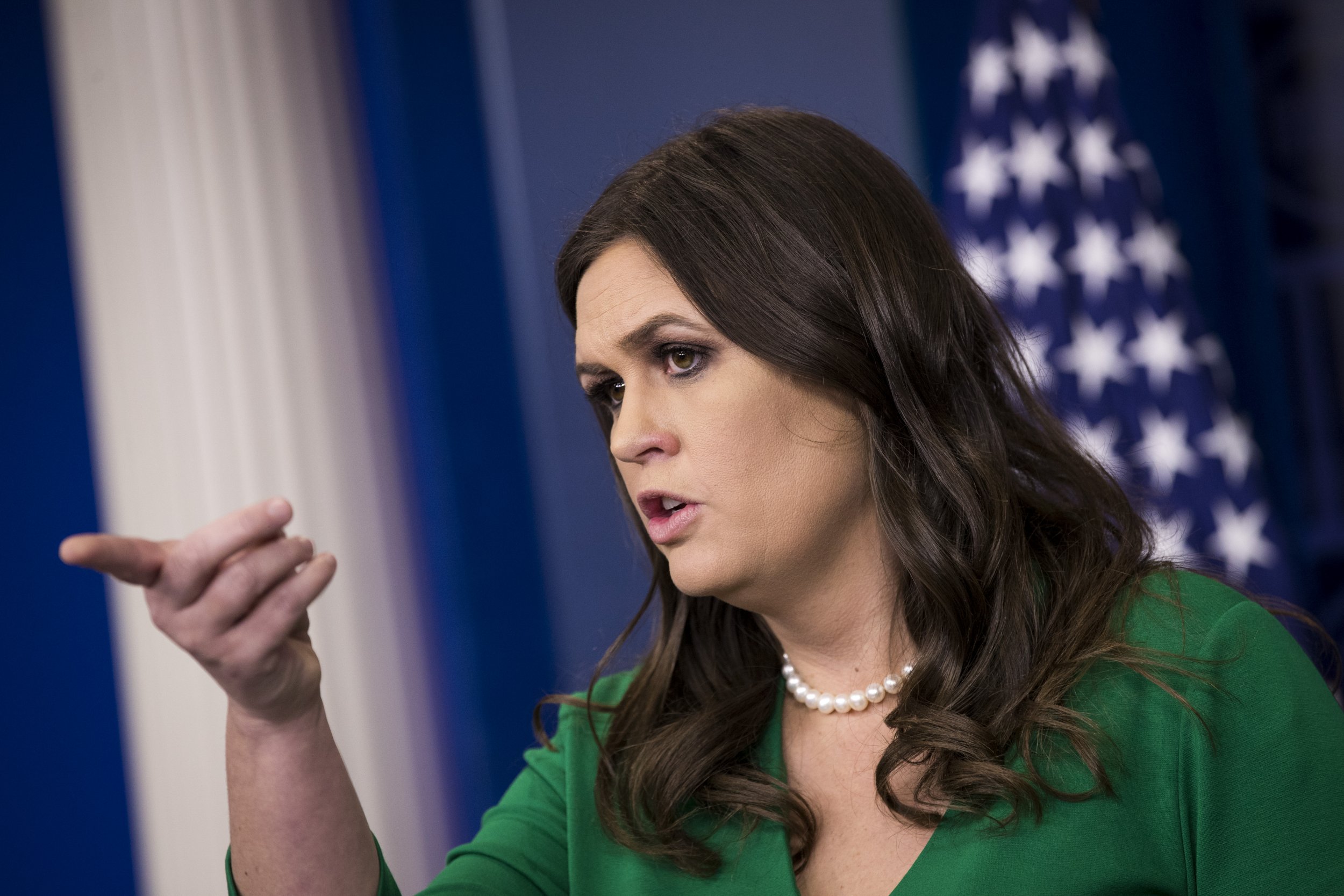 White House press secretary Sarah Sanders has lashed out at President Donald Trump's former lawyer, Michael Cohen, accusing him of attempting to "spread his lies" during a series of congressional appearances this week.
Sanders made the comment in response to reports that Cohen is planning to accuse Trump of criminal conduct while in office in connection with hush money payments made to an adult film actress during a Wednesday appearance before the House Oversight Committee.
"Disgraced felon Michael Cohen is going to prison for lying to Congress and making other false statements," Sanders said in a statement sent to Newsweek on Tuesday.
"Sadly, he will go before Congress this week and we can expect more of the same," the White House press secretary said. "It's laughable that anyone would take a convicted liar like Cohen at his word, and pathetic to see him given yet another opportunity to spread his lies."
On Tuesday, The Wall Street Journal reported that Cohen planned to accuse Trump of breaking the law while in office, citing an unnamed source familiar with the lawyer's planned testimony.
The source told the news outlet that Cohen planned to detail the "lies, racism and cheating" he witnessed Trump engage in. The president's former confidant is also expected to make public some of the president's private financial statements and to testify that Trump inflated or deflated his net worth on occasion "for business and personal purposes," including to avoid property taxes, according to The Journal. The news outlet, however, made it clear that it had yet to see these statements.
Cohen's testimony before Congress comes more than a year after it was first reported that he had paid $130,000 in October 2016 to buy the silence of former adult film star Stormy Daniels, whose real name is Stephanie Clifford, over an affair she was alleged to have had with Trump.
Cohen has since pleaded guilty to violating campaign finance laws over payments made in the lead-up to the 2016 presidential election to women alleging to have had affairs with Trump, including Daniels, as well as to tax and bank crimes.
In a separate case brought by special counsel Robert Mueller, Cohen also pleaded guilty to lying to Congress about the timeline of discussions over a potential deal to build a Trump Tower in Moscow, which investigators said had continued into 2016.