Sarah Huckabee Sanders Suggests CNN Reporter 'disrespected' Trump by Trying to Ask Him a Question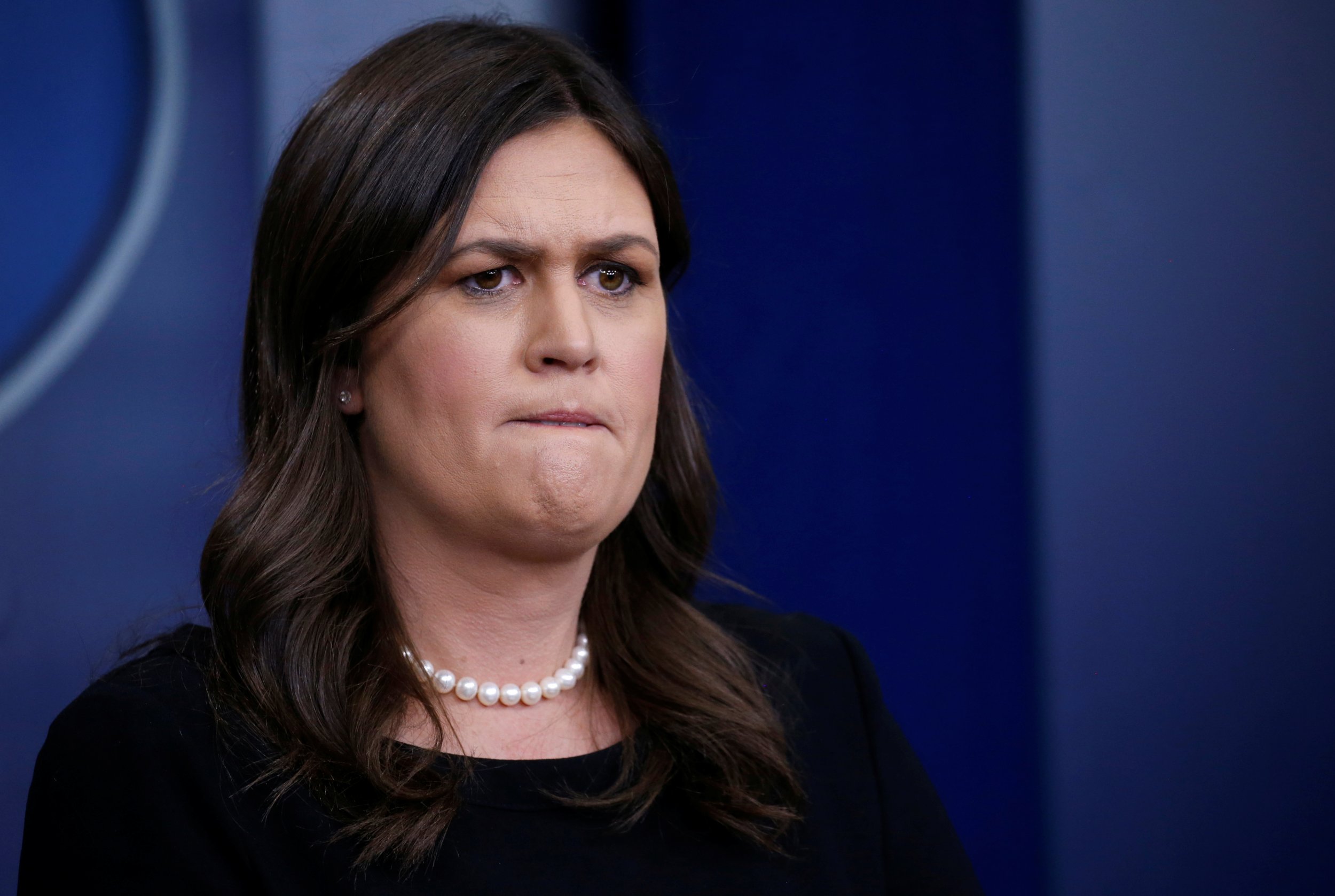 White House Press Secretary Sarah Huckabee Sanders has suggested an interview between national security adviser John Bolton and CNN was canceled because of the network's "bad behavior" at a UK press conference.
Huckabee Sanders claimed that a CNN reporter "disrespected" President Donald Trump and British Prime Minister Theresa May on Friday, after CNN's Jake Tapper said the White House had canceled the Bolton interview after the president verbally attacked a CNN reporter.
"Actually a ‪@CNN reporter disrespected ‪@POTUS & PM May during their press conf," Huckabee Sanders responded to Tapper in a tweet on Saturday night. "Instead of rewarding bad behavior, we decided to reprioritize the TV appearances for administration officials."
But the incident, which did not happen quite as Huckabee Sanders described in a tweet on Saturday night, was caught on camera—and social media users were quick to point out the disparity between the press secretary's comments and what the footage showed.
At the press conference, president had earlier commented that NBC was "possibly worse than CNN," prompting CNN's Jim Acosta to call out: "Mr. President, since you attacked CNN, can I ask you a question?"
Trump refused, and called on Fox News to ask a question, prompting Acosta to once again say: "Can I ask you a question?"
"No. CNN is fake news," Trump shot back. "I don't take questions from CNN. CNN is fake news. I don't take questions from CNN."
But Huckabee Sanders described the situation differently in a tweet at the weekend, responding to a tweet from Tapper, in which he claimed the White House had canceled a CNN interview with national security adviser John Bolton following the incident at the press conference.
"Update: ‪@AmbJohnBolton had been locked in for tomorrow's ‪@CNNSOTU. Then the president attacked CNN during his UK presser, and our WH correspondent tried to ask a question. We are told Amb. Bolton remains fully prepared to do the interview but the White House has canceled it," Tapper wrote, prompting Huckabee Sanders to shoot back a defense that did not sit well with other social media users.
Indeed, a number of people pointed out that footage of the incident was widely available; with others commenting that the CNN reporter had simply tried to ask a question.
"You do know that we have eyes and ears right?" one wrote, while another added: "You would think that the Press Secretary would understand that these exchanges are recorded."
The exchange between Trump and Acosta on Friday was not the only incident in which the president hit out at the media, also referring to his own exclusive interview with The Sun as "fake news."