Delaware state Senator Sarah McBride is running to be the first transgender person elected to Congress, and her campaign just got good news that she might be able to pull off a historic win.
A new poll released by Change Research on Friday shows McBride as the frontrunner in the Democratic primaries for Delaware's at-large district, with 44 percent support among likely primary voters, almost double the support for her second-closest challenger, Eugene Young.
Young, who is currently the director of the Delaware State Housing Authority, received 23 percent support, while Delaware state Treasurer Colleen Davis was backed by 13 percent of voters. Eighteen percent said they were still undecided and 2 percent said they would not vote if McBride, Young and Davis were their only options.
McBride, who became the nation's first openly transgender state senator in 2020 and the highest-elected transgender politician in the country, launched her campaign in June at the height of the nation's ongoing culture wars.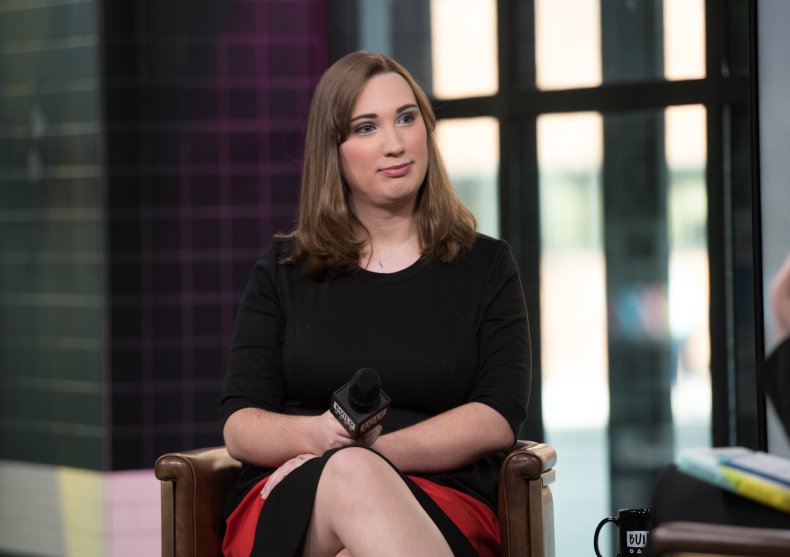 The announcement came in the wake of conservative boycotts against Bud Light over the beer brand's partnership with a transgender influencer and the flurry of anti-trans legislation that GOP lawmakers have introduced across the country in recent years. The debate on gender identity has become a major talking point for Republicans, even making its way onto the stage of the first presidential primary debate of the 2024 season.
"At a time when the LGBTQ+ community is in a state of emergency, representation in Congress remains essential," Geoff Wetrosky, vice president of national campaigns at the Human Rights Campaign, said in a Friday press release.
"Sarah's win would not only be historic, but deeply meaningful for transgender representation in the nation's capital—sending a clear message that transgender people cannot and will not be erased," Wetrosky said.
Although McBride would still have to face off against a Republican candidate if she were to win the primary, she'd be likely to pull off a victory in solid-blue Delaware. The state has not elected a Republican to the House of Representatives since 2008 and is not considered a competitive race by the Cook Political Report. Both senators from Delaware are Democrats and Democrats hold a trifecta at the state level.
McBride would have likely faced a unique obstacle because transgender candidates are typically stereotyped as more liberal than a cisgender candidate who is otherwise similar, but being in Delaware, her gender identity may actually help her bid, Philip Jones, a political scientist focused on LGBTQ+ politics, previously told Newsweek.
"Unlike the experiments we've run about hypothetical transgender candidates, McBride is already well-known in the state and has a strong record to run on. So I think she'll be a strong candidate," Jones said.