Sarah Palin's Loss 'Never Gets Old': Alaska Defeat Sparks Memes, Jokes
Republican Sarah Palin has become the subject of mockery and ridicule online after the former vice president candidate lost her bid to retain Alaska's sole seat in the House of Representatives to Mary Peltola.
Palin, the former governor of Alaska, lost an election to Peltola for the second time in just over three months after the Democrat won the special election in late August to replace Republican Congressman Don Young following his death.
Peltola, who will now begin a full term as the first Alaska Native woman to serve in Congress, increased her vote share over Palin in the midterm election, beating the Donald Trump-endorsed Palin by 55 percent to 45 percent.
The result not only ended Palin's attempt at a political comeback, but also further proved an expected "red wave" in the midterm elections failed to come into fruition, with yet another Trump-backed candidate losing their respective race.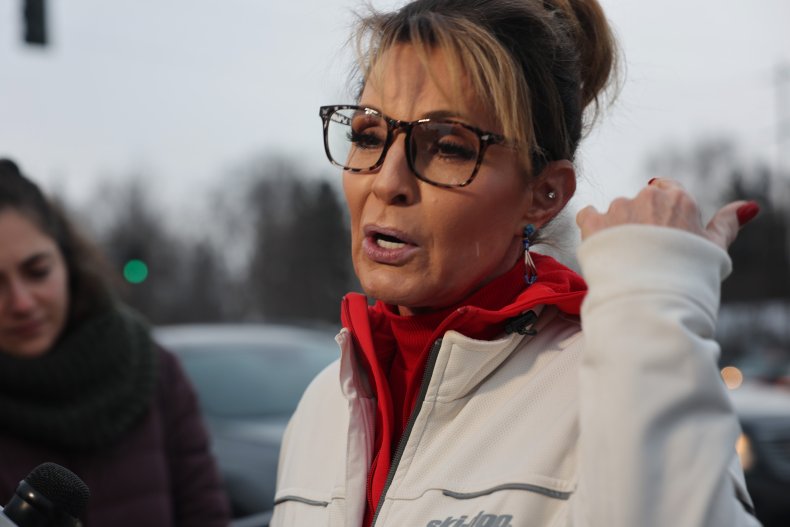 Following confirmation of Palin's defeat, social media was rife with jokes and memes at the Republican's expense.
"Third time I've watched Sarah Palin lose, and it never gets old," tweeted Jeff Singer, elections editor at the Daily Kos.
Political commentator Brian Tyler Cohen wrote: "Mary Peltola has defeated Sarah Palin and is the first Democrat to represent Alaska in the House in 50 years. In case you were wondering how the 'red wave' went."
The Twitter account for the Duty to Warn group, a coalition of mental health professionals who advocate to remove Trump under the 25th Amendment on the grounds that he is psychologically unfit for office, wrote: "Sarah Palin, in an effort to emulate Trump, lost yet again."
Majid Padellan, better known as the popular left-wing Twitter account Brooklyn Dad, tweeted: "FUN FACT: As of today, Mary Peltola (D - Alaska) has beaten Sarah Palin TWICE this year. I can see her defeat from my house."
Padellan was referencing a 2008 Saturday Night Live sketch in which Tina Fey, playing Palin, mocked a comment the just announced vice presidential nominee said in an interview that Russia "are our next-door neighbors, and you can actually see Russia from land here in Alaska,"—a statement which is true in certain areas of the state.
In the sketch, Fey as Palin says, "I can see Russia from my house," a remark which is sometimes misquoted to the former Alaska governor.
Jeff Timmer, a former executive director of the Michigan Republican Party who is a senior adviser for the now anti-Trump group The Lincoln Project, wrote: "The Mother of MAGA, Sarah Palin, lost twice this year. As a Republican. In friggin Alaska. That takes some doing."
Political comedy musical group The USA Singers added: "Sarah Palin is way better at killing majestic animals from helicopters than she is at winning elections."
The former Alaska governor is an avid hunter and supporter of controversial techniques such as using aircraft to thin out populations of predators such as wolves and bears in the state.
Following her victory, Peltola tweeted "WE DID IT," while also posting a video of a dancing crab.
Palin has been contacted for comment.
Do you have a tip on a politics story that Newsweek should be covering? Do you have a question about the midterms? Let us know via politics@newsweek.com.