Sarah Palin Revives Comment She Can 'See Russia' From Alaska
Sarah Palin, the former Republican governor of Alaska, is reminding voters that you "can see Russia" from her home state—reviving a remark that drew mockery when she unsuccessfully campaigned as former GOP Presidential candidate Senator John McCain's vice presidential running mate in 2008.
Palin announced last Friday that she would seek to fill Alaska's lone House seat formerly held by long-serving Republican Representative Don Young, who died on March 18. The former governor and former vice presidential candidate, who has not sought an elected office since her unsuccessful run with McCain, was quickly endorsed by former President Donald Trump.
Speaking on former Trump White House official Steve Bannon's War Room podcast on Thursday, Palin complained about the situation at the southern border and then referred to Alaska's proximity to Russia.
"When you're talking about what's going on at the border—the non-existent border," Palin said, "that reminds me how important it is, that all Alaskans realize it. Now Alaska is strategically located on the globe—as you know—you don't laugh about the fact that you can see Russia from Alaska, and Canada is right there on our other side."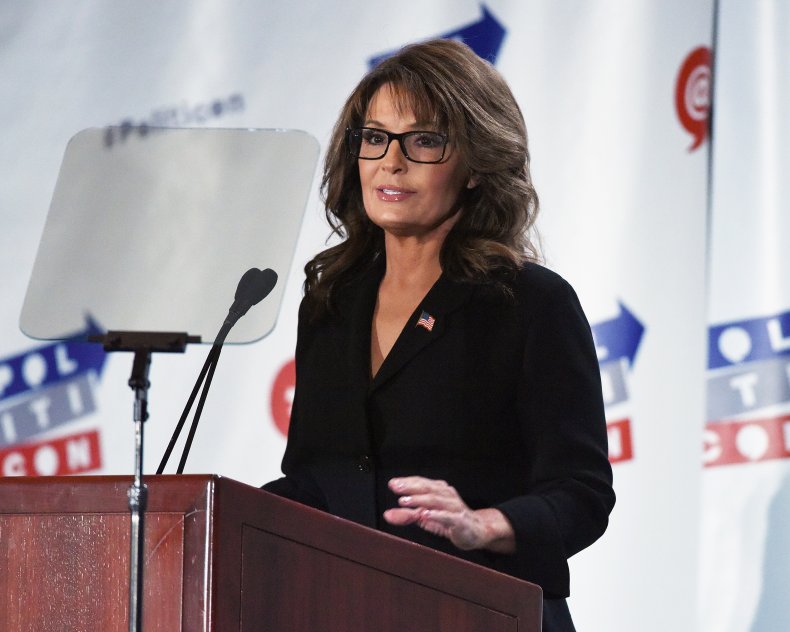 Palin touted the "strategic location and the security we [Alaskans] can provide." The GOP congressional candidate lamented that "those in Washington" take Alaska for granted.
In 2008, Palin drew mockery and a joke at her expense on Saturday Night Live (SNL) after she referenced Alaska's proximity to Russia in an interview with ABC News. "They're our next-door neighbors, and you can actually see Russia from land here in Alaska, from an island in Alaska," the then-governor said.
Days later on SNL, Tina Fey and Amy Poehler appeared in a sketch portraying Sarah Palin and Hillary Clinton respectively. During that humorous exchange, Fey as Palin asserted: "And I can see Russia from my house." Since then, many have misattributed Fey's joke as Palin's original comment.
While many made fun of Palin's comment, it was actually accurate. Alaska and Russia are separated by the Bering Strait, which is just 55 miles wide at its narrowest point. Within the strait are two small islands that are located less than two and a half miles apart. One of the islands, Big Diomede, is situated within Russian territory and the other, Little Diomede, is part of the U.S. On a clear day, it is possible to see the Russian territory from the Alaskan island.
During the Korean War, the U.S. had troops stationed in Alaska to observe the movements of the Soviet Union's forces. The now-defunct Soviet Union supported the North Koreans in that conflict while the U.S. backed South Korea.
Don Voss, a retired U.S. Army corporal, discussed what he and other soldiers did in Alaska during the Korean War in a 2018 interview with the Chicago Tribune. "Alaska is pretty close to Russia," he said, explaining that they would track Soviet aircraft.
"We could pick them up about 125 miles away and track them into about 25 miles from where we were located. Then we'd turn it over to the anti-aircraft outfit and they would take it from there," Voss said. "It was an important job at that time. You never knew what was going to happen."
The U.S. purchased Alaska from the Russian Empire in 1867 for the sum of $7.2 million—the equivalent of about $138 million today.
In her announcement about her congressional candidacy, Palin said in a statement: "America is at a tipping point. As I've watched the far left destroy the country, I knew I had to step up and join the fight."
Trump and other high-profile Republicans quickly threw their support behind her. "Sarah shocked many when she endorsed me very early in 2016, and we won big," the former president said in a Sunday statement. "Now, it's my turn."