Sarah Palin Hints About Wanting to Be Trump's Next Running Mate
Sarah Palin on Tuesday seemingly hinted that she would like to be former President Donald Trump's running mate in 2024.
Palin, who was John McCain's running mate during his failed White House bid in 2008, described what she felt would be the qualities of an ideal candidate for Trump's vice presidential candidate during an appearance on the Newsmax program The Balance.
"Trump needs to choose somebody who, like him, has nothing to lose. What more can they do to that person personally or verbal attacks or anything else on family?" she said. "That person has been through the wringer, so they know what they're getting into. And that person then can just focus on doing what's right for the people."
When Newsmax host Eric Bolling asked if she was just describing herself, Palin answered while laughing: "Not necessarily."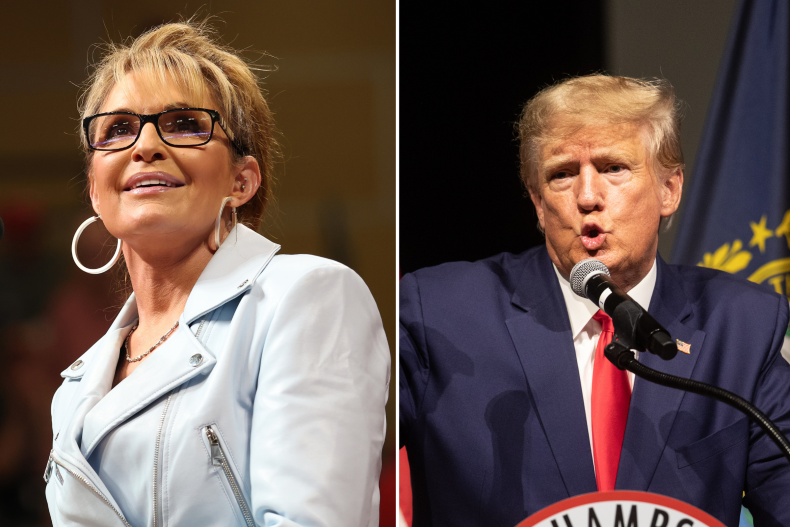 "However, I'll tell you, the opportunity that I had to run with someone who wasn't as commonsense [of a] constitutional conservative as I, and I think the majority of Republicans were, but still having the opportunity to form a team like that in running, in offering ourselves up in service to America—oh my goodness, no greater honor, no greater opportunity," she added.
Palin then said her nomination as vice president in 2008 "bodes well for future experiences."
This led Bolling to speculate if such future experiences could mean a spot on Trump's ticket in 2024.
"Has there been any discussion with Trump?" Bolling asked.
"Oh, we...what President Trump and I have talked about is kind of the same thing that we're talking about," she said.
George Ajjan, an international political strategist, told Newsweek that while Palin's 2008 run may have opened the doors for Trump, her recent failed congressional runs likely don't place the former Alaska governor high on Trump's list of running mate picks.
"Sarah Palin's Tea Party brand of Republican populism paved the way for Trump. So it might seem ironic that she never figured heavily in his entourage, until you consider that he may have felt threatened by her folksy charm," Ajjan said.
He continued, "In any case, a state governor who left her post 14 years ago and recently twice failed to win a congressional seat hardly seems to have the makings of a vice presidential running mate. The GOP moved on from her long ago, and is currently moving on from Trump."
Elsewhere in her talk with Bolling, Palin discussed the possibility of Florida Governor Ron DeSantis challenging Trump for the GOP nomination in 2024.
"I envision him as our president someday, but not right now," Palin said of DeSantis. "Everybody I speak with in Florida, they all love him. And he does set the tone for, I'd say, every other governor in the nation. I think he's our best governor, and he should stay governor for a bit longer. He's young. You know, he has decades ahead of him where he can be our president."
Newsweek reached out to Palin and Trump for comment.