Sarah Palin New York Times Suit to Be Tossed Out on Failure to Prove Malice
Former Alaska Governor Sarah Palin's lawsuit against The New York Times should be tossed out for failure to prove malice, a federal judge ruled Monday.
U.S. District Judge Jed Rakoff said Palin's lawyers failed to provide evidence for "actual malice," which means showing the newspaper knew that what it wrote about her was false or acted recklessly towards indications it was false, according to Politico. Rakoff said he would allow the jury to continue deliberating to reach a verdict, then dismiss the complaint, the New York Post reported.
The suit alleged the Times defamed Palin by linking her to a 2011 shooting spree in Arizona that killed six people and seriously injured then-U.S. Representative Gabby Giffords. Palin's attorneys had to meet the "actual malice" standard the Supreme Court set for libel suits against public figures in the 1967 case New York Times v. Sullivan, Rakoff said in his ruling, according to Politico.
The suit, which was filed in June 2017, also lists James Bennet, the Times' former editorial page editor, as a defendant. The suit alleges that the Times, in full awareness, falsely stated in an editorial headlined "America's Lethal Politics" on June 14, 2017, that Palin incited Jared Loughner's shooting of 19 people in Arizona on January 8, 2011.
Bennet testified that he inserted wording into the editorial that suggested a connection between a targeting map put out by Palin's political action committee and the Arizona shooting, according to Politico.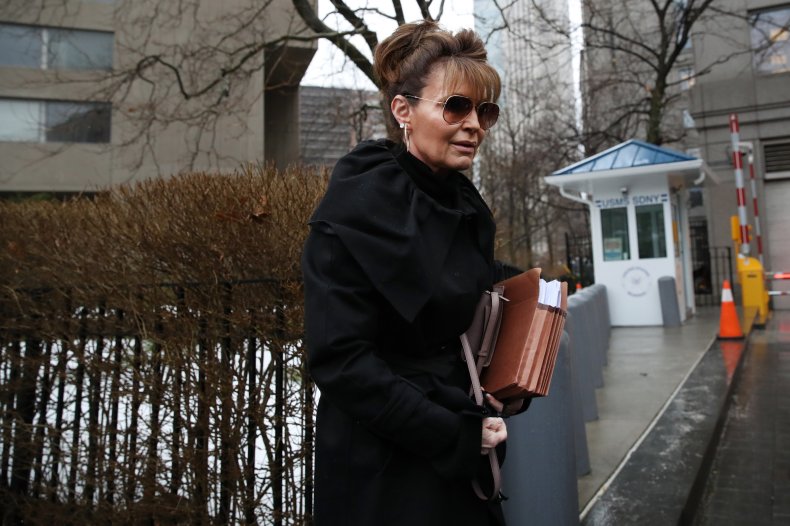 "I'm not altogether happy to have to make this decision on behalf of the defendant," Rakoff said, the New York Post reported. "I'm troubled by the fact that the erroneous edits made by Mr. Bennet reasonably could be read by many readers as an accusation that Ms. Palin's PAC's distribution of the crosshairs map was clearly and directly linked to the Loughner shooting."
However, Rakoff said that was not the issue he had to rule on, according to the New York Post.
Rakoff said no emails were presented that provided proof that Bennet knew there was no connection between the 2011 shooting and Palin, Deadline reported. The judge also said he believes an appeal will be inevitable, according to Politico.
"The New York Times welcomes today's decision," Danielle Rhoades Ha, vice president of communications at The New York Times Company, said in a statement to Newsweek. "It is a reaffirmation of a fundamental tenet of American law: public figures should not be permitted to use libel suits to punish or intimidate news organizations that make, acknowledge and swiftly correct unintentional errors."
The editorial in question said, "Was this attack evidence of how vicious American politics has become? Probably. In 2011, when Jared Lee Loughner opened fire in a supermarket parking lot, grievously wounding Representative Gabby Giffords and killing six people, including a 9-year-old girl, the link to political incitement was clear. Before the shooting, Sarah Palin's political action committee circulated a map of targeted electoral districts that put Ms. Giffords and 19 other Democrats under stylized crosshairs."
The suit says the Times explicitly stated in a piece titled "Shooting Is Latest Eruption in a Grim Ritual of Rage and Blame" that there was no connection between the Arizona shooting and Palin. Corrections were made to the original editorial, according to Deadline.
The jury began deliberating last Friday.
Update 02/14/22, 7:11 p.m. ET: This story was updated to include background information and a comment from U.S. District Judge Jed Rakoff and The New York Times Company Vice President of Communications, Danielle Rhoades Ha.