Sarah Sanders Interviewed by Mueller Amid Her Defenses of Trump, Who 'Urged' Her to 'Fully Cooperate'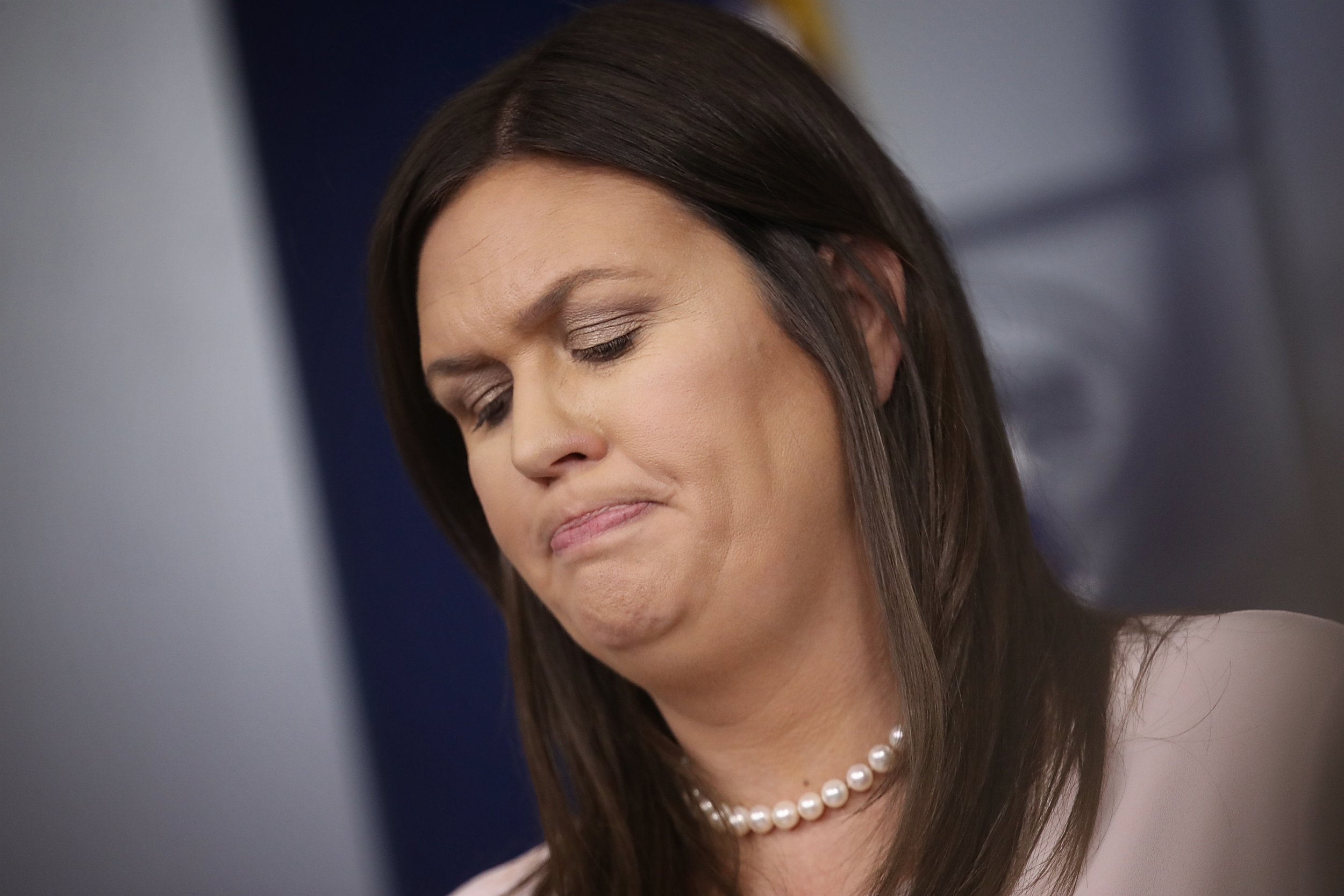 White House press secretary Sarah Sanders has reportedly been interviewed by special counsel Robert Mueller in the ongoing investigation of Russian interference in the 2016 election and possible collusion with the Trump campaign.
"The President urged me, like he has everyone in the administration, to fully cooperate with the special counsel. I was happy to voluntarily sit down with them," Sanders said Friday in a statement to CNN's senior White House correspondent Pamela Brown.
A source told CNN that the White House did not grant Mueller permission to interview Sanders right away.
Details around the interview were not clear at the time of the report.
The White House did not immediately respond to a request for comment from Newsweek.
Sanders in 2017 commented on a misleading statement that President Donald Trump took part in composing regarding a controversial June 2016 Trump Tower meeting that his son Donald Trump Jr., son-in-law Jared Kushner and then-campaign chairman Paul Manafort had with Russians who promised damaging information on candidate Hillary Clinton.
After it became known that Trump Jr. had helped arrange the meeting with a Kremlin-connected lawyer on the basis of obtaining "dirt" on Clinton, Sanders said: "The statement that Don Jr. issued is true. There's no inaccuracy in the statement. The President weighed in as any father would, based on the limited information that he had."
The statement contradicted past comments from Trump's attorneys claiming he had no role in drafting an initial statement falsely asserting that the meeting was merely about adoptions.
Mueller is wrapping up his investigation and focusing on conflicting statements that Trump and people close to him have made as possible obstruction of justice, sources with knowledge of the probe told CNN. The media outlet in January reported that prosecutors were looking at the president's public remarks to see if there were efforts to influence witnesses or administration and campaign officials to make statements that were false.
Sanders's interview with Mueller's team is among the final ones known to have been conducted. It apparently took place roughly in the same time frame that Mueller's team interviewed former White House press secretary Sean Spicer, former White House chief of staff John Kelly and former White House communications director Hope Hicks.
Another source with knowledge of the interview told Washington Post reporter Josh Dawsey on Friday that Sanders sat down with Mueller was about seven months ago.
Sanders, one of the longest-serving members of the administration, has been a constant defender of Trump and uttered his phrase "no collusion" dozens of times. She has also used Trump's words "witch hunt" to describe Mueller's probe, which has gone on for two years. Sanders has also made significant misleading statements to put Trump and the administration in a favorable light.
Mueller's team has brought criminal charges against several former Trump campaign officials and Russians.