Sarah Huckabee Sanders Told Trump to Announce Brennan Punishment to Distract From Omarosa Book: Report
Sarah Huckabee Sanders and other senior White House advisers recommended to President Donald Trump to announce the revoking of John Brennan's security clearance on Wednesday in order to distract from media attention surrounding Omarosa Manigault Newsman's book, The Washington Post reported Thursday.
Sanders began Wednesday's press briefing by reading a statement from the president announcing that he was revoking the security clearance of the former CIA Director, citing his "erratic conduct and behavior." A copy of the statement handed to some reporters was dated July 26.
Trump later cited Brennan's role in the Russia investigation as the reason for the decision in an interview with The Wall Street Journal. The decision was slammed by critics as unprecedented, politically motivated and an abuse of power. It immediately dominated headlines and was the focus of questions at Wednesday's briefing.
The subject matter had been very different at the previous day's briefing. On Tuesday, former White House aide Manigault Newman's book, Unhinged: An Insider's Account of the Trump White House, was released. Among Manigualt Newman's explosive claims about the president was that a recording of him exists in which he uses a racial slur.
At that day's briefing, Sanders had been repeatedly pressed about her former colleague's accusations. At one point, Sanders said she could not guarantee that a tape of Trump using the "N-word" does not exist.
"I can't guarantee anything," she said. "But I can tell you that the president addressed this question directly. I can tell you that I've never heard it. I can tell you that if myself or the people that are in this building serving this country every single day doing our very best to help people all across this country and make it better, if at any point we felt that the president was who some of his critics claim him to be, we certainly wouldn't be here."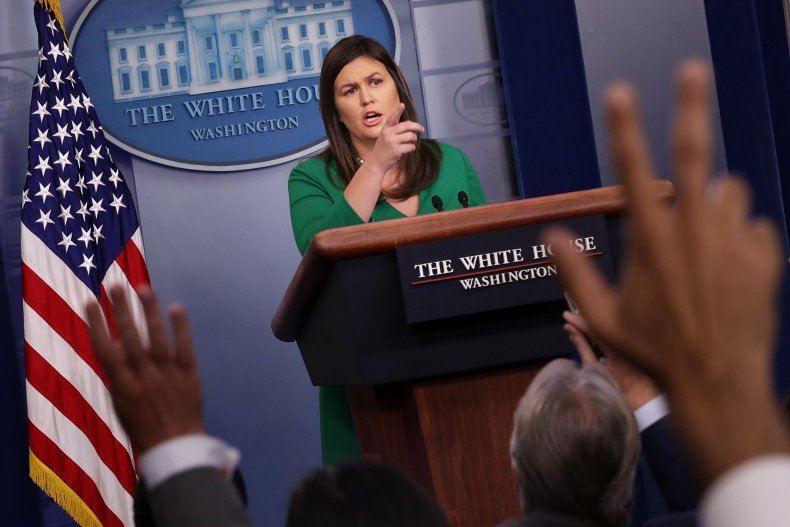 According to various reports, the White House's initial strategy in response to the book had been to remain silent and avoid fanning the flames of publicity as Trump had done when another negative book about his presidency, Michael Wolff's Fire and Fury, was released earlier this year.
But that strategy rapidly disintegrated as excerpts of Manigault Newman's book began to be released late last week. Manigault Newman, whose relationship with Trump dates back to her time as a contestant on the reality show he hosted, The Apprentice, also made a string of media appearances and released recordings of conversations she had with Trump and other White House officials.
Trump soon decide to fire back, calling her a "lowlife" and on Tuesday referring to her on Twitter as "that dog." The latter comment received widespread criticism, including from Brennan who said it was another example of Trump failing "to live up to minimum standards of decency."
Sanders did not immediately respond to a request for comment Thursday.