7 Couples at the People's Choice Awards—Including 'Sex/Life's' Sarah Shahi and Adam Demos
The winners of the People's Choice Awards were not the only hot topic of conversation last night (Tuesday, December 7).
Sure, many A-listers walked down the red carpet but everybody could not take their eyes off some of the famous couples who made an appearance, including Sex/Life's Sarah Shahi and Adam Demos.
Newsweek has a list of the must-see couples from the People's Choice Awards below.
Sarah Shahi and Adam Demos
Sex/Life co-stars turned romantic couple made their debut as Hollywood's hottest couple at the People's Choice Awards 2021.
The duo met on the set of Sex/Life in 2020, where they play ex-lovers Billie and Brad. Audiences were hooked on their sexual chemistry and will-they-won't-they on-screen romance, but things were also heating up off-screen.
Shahi and Demos confirmed their romance back in January 2021 via several Instagram posts but the People's Choice Awards is the first time they stepped out at an official event together.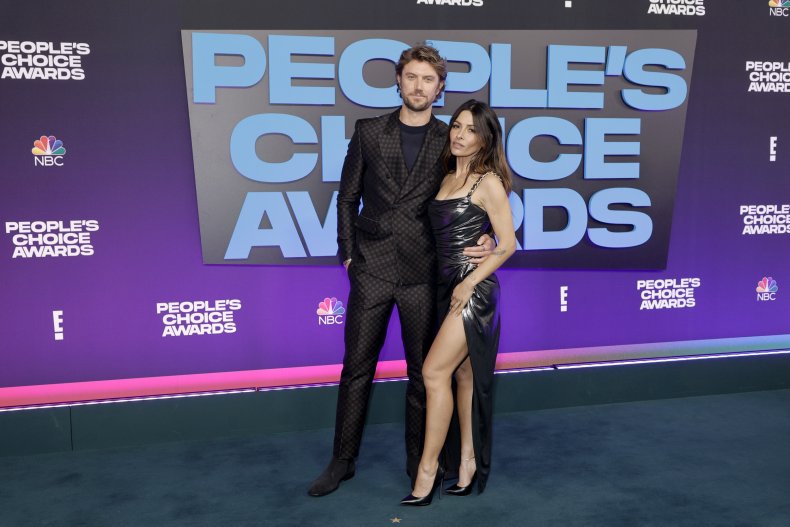 Sarah Hyland and Wells Adams
Modern Family star Sarah Hyland and her fiancé Wells Adams were spotted gushing over one another on the Peoples Choice Awards red carpet.
Adams even stopped to help Hyland with her dress and posted adorable videos and images of her on his Instagram story.
Three pictures even made it Wells Instagram page, penning under the swipe: "I did not win a #PCA for Best Reality Series tonight. I did however win the award for best fiancé. So..ya win some ya lose some."
Hyland joked in the comments: "Best fiancé two years in a row... here's hoping you take home best husband next year "
Jo Koy and Chelsea Handler
Comedy duo Jo Joy and Chelsea Handler stepped out together in matching black and white outfits.
Koy and Handler have been officially dating since September 2021 and on Handler's podcast last month, Dear Chelsea, she opened up about her feelings for the comedian.
She told him: "'I knew I liked talking with you and having you in my life because you're positive and upbeat.
"It's infectious, and I loved all of that. But I wasn't like, "Oh, my God!" This desire to have something happen, to have something happen, not at all."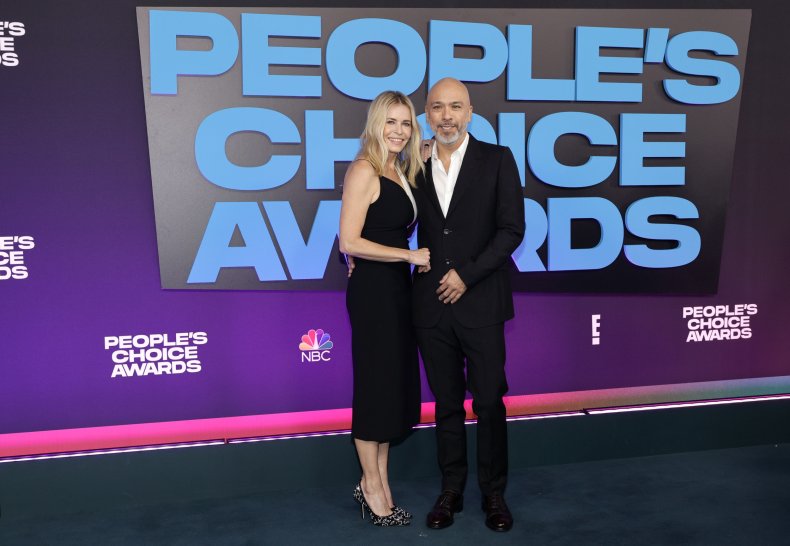 Romain Bonnet and Mary Fitzgerald
Selling Sunset's Mary Fitzgerald made her way down the carpet with her husband Romain Bonnet, dressed in royal blue.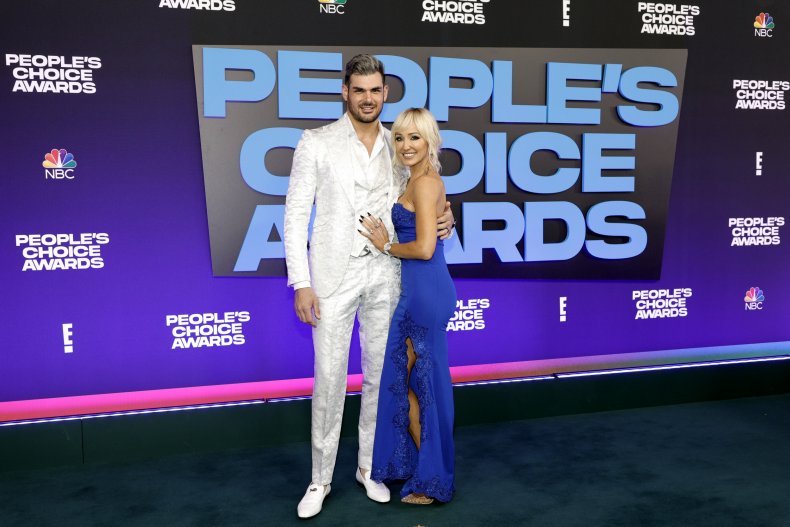 Heather Rae El Moussa and Tarek El Moussa
Mary and Romain were not the only Selling Sunset stars in attendance. Mary's colleague and co-star Heather Rae El Moussa was there hand-in-hand with her husband Tarek El Moussa.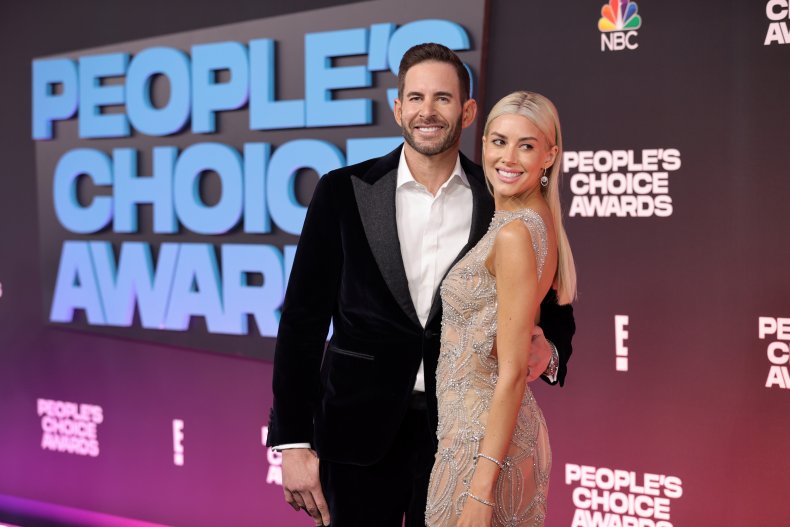 Andrew East and Shawn Johnson East
Sporting and podcast stars Andrew East and Shawn Johnson East were in attendance.
The married couple were nominated for the Pop Podcast of 2021 for their podcast "Couple Things with Shawn and Andrew."
Sadly, they lost to Emma Chamberlain, the host of "Anything Goes with Emma Chamberlain."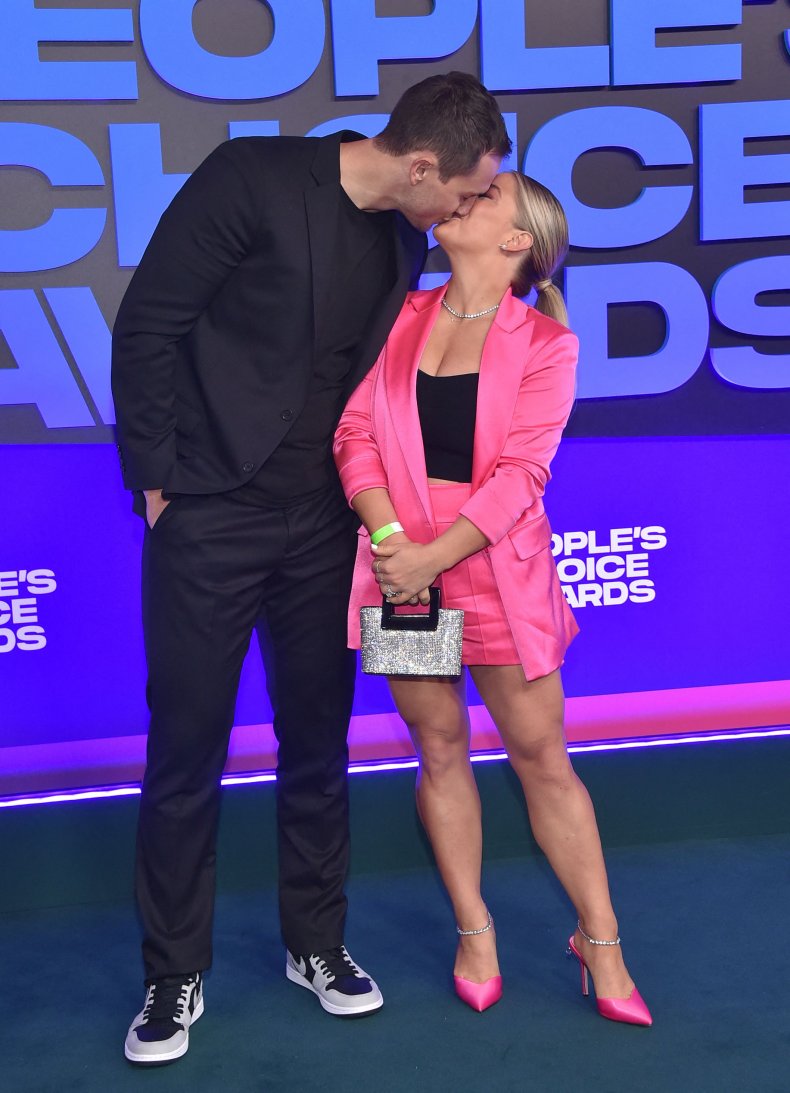 John Hersey and Katie Thurston
The Bachelorette stars Katie Thurston and John Hersey were all smiles at the People's Choice Awards.
Their red carpet debut may come as a surprise to fans of The Bachelorette, as Thurston only recently ended her engagement to The Bachelorette winner Blake Moynes in October 2021.
Regardless, the new couple looked very happy together with Hersey dressed in a smart suit and Thurston in a rainbow-colored floral dress.
After the awards show, Thurston took to Instagram to post an adorable snap of them together, writing: "A night to never forget! So much talent under the same roof with words of advice and wisdom that can't help but ignite your soul! Thank you @peopleschoice and to TO YOU ALL for the support and love!"