Sarah Jane Lowerson has become the first transgender woman surfer to compete in Western Australia's state championships.
On Thursday, Lowerson took first place in both the Open Women's and Open Women's Logger competitions at the West Coast Suspensions Longboard & Logger State Championships.
"To be the first transgender woman competing in surfing hasn't been an easy ride emotionally, but the amount of support I've been shown has been phenomenal and I'm so grateful to be involved, welcomed and embraced within the longboard community in Australia," Lowerson told Surfing Western Australia, the organization behind the event, after the victory.
For the Open Women's Logger competition Lowerson scored 13.97. In second place was Emily Gibbs with 11.37 and third was Georgia Young with 10.73, according to a Stab report.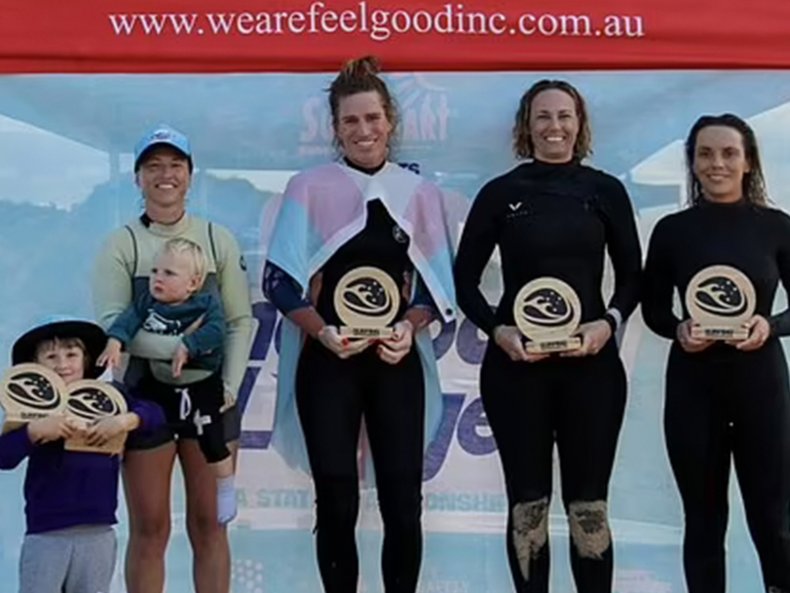 For the Open Women's competition, Lowerson scored 14.70 to win, Young finished second with 10.63 and Samantha Vanderford was third with 9.27.
Lowerson won the 2019 Western Australian state title, competing as Ryan Egan, before transitioning to a woman a couple of years later.
Following Thursday's victory, Lowerson spoke about the difficulties she faced in coming to terms with identifying as transgender, according to The Australian.
"I've been surfing since I was a little boy, I was a good junior surfer, I was surfing against grown men at 14 and winning," Lowerson said.
"I knew at a very young age that I wasn't a normal boy. For the best part of [my life], I thought [Sasha] could never live, I had to put her in a box. That is something a lot of girls experience.
"About every two years, I'd want to kill myself and I've had a good go at it. I had a real wake-up call in [2020] then I thought 'What are you doing? You are living a lie.'"
Lowerson also spoke about the decision to continue surfing after coming out as transgender.
"I made a decision to be truthful to me and the world and that is when I decided to unveil Sasha as such," Lowerson said.
"I started a medical transition at the start of 2021. Up until then, I hid from people surfing, I stopped surfing for six months. I basically took six months out of the water.
"Then I woke up one morning and said, 'No it's been my life, I can't just walk away from my passion and life.'
"We are about to start formal talks with the World Surf League about the inclusion of diverse genders."
Newsweek has contacted Surfing Western Australia and Sasha Jane Lowerson for comment.